E-Commerce Case Study: We increased Conversion Rate by 60% in 2 weeks.
Every e-commerce business needs higher conversion rates! So who wouldn't be happy to hear an E-Commerce Case Study showing how an increase of 60% happened, right?
Most of the Ecommerce businesses crave for higher conversion but don't know where to start.
We're talking about some techniques and strategies to increase CRO but they may seem hard to implement to your Ecommerce.
Case studies are very effective to comprehend these CRO strategies and can be a good start for higher conversion.
Case studies will allow you to see how these techniques affect other E-commerce businesses…
And they can be encouraging and motivational experiences for you to improve your online marketing.
Therefore, I'll show you some inspirational E-commerce case study examples to boost your conversion rate.
Before I show these E-commerce case study examples, I want to explain how we increased our clients' conversion rate.
Ecommerce Personalization Tactics
Let's give our tactics and techniques to optimize your business and increase conversion rate by 60% in 2 weeks.
Smart Recommendation
Offering Pop-ups
Sending Abandoned Cart Emails
Sending Personalised Emails
Providing Fancy Notification Bar
Real-Time Analytics
Push Notification
1) Smart Recommendation

We provide our clients smart recommendations and enable them to offer smart product recommendation to their customers.
Basically, recommendation engine is a system that allows customers to make decision process easier.
<strong
Then they recommend related products and products that purchased together previously.
What does our recommendation engine provide to our clients?
We enrich your homepage by placing appropriate CTAs like "Selected For You" and "Recommended For You" and build personalized homepages.
These homepage recommendations will increase customer engagement and boost your conversion rate.
Category Page Recommendation
We provide "Trending in Category" product recommendation buttons in Category Pages.
This recommendation type includes popular products in a selected category.
Most of the visitors tour on the category pages but…
they left your site without interacting with your category page.
Because of this behavior, bounce rates in category pages are so high.
"Trending in Category" product recommendation lets you reduce your bounce rate and increase your sales.
Product Page Recommendation
Product pages are one of the most essential parts on your Ecommerce website for higher conversions.
We optimize product title, images, price and add to cart buttons, product detail, color options and…
Make your product page remarkable.
Then, we provide "You might also like" widgets and offer related products to visitors based on their action to have easier purchasing process.
As you know, recommendation engines can be very effectively if you use the right one.
There are examples under your eyes: Amazon and Netflix
2) Pop-ups
Pop-ups are still in-demand, even though they are not used very frequently.
We provide exit intend pop-ups to our clients.
When a visitor moves the mouse to exit button, personalized pop-ups show up and keep the visitor in your website.
On the other hand, there is an e-mail collection pop-up. It shows up in the right time to the right visitor.
"Be the First to Know" or "Newsletter" pop-ups are shown up to collect e-mail addresses and keep in touch with your users.
This action lets you send discount or promotion emails to your users and increase your user engagement.
Finally, Form Survey pop-ups enable users to declare their opinion about your products and services.
After getting the answers from your users, you can improve your business based on customers' satisfaction.
3) Abandoned Cart
Abandoned shopping cart can be a real trouble for your Ecommerce business if you don't follow a right strategy.
In this case, we care about 2 important things: Retargeting and Remarketing.
We establish re-engagement with your customers by sending reminder emails that his/her shopping cart is not empty.
Also, we send popular product emails and interesting deals to stay in touch and attract them more.
4) Personalized Emails

Personalized Emails are so important in your online marketing strategy.
%59 of E-commerce customers say that personalization in online stores make the shopping process easier and more interesting.
So, personalization should takepart in all of your marketing strategies.
What do we do in this ecommerce case study?
We send "Thank you for shopping" emails after purchase and offer new product recommendations for the next purchase.
There are many visitors who look at your products but never purchase.
At this point, we find these active seekers and send personalized emails to motivate them and make the purchase.
5) Notification Bar
Our notification bar we provide to our clients enable you to show your discounts, marketing campaigns and announcements to your visitors.
Our heatmap analysis in E-commerce websites showed that a fancy notification bar can be very attractive and increase click through rate.
6) Real-Time Analytics
Our Real-time analytics tool Trendify offers our clients to monitor each and every products' performance in real time.
Also, you can easily check your products' conversion rate and capture top/worst performing products.
Bannerify is also a real-time monitoring tool that allows customers to check all of the banners' performance in their website.
7) Push Notification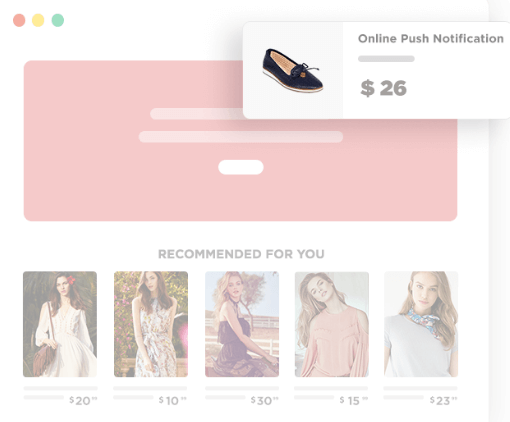 We provide online and offline push notifications to our clients.
These online and offline push notifications will make your visitors return back and take action.
These push notifications can be shown with an image, description or a title.
E-Commerce Case Study Examples
It's time to show some E-commerce case study examples that will encourage you and implement in your Ecommerce website.

In this article, Tucker Schreiber explains how they decided to sell t-shirt with his friend and how they built a t-shirt store.
He describes all the processes they went through in the meantime of building t-shirt store:
How they decided to start, how they did market research and found their passionate community, shirt design and logo design processes, their marketing strategy and how they made $1,228.90 in first 3 weeks.

Ty Rothstein is talking about 2 cases in this article and how both of them found the right marketing strategy to generate more leads: Coupon Pop.
The first one is an eCommerce store that sell home goods. He explains how they collected 40000 e-mails and 500 new Facebook likes with coupon pop.
The other case is about another eCommerce store that paint, accessories and cleaners for customizing for shoes. In this case, writer describes how this eCommerce company succeeded in gaining new Facebook and Instagram fans and increase their revenue by $40000. (You can find the article here for more.)
How Walmart.ca's Responsive Redesign Boost Conversion by 20%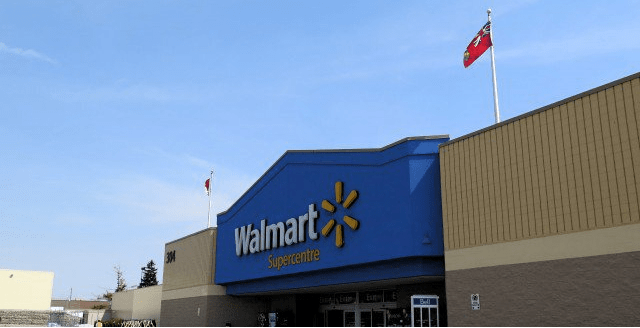 In this article, Ott Nighulis from ConversionXL talks about 6 E-Commerce case study examples.
I picked one of them that can be inspirational for eCommerces that haven't optimized their websites for mobile.
Walmart recognizes that huge amount of traffic comes from mobile but their website wasn't responsive and it was loading very slow.
You can examine the mobile optimization process step-by-step on this article.
SkinnyTies.com Increases Mobile Revenue By 377.6%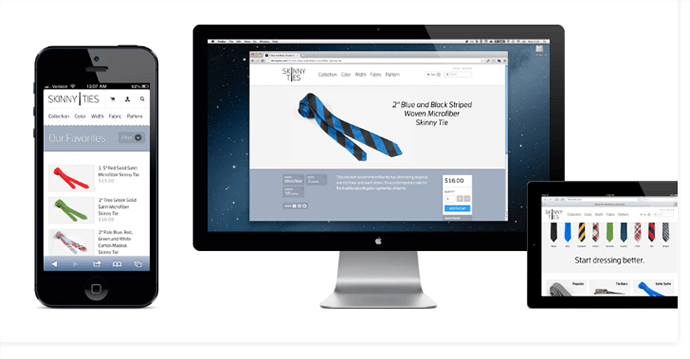 Tommy Walker from Crazyegg gives 6 case studies that are remarkable and inspirational in this article.
One of these case studies is about remaking the Skinny Ties store and make it more responsive and visually effective. (You can find the original article here)
Writer makes the case analysis and execution and gives advices about all the case studies.
Conclusion
Case studies can answer your question: "Where should I start?"
Just find one case study that fits you the best and try to implement these actions on your website.
Maybe, it won't be successful at first, but you should keep trying and you'll see that it is going to succeed.