How to Get Wings: Red Bull's Accelerating Marketing Strategies
Red Bull is an energy drink, but have you ever wondered why Red Bull is so involved in sports, especially Formula 1?
Even if you haven't tasted the energy drink that gives you wings, Red Bull, you have definitely heard of it because of their memorable slogan, F1 cars or something else. Red Bull's marketing strategies are a success story of making a specific drink well-known, especially among young people. The brand spends 84% of its profits on marketing. According to data from 2011, Red Bull, which spends 2.1 billion dollars a year only for marketing, invests in extreme sports all over the world.
Let's get on with the history and marketing strategies of Red Bull and its founder Dietrich Mateschitz!
A Brief History of Red Bull
Red bull is an Austrian company mainly focused on energy drinks. It was founded in 1984 and is also known for sponsoring sports events such as auto racing, American football, ice hockey and esports.
The company was founded by Dietrich Mateschitz, an ex-toothpaste salesman. The young entrepreneur also had experience in selling washing-up liquid and soap. It took him 10 years to get a marketing degree in Austria at the age of 28. But that's not the most surprising part of the story!
The surprising part was that Red Bull was actually an energy drink sold in Thailand. In addition, unlike Coca-Cola, Red Bull's content was not patented. All the contents were listed on the side of the box. In other words, this entrepreneur turned an ordinary beverage into a billion-dollar brand!
So how did he discover this beverage business that changed his whole life? During a business trip to Thailand in 1982, he learned from a local toothpaste dealer, who would become his future partner, that energy drinks are very popular with people who need to stay awake at night. After trying this beverage, Dietrich was relieved entirely from the jet lag of his long flight.
Since he always expected more and more from life, he thought about starting his own business from the moment he tried and loved this beverage. He quit his job at the age of 40 and partnered with his local toothpaste dealer. The two partners invested $500,000 in this beverage business.
The Hard Part
Despite this, his journey to becoming an entrepreneur has not been as smooth as he had expected. Dietrich tried to apply for a licence to sell high-energy drinks in Austria, but after three years of effort and numerous phone sales calls, he was only able to obtain the sales licence.
Moreover, the initial market research results were not promising. People did not like the taste of the drink and thought it was too sweet. After losing millions of dollars in 2 years, he fully believed that the company would still be successful. Dietrich financed everything without borrowing any money. He eventually realised that the Austrian market was not big enough for the company to grow. He decided to expand the company to Hungary, Germany and England.
Word of Mouth Marketing
After these difficult times, the company did not have enough money to spend on advertising. For this reason, Dietrich learned that only word-of-mouth marketing could increase sales. He recruited students to drive vehicles with a giant Red Bull can attached to them. He asked them to roam around college campuses, giving free samples to parties and bars.
Red Bull has also sponsored special and exciting events that received great media attention worldwide. It supported 500 extreme athletes competing in special and often record-breaking events.
So far, his strategy seems to be working fine. The energy drink company has a market share of 70-90% in more than 100 countries. Red Bull dominated 47% of the energy drink market in the United States in 2005. Another astonishing thing is that the company has only about 1800 employees worldwide with sales of about one million dollars per person. Not bad for a $1.6 billion worth company.
Dietrich is the only Austrian billionaire with a net worth of $26 billion, ranking 37th on Forbes' 2018 World Billionaires list. He is an extraordinary entrepreneur who gets rich without inventing a new product but by selling something simple with creativity. I love this quote by him:
"The market only exists if we create it; otherwise, it does not exist." Red Bull is a genuine brand with soul, history and essence.
Sports that Red Bull is Involved In
Red Bull is involved in 8 different sports and has invested in over 15 sports teams.
Football

FC Red Bull Salzburg
RB Leipzig
New York Red Bulls
Red Bull Brasil
FC Liefering

Formula 1

Red Bull Racing
Scuderia Toro Rosso

Rallycross Racing

Team Peugeot-Hansen
EKS Audi Sport

MotoGP

Red Bull KTM Factory Racing
Red Bull KTM Tech 3
Red Bull KTM Ajo

Ice Hockey

EC Red Bull Salzburg
EHC Red Bull Munchen

Sailing

Red Bull Extreme Sailing Team

Skateboarding

Red Bull Skate Team

Surfing

Red Bull Surfing Team
What is Formula 1?
The top division of open-wheel, single-seater Formula One racing, usually referred to as Formula One or F1, is authorised by the Fédération Internationale de l'Automobile (FIA). The name's use of the word "formula" alludes to the set of requirements that all participants' automobiles must meet.
Grands Prix, a collection of events that make up a Formula One season, are held worldwide on closed public roads and purpose-built racing tracks. The number of Grands Prix held in a season has fluctuated over the years. The 2000s saw an increase in Grands Prix, and subsequent seasons have averaged 19 events. The calendar reached its apex in 2021 and 2022 with 22 events, the most world championships ever.
There are 10 teams and 20 drivers in Formula One. Teams are; 1. Red Bull Racing, 2. Ferrari, 3. Mercedes, 4. McLaren, 5. Alpine, 6. Alfa Romeo, 7. Haas F1 Team, 8. Alpha Tauri, 9. Aston Martin, 10. Williams.
Red Bull and Formula 1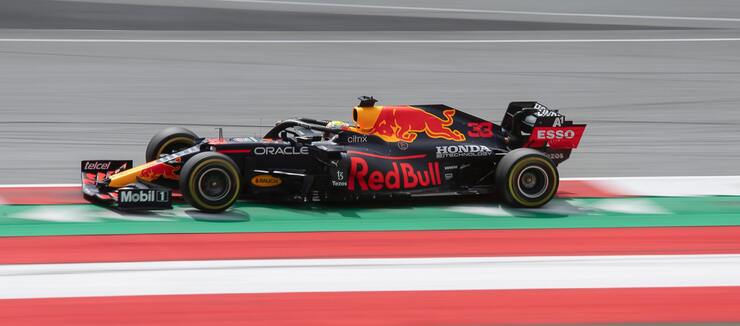 Red Bull had previously participated in Formula One as a sponsor before fully joining as a works team in 2004. Nevertheless, their level of accomplishment during the ensuing ten years was astounding.
After finishing on the podium for the first time in 2006, the team found its groove in 2009, winning six races and placing second in the constructors' standings. They were a powerhouse over the following four seasons, winning back-to-back championships between 2010 and 2013, with Sebastian Vettel becoming the sport's youngest quadruple winner. Currently, Max Verstappen and Sergio Perez are the race drivers to represent Red Bull racing.
Marketing Genius: Founder of Red Bull and His Branding Strategies
1. Create a Global Brand Name
Red Bull became a market founder and pioneer for the energy drink market that did not exist prior to Red Bull. As of now, Red Bull owns 43% of the market share in the energy drink industry. As an Austrian brand, it was first named Leidseplein Beheer, and the name was later changed to Red Bull. The main reason for this change was because the original name was German and was hard for non-German-speaking people to pronounce.
Red Bull really does look like a product from a global economy. It's not like a traditional American soft drink. It's not sold in a 12-ounce can, it's not a bottle, and there's no script. It's just like Pepsi or Coca-Cola. It looks like it's made in Europe. However, it seems certain that Red Bull's consistent packaging has helped globalise this brand.
2. Target the Right Group
Red Bull changed their target group to the youth. The places where Red Bull concentrated its strategies were university campuses and nightclubs. Red Bull has its car on university campuses, in addition to sponsoring major and minor high school and university events. This makes the brand position itself as a drink for the youth.
3. Position the Brand as "Cool"
In its early days, Red Bull did not have enough resources to fund proper marketing campaigns. Therefore, its most effective strategy was word-of-mouth marketing. Red Bull partnered with "cool" university students to promote their drink. Furthermore, by sponsoring extreme sports events, its brand identification has become a drink that cool people drink.
4. Identify the Red Bull Brand with Extreme Sports
As previously mentioned, Red Bull sponsors over 15 sports teams through 11 extreme sports. This strategy is no coincidence; Red Bull aims to be seen as a brand that sports lovers would use. Red Bull's social media accounts mostly post about extreme sports rather than the energy drink itself. Red Bull's youtube account has over 10 million followers and posts videos about sports events and its sports teams.
5. Have Brand Musketeers
Dietrich decided to market this product as a lifestyle and turned to the youth. For this, they started with the parties. To reach the youth, they gave the most popular kids at the school Mini Coopers and Volkswagen Beetles, making them "brand representatives".
These students played an important role in spreading the brand by organising large parties. Of course, creating cocktails by mixing many drinks with Red Bull also helped Red Bull grow at that time.
Red Bull sold more than 1 million copies a year in 1987 and later expanded to Croatia, Slovakia, Germany and England. Now, Red Bull is widely used in cocktail mixing and is offered by many bars and clubs.
6. The Franchise System
Red Bull works with the franchise system. Every franchise has a CEO and marketing team. Although each region seems to be autonomous, strong controls are made from the headquarters. The single-brand distribution network has been a critical factor in its success. It also has other firms to develop and market beverages, such as the water brand LuAqua and the Red Bull sugar-free format.
Franchise managers attend the training and development programs by the HR department at the company's headquarters. In addition, the performance management team at the headquarters also contributes to the evaluation of employees. The company's HR team and structure are solid. Thus, it has been an essential factor in their success thus far.
7. Memorable Catchphrases: "Red Bull Gives You Wings"
Having a professional pilot licence, Dietrich still organises this fun event worldwide by organising flight day events, emphasising Red Bull's well-known catchphrase, "Red Bull gives you wings". With this tagline, Red Bull aims to show that the brand's name equals excitement.
Corporate social responsibility studies are one of the critical areas where brands present their sensitivity to the problems of the society in which they operate and offer solutions, along with their own activities.
An example is the World Run, which Red Bull organises annually through the Wings For Life Foundation, which aims to raise funds for treating spinal cord paralysis. An important resource is created for the relevant fund at the event held in Izmir every year in May. The fact that this event is organised on the same day in all the countries it is held gives it international importance.
Wrapping Up
To conclude, Red Bull is perhaps one of the most successful brand marketing companies. Red Bull's founder is considered a genius in brand marketing. Its strategies include:
Reforming the brand with a global name
Targeting an audience of the youth
Positioning itself as a brand that young, cool, and sports lovers use.
The franchise system has also helped Red Bull grow rapidly. Currently, Red Bull holds 43% of the market share in the energy drink industry.
At Segmentify, we are committed to providing the highest quality marketing tools to our eCommerce customers. As seen in the Red Bull example, your product does not have to be the most common product for your company to be well-known. Excellent marketing strategies will help your brand grow. With our free trial, eCommerce stores can try our solutions and see the difference!