10 Marketing Lessons That We Learned From Taylor Swift
Number 8 on Billboard's Greatest Artists of All Time alongside music legends such as The Beatles, Mariah Carey, Madonna, Michael Jackson, etc. Taylor Swift is the youngest artist on the list with a music career of only 18 years as of now. Praised for her songwriting and storytelling skills by music critics such as Rob Sheffield and musicians such as Billy Joel, Carole King, and Paul McCartney, she's truly a force to be reckoned with in the music industry. However, she's not only a brilliant artist but a savvy businesswoman, and the eCommerce industry can definitely learn from this musical genius.
In 2019, Taylor Swift was named the Artist of the Decade at the American Music Awards and Woman of the Decade by Billboard. She has received 11 Grammy Awards, an Emmy Award, 34 American Music Awards, 25 Billboard Music Awards and 56 Guinness World Records, among other accolades. Plus, she's the first woman to win the Album of the Year at Grammy's thrice and only the fourth musician to do so.
Taylor Swift is clearly one of the best artists in the music industry or, as put by a magazine headline, "Taylor Swift is the music industry.". Just look at how she got Apple and Spotify to change their royalty schemes for younger artists just starting or the whole process that led her to re-record her back catalogue to own her masters. Of course, she's an incredibly talented songwriter, but songs alone are not enough for success. Marketing is also essential for success, and the eCommerce world has a lot to learn from Taylor Swift about marketing strategies and building an authentic brand. We recommend you to listen to our selection of Best of Taylor Swift while reading.
1. Put effort into building your brand's name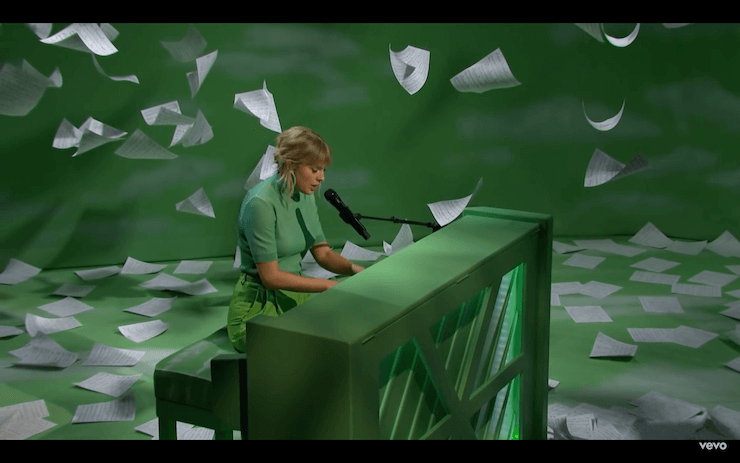 Firstly it is important to remember that Taylor Swift did not become a household name overnight. Her debut album Taylor Swift was released in 2006, and she has been associated with a record label since 2004, meaning that she has been actively writing and producing music for 18 years.
In Taylor Swift's early career, she was very conscious about how she put her brand image. For example, until very recently, Taylor Swift chose not to discuss politics; she did not talk about debatable and controversial topics. This is because Taylor Swift appeals to a diverse and extensive audience. Therefore, she did not speak about these topics to avoid losing a part of this audience. According to the documentary Miss Americana, this was also in part the strategy set out by her former record label.
Taylor Swift formed a likeable, sweet, cute character in her early career. She showed the kind, sometimes quirky and relatable sides of her personality. Even though she has been in the spotlight from a very young age, she was cautious with her actions and words. However, Swift became more confident in speaking her mind and opening up about different topics as she got older.
Strategy for eCommerce Businesses:
As for your eCommerce business, do not expect it to become a worldwide phenomenon overnight. Yes, some artists become famous overnight, but constant success is essential in this industry. Taylor Swift did not become the Taylor Swift we know today; it took her 18 years to do so. So, we recommend you work hard on your brand image. Make sure there's continuity in what you do, and when you need to make a change, communicate the reasons for this change to your audience.
2. Tell a story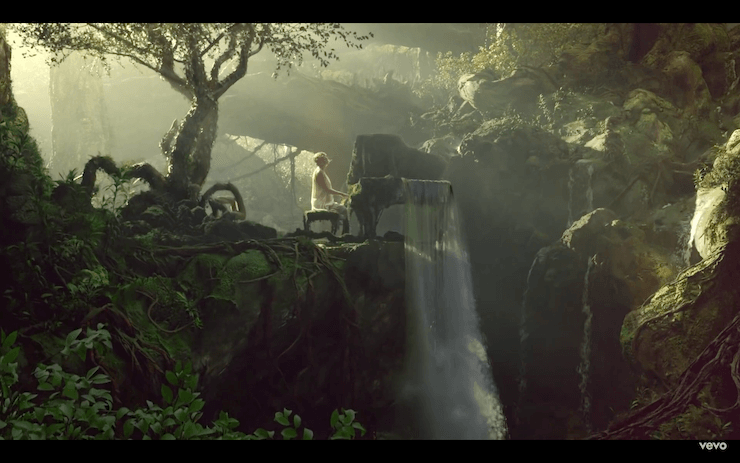 Taylor Swift herself said that she identifies as a songwriter before anything. "I write songs, and my voice is just a way to get those lyrics across.", she told The New Yorker in 2011. Throughout her career, she's been praised for her storytelling abilities constantly.
Her songs include stories about her love life, friends, other people's lives or fictional characters. Her songs have a story behind them, with some songs having an introduction-body-conclusion; or some being connected with other songs' stories. Swift mostly talks about her life as a teenager at high school and best friend in her earlier albums. First, she gives the listeners some background information, and then the story continues. And her music videos are always there to take her stories to the next level to make her tales simply unforgettable.
From You Belong With Me from her sophomore album Fearless (2008):
"You're on the phone with your girlfriend, she's upset

She's going off about something that you said

'Cause she doesn't get your humour like I do"
Recently, Taylor Swift has taken a somewhat different approach to writing her songs and created fictional characters of her own. Whilst previously she had primarily written about her own experiences, in her pandemic surprise album folklore (2020), she has created a teenage love triangle with songs "cardigan", "august", and "betty".
From cardigan:
"But I knew you'd linger like a tattoo kiss

I knew you'd haunt all of my what-ifs

The smell of smoke would hang around this long

'Cause I knew everything when I was young

I knew I'd curse you for the longest time

Chasin' shadows in the grocery line

I knew you'd miss me once the thrill expired

And you'd be standin' in my front porch light

And I knew you'd come back to me"
The way Swift introduces and describes the characters and follows on with explaining the events helps make Taylor Swift's songs more interesting and intriguing. People immediately try to guess who the story is or become interested in the stories and perhaps relate to the content.
Strategy for eCommerce Businesses:
You can always add a tab where you can give more insights on how you established this business, maybe add some storytelling content to your social media with short videos. A great example of this marketing strategy is the Extra Gum commercial about a couple falling in love. Even though the product is just a piece of gum, the commercial went viral, and the interest in the gum increased and is still increasing until this day. We recommend giving your business and your products some background stories and posting them as short videos, blogs or pictures in your social media accounts and eCommerce websites.
3. Reinvent yourself to stay relevant

Staying relevant for both brands and artists have become hard in the last decade. It has become necessary for artists to reinvent themselves, produce different music and surprise the audience with something unexpected. The same goes for brands as well. Many brands were top-rated in their day but lost their popularity and are perhaps nonexistent today.
Clothing brands like Juicy Couture, American Apparel, Forever 21 were the most popular and highest grossing brands of the 2000s. However, a common mistake that these brands made was that they did not update, and reinvent themselves. Most companies, as well as artists will have ups and downs; what is important is learning from previous mistakes and working hard to overcome them.
Taylor Swift did not have a perfectly advancing career. After her huge success with her 1989 album in 2015, she had some issues with the media and the haters. On Twitter, a hashtag became tt as #TaylorSwiftIsOverParty. After all of the hate she received through social media, she closed her social media accounts and was not seen by the public for one full year. 1989 was a huge commercial success and critically well-acclaimed; it is still the most-awarded pop album.
After that, at the end of 2017, Taylor Swift dropped "reputation". Both aesthetically and musically, these two albums were very different. After her downfall in 2015, Taylor Swift reinvented herself, so to speak, and surprised her fans and the public with her unexpected album. After deleting her social media accounts, she only promoted her album and stayed out of sight. Nevertheless, she successfully overcame those turbulent times in her career and released five more critically-acclaimed albums.
Strategy for eCommerce Businesses:
For all brands, it is crucial to stay relevant. Always follow the trends in your industry, give importance to market research and research & development. Digital trends constantly change with the development of technology; therefore, it is necessary to be updated with the latest trends as a brand. Even when your business faces downfalls, it is possible to reinvent your brand and make it successful with proper marketing strategies.
4. Reward loyalty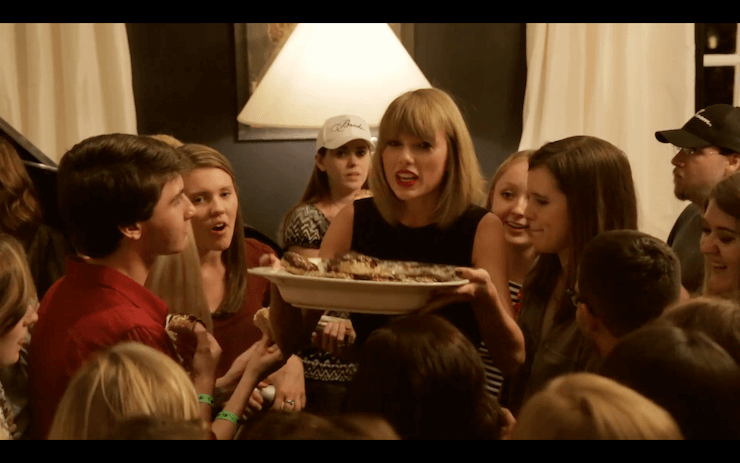 Taylor Swift is an expert in customer retention and knowing and rewarding her loyal fans. Firstly, Taylor Swift follows her fan base closely on social media (known as Taylurking). Initially, her first fans came from country or country-pop backgrounds. But as she changed genres throughout her career, she gained the hearts of pop and indie music fans with her sharp pen and soft heart.
Taylor Swift is known for offering special surprises to her loyal fans. For example, she sends out personalised messages and gifts to fans during the Holiday season. While it is impossible to send every single one of her fans a message, she occasionally does this, and there's no use denying that this is one hell of a way to make fans feel connected to the artist.
Additionally, as another example, Taylor Swift had a rewards program as Secret Sessions, an album-listening party hosted by Swift herself at her home, with home-baked cookies made by her. So some of her loyal fans could hang out in Taylor Swift's house and enjoy her album with Taylor Swift herself before it came out.
Furthermore, Taylor Swift also offers limited physical copies of her albums, extra songs in her deluxe albums and merchandising for her loyal fans. The cardigan designed for the lead single of "folklore" is one of the most brilliant merchandise designs in the last couple of years.
Strategy for eCommerce Businesses:
Rewarding loyalty is an excellent strategy that eCommerce companies can also implement. To increase customer retention, companies can use Taylor Swift's approach. Taylor Swift sends personalised messages, whilst eCommerce companies can send personalised emails, personalised push notifications and recommend personalised products. These personalised messages do not necessarily have to be in a sales way. These messages can simply celebrate a customer's birthday or remind them about an upcoming special day. In this way, customers will become happier with the brand experience and are likely to come back for further purchases.
5. Make it personal but not too personal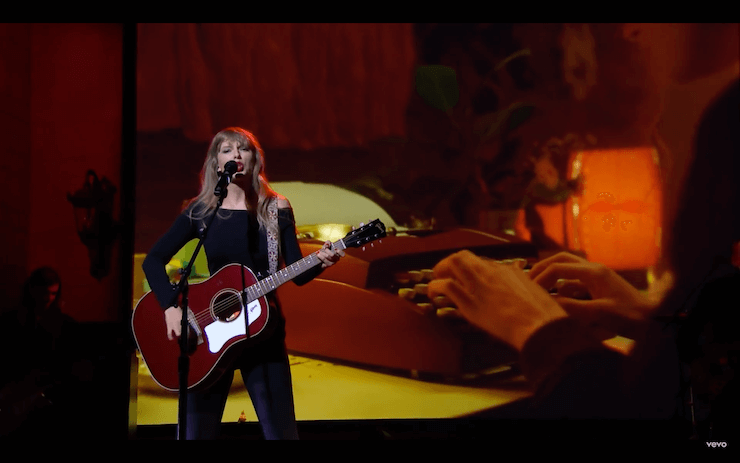 Taylor Swift is known for writing songs about her private life. She's often discredited for writing breakup songs, but she wears her heart on her sleeve and writes about all aspects of her life. She wrote some songs about her relationships that have ended (All Too Well, Back to December, Sad Beautiful Tragic), a love that has endured all the hardships of life (Lover, peace, Delicate), her friends (22, Fifteen), her family (Soon You'll Get Better, The Best Day, marjorie), about moving to New York (Welcome to New York), etc.
Through her catalogue, her audience can follow a semi-autobiography. However, she does not necessarily name the people that the songs are about. She rarely gives out names in her songs. Most of those are from the early stages of her career where she was a teenager full of angst, just like us: Dear John, Teardrops on My Guitar. Mainly, she does not state who the song is about and leaves it for the listeners to discover and perhaps relate to it. Moreover, Taylor Swift does not give out names in her songs because she wants her audience to relate and connect with the story itself.
Strategy for eCommerce Businesses:
Similar to Taylor Swift's strategy, as an eCommerce business, you can make your brand more personal towards your customers. You can point out some employees and give their stories; however, do not excessively give out personal information about your company. It is nice to make your brand feel personal, but do not forget that your brand is not only about the backside, but it is also about your products.
As for Taylor Swift's other strategy on making her audience relate to her songs, eCommerce businesses can use personalisation tools for each of their customers. This way, the website and the brand will seem more personal to the users and create a positive experience.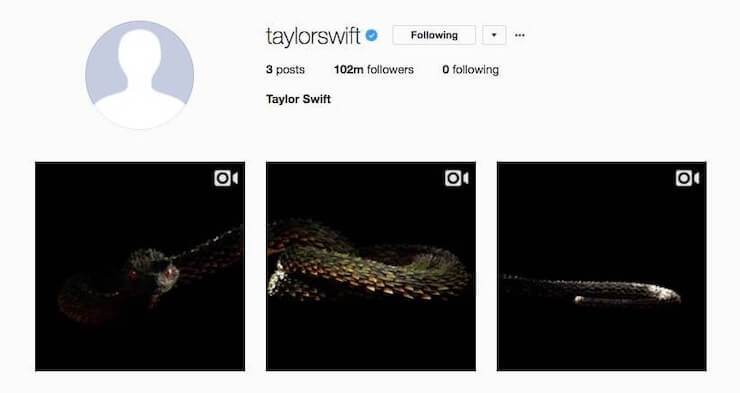 Every artist has a different way of using social media. Taylor Swift is not the best social media user; she does not post regularly. However, when she is releasing an album, she is overly active on social media. This brings mystery to Taylor Swift's social media persona, her audience is always excited to see what she has done, and she always comes back stronger than a 90s trend. As an example, in between her releasing of Fearless (Taylor's Version) (2021) and Red (Taylor's Version) (2021), she was not as active on social media at all. However, before Red (Taylor's Version) (2021), she opened a TikTok account and surprised her fans with another social media presence.
Perhaps the most successful use of social media by Taylor Swift is that she closed all of her social media accounts in 2017 and then started posting pictures of snakes. So naturally, this created a mystery element. Following these posts, she released her album reputation. And now, whenever an artist goes on a social media blackout like this one, it's referred to as "their reputation era". So not only did she create an aura of mystery and curiosity for her album at the time, she ended up coining a pop culture term.
Strategy for eCommerce Businesses:
Social media is an excellent tool for marketing. Therefore, regardless of being an artist or a business, social media is an effective way to gain more followers and potential customers for your brand. It is usually recommended to use social media regularly and post daily; this is not the main criteria. Of course, daily posting will make your account show up in the algorithm. However, the posts' content is also significant. Try to use social media in a way to interact with your customers. For example, you can repost some of their posts. Also, try to create a mystery element in your posts. This can be done for new product releases with teaser videos, for example.
7. Collaborate with fellow brands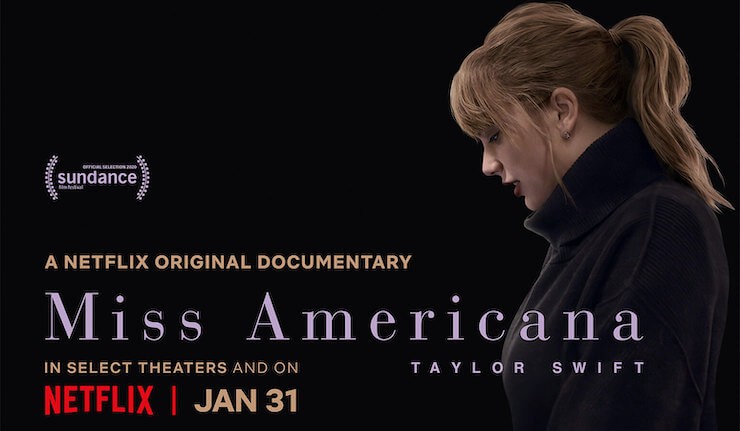 Taylor Swift has collaborated with many brands and fellow artists throughout her career. Collaborating with other artists from different music genres have made her appeal to diverse audiences. Also, collaborating with brands have made her describe herself differently and offer her fans different products and experiences.
Firstly, while writing her own songs, Taylor Swift occasionally collaborates with fellow songwriters and producers like Jack Antonoff, Max Martin, Ryan Tedder, Aaron Dessner and gets their opinions. Also, Taylor Swift has released many songs featuring many different artists and featured in other artists' songs.
Taylor Swift has collaborated with country singers like Tim McGraw and Keith Urban; rappers like B.o.B, Kendrick Lamar and Future; pop artists like Ed Sheeran, Brendon Urie from Panic! At The Disco and Zayn Malik; indie musicians like Gary Lightbody from Snow Patrol, The National, HAIM and Bon Iver; and she even worked with the musical theatre genius Andrew Lloyd Webber.
Taylor Swift has included famous artists in her music videos as well. Sadie Sink and Dylan O'brian in her All Too Well (2021) short movie, Katy Perry, Adam Lambert, Ryan Reynolds in You Need To Calm Down (2019), Scott Eastwood in Wildest Dreams (2015) are only a few of the examples.
In addition to her collaborations with fellow artists, Taylor Swift has also collaborated with different brands and companies. For example, Taylor Swift collaborated with the shoe brand Keds (2012), fashion brand Stella McCartney (2019), and department store Macy's (2012). She has also partnered with Target (2011) for her physical album, Apple Music (2015) and Sony (2010). Furthermore, she has also collaborated with Starbucks (2021) and Coca Cola (2013). Her latest production collaborations include a documentary for Netflix, Miss Americana, and the documentary concert for Disney+, folklore: the long pond studio sessions.
Strategy for eCommerce Businesses:
Strategic and meaningful collaborations are crucial for eCommerce businesses. Many brands appeal to specific customer segments; however, your eCommerce business will be shown to different customer segments after collaborating with similar brands or brands from other industries. This way, your brand will become more known within different customer bases.
8. Reinvent old content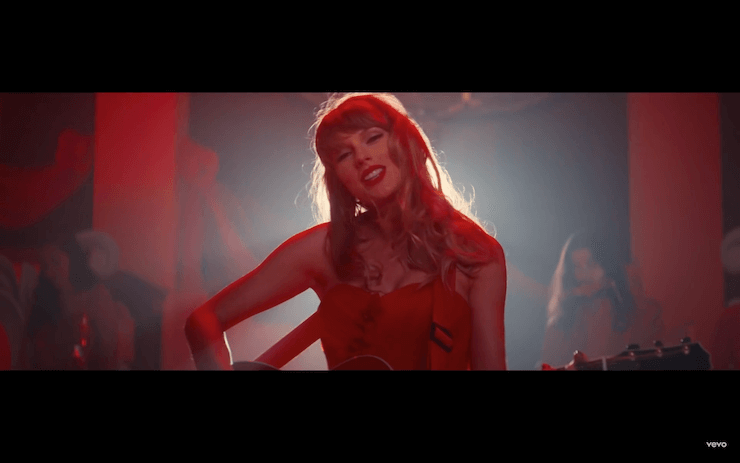 It's widely known in the industry that Taylor Swift has had problems with her former record label about the ownership of her masters. To make a long story short, she's currently re-recording her first six albums. Of course, many artists have previously re-recorded their albums for music ownership; however, none have reached the success Swift's had so far. Taylor's Versions of Fearless and Red have become so popular and successful that they've surpassed the success of the old versions.
So far, Taylor Swift has released her re-recordings of Fearless (2008) and Red (2012) in 2021. However, she did not only re-record her old songs but also added more songs for her listeners to enjoy and increase the re-records' commercial appeal. So, Swift added songs that she originally wrote for the albums back in the day but had cut out and named them "From The Vault". In addition to that, for Red (Taylor's Version), she's shot a music video for one of the vault songs (I Bet You Think About Me) and a short film for the 10-minute version of All Too Well, her most iconic song up to date.
Reinventing her old content whilst staying faithful to the original has made her re-recording albums a success like never seen before.
Strategy for eCommerce Businesses:
As for eCommerce businesses, we know that sometimes it is hard to come up with new content, products, or designs. For example, if you have previously caught success in your old products, you can reinvent them by staying true to the original. This is a low-risk move since you know that your customers liked your product before. However, it is essential not to forget that doing this too much might become repeating oneself, which might get negative reactions from your customers. Therefore, reinventing old products or content might become exciting for your customers once in a while.
9. Be creative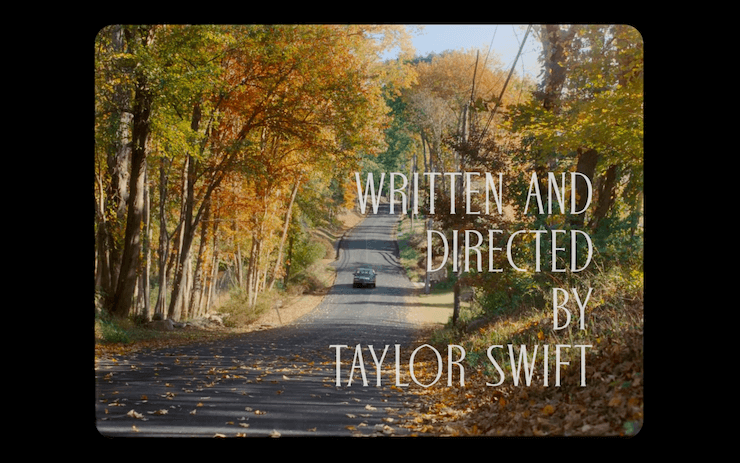 Taylor Swift is, without an argument, the best musical artist of this decade. No one in the music industry can quite match Swift's songwriting and productivity. Taylor Swift is truly a master in creating new songs and coming up with unique music. In addition, she shoots and directs her music videos and is the executive producer of her albums.
As aforementioned, Taylor Swift's albums contain different aesthetics and sounds. So far, she has tapped into three different genres of music, which is one reason why her music is so unpredictable and also attractive. Whilst Swift started as a country singer, she moved to pop music with 1989 (2014), and finally, with folklore (2020) and evermore (2020), she has jumped to indie music as well. It's safe to say that Swift has been doing many things in the music industry that no other artist has done before.
Strategy for eCommerce Businesses:
eCommerce businesses should be creative and not be afraid of putting out products or content that is not similar to fellow brands. You should find a unique way to market your products or design unique products. Trying to be outside of the box might be risky, but you can be sure that this is an important way to become successful.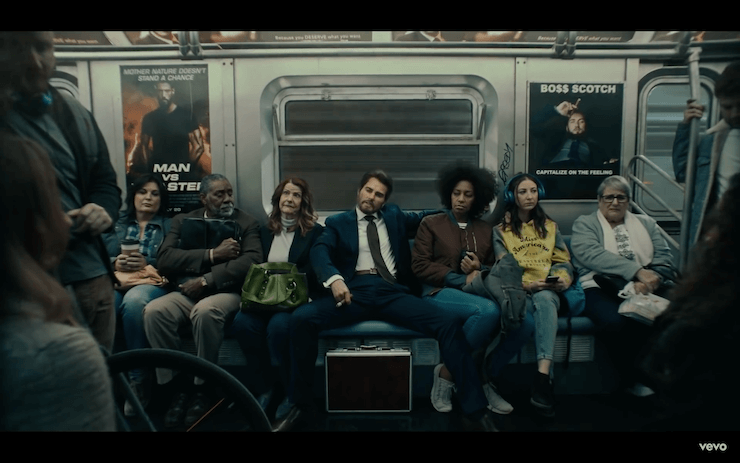 Taylor Swift was not an active speaker about political issues in her early career. However, in the last few years, she has become more involved with social issues and now uses her platform to create awareness in many different ways.
Taylor Swift speaks quite frequently about how women are not treated equally in the music industry. Since she has also faced the same inequality, she has written a couple of songs about the mistreatment of women in the entertainment industry, such as Blank Space and The Man, and talks about it often in interviews.
Swift has also released songs discussing the hate she's received from the media in songs like Blank Space, Shake It Off, Look What You Made Me Do.
Additionally, Taylor Swift advocates for LGBT+ rights and has also written a song about this. In 2019, Swift wrote a letter to her senator urging him to support the Equality Act and urged her fans to do the same. Her other songs with political themes involve Miss Americana and the Heartbreak Prince and Only The Young.
Taylor Swift was also involved with the Women's March in 2017, the Black Lives Matter and MeToo movements, and made several donations towards these social issues.
Strategy for eCommerce Businesses:
It is important to remember that the revenue, sales and profit numbers are not the only things you should care about. Companies should give back to the community and talk about social issues when needed. As for a strategy, eCommerce businesses can partner up with non-profit organisations, send donations, employ people from all backgrounds and include customers from all backgrounds.
Wrapping Up
Having solid marketing strategies and roadmaps are crucial for artists and businesses. To illustrate our point, we've discussed the ten marketing strategies we learned from Taylor Swift that eCommerce businesses can also implement in their operations.