A Case of Sporting Goods Part I: The Challenges
I've lost count of how many times I have started a Chloe Ting challenge from the beginning without ever seeing it through until the very end. This, however, cannot stop me and others like me from being into sports fashion. This growing interest in physical and mental well-being is one of the biggest reasons behind the sporting goods market's growth. We've prepared a 4-article itinerary to make a situation assessment of the market, examine its challenges and share our winning strategies to overcome these said challenges.
Key Takeaways

The global sporting goods market is expected to grow to €365 billion by 2025, according to McKinsey.
In the 2020-2021 period, the driving force behind the sporting goods industry was the consecutive lockdowns.
As of 2022, the sporting goods industry is mainly driven by the growing interest in healthcare and wellness.
One of the biggest challenges for sports retailers is the lack of one-to-one communication between the brands and customers. Customers often feel lost due to a lack of personal assistance from the store.
Sports Apparel is Now Bigger Than Ever
I know we're sick of talking about COVID-19 and would like to stop mentioning its name while discussing non-medical topics. Trust me, I feel the same. However, COVID-19 really did change the sports fashion industry significantly. So, bear with me.
In March 2020, UK retail experienced a never-seen-before decrease in sales by 5.1%. Food and alcohol shopping increased significantly, while clothing sales dropped by 34%. The retailers were shocked; however, in hindsight, this is predictable behaviour in the face of an unexpected crisis.
In the face of lockdowns, sports equipment, athleisure and activewear performed particularly well. And now, the sports fashion and goods industry is experiencing the effects of increased health awareness, wellness and rising sustainability concerns, as reported by McKinsey. In fact, the global sporting goods market is expected to grow to €365 billion by 2025.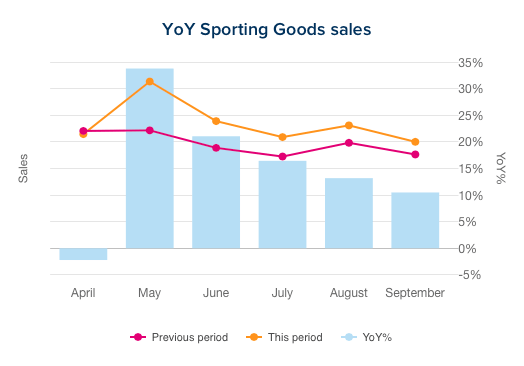 Biggest Challenges Faced by the Sports Retailers
In this 4-article series, we'll discuss strategies to overcome these challenges and what results can be expected based on Segmentify's own data.
Difficulty of Offering a No-Friction Customer Journey
Sports retailers have vast product catalogues, which might greatly hinder the customer's journey if you're not careful. Customers don't like to scroll endlessly through your product pages. They want that tennis skirt and they want it now.
Increasing Customer Retention and Building Customer Loyalty
Who should the customer buy from? A monobrand, a marketplace or a marketplace only for sports retailers? Why should they prefer you? Increasing customer loyalty and customer lifetime value (CLV) is a big challenge in the face of rising competition.
Lack of One-to-One Communication
Sometimes, the customers know exactly what they want. Other times, they only have a vague idea of what they want. For example, someone who's been playing tennis for 10 years would probably know what kind of racket they should buy. But another person who just signed up for a tennis course? They probably have no idea what they're doing. This is coming from someone who's been there; it's not nice to feel that lost. Wish there was a way for the online store to communicate on a one-to-one basis with me.
Lack of Urgency
The community aspect of a brand-customer relationship is often overlooked. Neglecting this causes the customers to not necessarily feel the need to take action, resulting in high bounce rates and low conversion rates. Why should they buy that pair of sneakers and why should they buy it now? Where's the urgency? And perhaps, more importantly, how do you create urgency?
Winning Strategies for the Sporting Goods Industry
Upon examining the challenges, it is clear that the focus should be on strategies that will:
Smooth out the customer journey
Increase customer engagement
Build flows that will make the decision-making processes easier and quicker
Decrease the time between entering the store and hitting the "Order Now" button
Increase conversion rates and AOV
Improve the customer lifetime value and create customers that will advocate for you
Over the course of the following 3 parts in this series, we will be delving into the winning strategies for the:
Wrapping Up
The increasing interest in healthcare and wellness is now the driving force behind the sporting goods industry. Obviously, this ever-growing industry is not without its challenges. Throughout this 4-article series, we'll discuss different strategies for sports retailers to implement to overcome the challenges mentioned in this article. Next article in the series is A Case of Sporting Goods Part II: Winning Strategies for the Homepage & Search.