What is One-to-One Marketing? Definition, Tips, Examples
One-to-one marketing is perhaps the most popular marketing strategy for eCommerce websites at the moment. One-to-one marketing is the name we use to define the practice of creating a unique and optimal experience for your customers using data from their activities online.
While it is not entirely new, one-to-one marketing has been around since the 1990s. This strategy is used to build relationships with customers emphasising personalised interactions with an eCommerce website to create a better customer lifetime value and nurture a loyal customer base.
To put the online one-to-one marketing strategies into perspective: You can think about them as your favourite coffee shop starting your regular order as soon as you walk in. Write your name on the cup correctly and deliver your usual order as soon as you get to the register. Shortening the time you are waiting for your order creates a unique experience. This Personalisation and Customised Experience is the expected outcome of one-to-one marketing.
Why Should You, as an eCommerce Website, Care About One-to-One Marketing?
With the COVID-19 pandemic, the competition in the eCommerce space has risen to very close margins, making customisation and personalisation more critical than ever to find that connection between your store and how connected your customer base feels to it.
While you might not be selling to-go coffee to your customers on your website, you can still make the experience as unique and quick as your favourite coffee shop. As much as online shopping is seen as a way to not interact with other people, the inherent need for interaction and connection stays the same, and one-to-one marketing achieves this by interacting with a website's customer base in a more personalised way.
Each day, the competition and new brands emerge in the eCommerce space, making anything to get ahead of the competition essential to stand out from the pack. To stand out from the competition, the last thing you should do is show your customers a cookie-cutter website with no personalisation to every single customer. Therefore, creating an eCommerce website with one-to-one marketing is essential to standing out from the crowd.
So, What Steps Can You Take to Utilise One-to-One Marketing on Your eCommerce Website?
1. Customisation
In a world where everyone and everything is sending out a notification to your mobile phone, it is essential to understand how your customer would like to hear from you. Giving them a choice to show that you understand their needs and avoiding the methods they do not prefer makes it so that they are not annoyed by different notifications by your website.
While it can be necessary to notify your customers about new promotions, new products, and updates, doing so on your customers' terms creates a relationship that shows that you respect their communication choices.
2. Segmentation
The process of segmenting a target market into groups of potential customers with similar requirements and behaviours involves dividing the market into segments. It is used to create different groups of customers interested in other products throughout your website.
These groups, such as customers who have purchased "2 summer dresses in the past 20 days." can be a valuable tool to take one-to-One marketing to the next level.
These clusters can be used in different ways, such as through emails, push notifications, a carousel with their favourite dresses that haven't been purchased yet, and a unique code for those interested in buying new "summer dresses".
The sky becomes the limit when you start to use segmentation, and it changes how you approach the customer groups of your website.
3. Personalisation
Personalisation is that your website will be able to cater to and care for each customer that visits and browses your website in real-time, evolving as they spend more time in your store.
It is much more than putting your customers' names on their account page; it is about changing your website to suit your customers' needs individually.
How Do You Create a One-to-One Marketing Strategy for Your eCommerce Website?
1. Create Personalised Carousels Throughout Your Website
Understanding your visitors and making personalised product recommendations will create a unique shopping experience that will impress potential customers. And tools such as Segmentify can analyse each visitor's interests and help you offer the most relevant products that your visitors will love.
With personalised carousels, you can show your customers what they will be interested in the most; for example, on the homepage of your website, you can add a carousel that offers a selection of products that a customer has shown interest in previously.
This is next to impossible without some serious effort and a copious amount of time on your hands to look into each customer's data and recommend them a product. However, to make this easy, you can use Segmentify's AI Technology to recommend personalised products to your visitors.
Take one of our fantastic algorithms as an example: Smart Offers, which recommends products based on the best-matching categories and the current visitor's behaviour during their last visit. The first-time visitors, on the other hand, are recommended the most popular products.
2. Create a Search Experience
It is essential to show your visitors the correct products when searching for a specific product and show them alternatives to the said product.
To achieve this, you can either just look at the search query, match it to the existing products, or show that product to your customers. Or an improved and unique search experience that offers your visitors the products they have searched for and different products you want to promote as soon as they click your search bar.
With Segmentify, this is possible with our before and after search functionalities that show accurate products based on the search query, helping you not miss out on a sell and promote products your customer has looked into on their last visit, as well as other sorting options such as:
Smart Sorting: Works with our intelligent algorithm that contains visitor behaviours
Best Match: Brings the products related to the searched keyword that matches.
Bestsellers: Showing the best-selling products.
New Arrivals: Lists the products from the latest arrivals to the oldest.
3. Build More Personalised and Tailor-Made Shopping Journeys with Precise Audience Segmentation.
Create and manage different groups of visitors interested in many products and target them with specific promotions and accurate recommendations, as well as showing that you understand their interests.
With Segmentify Rule-Based Segmentation, you can create them efficiently and use them throughout your website's one-to-one marketing strategies. You can create as many segments as you want based on the purchase data with the Rule-Based Segmentation.
Create a segment for fans of a particular brand and inform them about special deals or products before anyone else, or give them special discounts. Create segments for people shopping in specific price ranges (luxury items), send push notifications for new arrivals, and recommend products accordingly. Or just combine the two segments!
For example, you can create segments such as:
Shoppers who purchased three shoes in the last 30 days
Those who viewed but did not buy a product
Shoppers who have made sales from the category "Dresses" at least twice in the last 30 days
Shoppers who always purchase products from the "Vitamins" category
Shoppers who viewed guitars but did not buy anything from that category
4. Show Your Visitors That You Care
Nobody likes to eat at an empty restaurant. It is the same story with eCommerce websites. People are more likely to make purchases if they are reminded that they are not alone in their experience and show them that you remember their interests and interactions with products.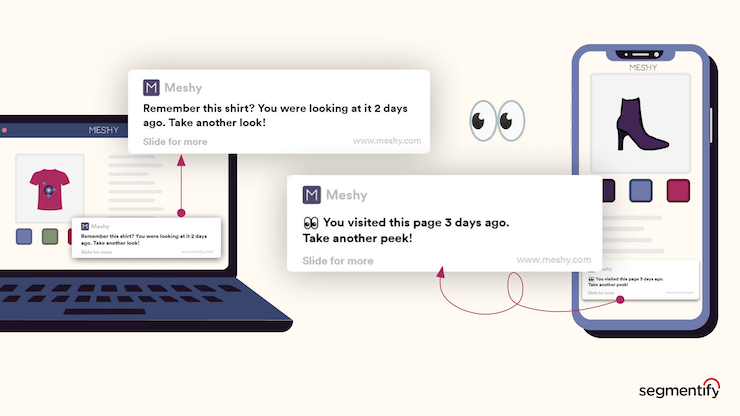 With tools such as Segmentify's Social Proofing, you can show them that they are not alone and that you remember your customer has looked into a product or has added it to their basket previously and offer them your discounts.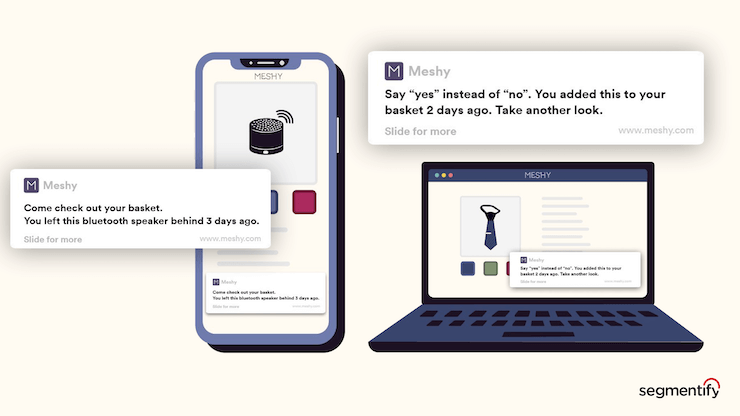 Messages like these will show your customers that you are with them throughout their experience, just like a shopping assistant in a physical store, catering to their needs. Plus, social proof marketing is a great way to nudge your customers in the right direction and convince them to make that purchase!
5. Keep in Contact with Your Customers Even When They are Not in Your Store
While you can't message or call each one of your customers and keep track of what they are interested in, you can use emails and push notifications to tell them that you have a special promotion just for them, as well as let them know that they might have forgotten some products in their shopping cart.
Reminding your customers about yourself is essential with so many things happening in our lives, and it helps to give them quick reminders about what is happening in their favourite store. While keeping in mind preferences that we've looked into about communication and incorporating segmentation to the mix, not annoying your customers with too many emails or push notifications to become more accessible.
Using Segmentify in emails ensures that you will be sending out the most appropriate products in an email that your customer has shown interest in before, as well as keeping them in the loop about Top Sellers, Back-in-Stocks, Discounts, Abandoned Carts, in addition to Nice to Meet You and Birthday eMails without even lifting a finger.
The same scenario also applies to push notifications, which are personalised for each of your customers with campaigns such as "Happy Birthday," which can give out a unique code for your visitors just created for them.
Wrapping Up
By understanding your customers' needs, you can cater to them using the aforementioned one-to-one marketing strategies. When done effectively, this will distinguish between your store and many other cookie-cutter eCommerce websites that people forget about after they close their browser tab.
It is not an easy task to understand and cater to everyone. However, with tools such as Segmentify, this process becomes pain-free, and this experience can be implemented on your website to help you with your one-to-one marketing needs. You can book a free trial, try Segmentify's outstanding one-to-one marketing solutions, and boost your customer satisfaction.