Smart Offers: The smartest ways to use them
If you're in ecommerce, you already know that a website is only as good as the personalization tool it uses. According to research by Gartner, B2B companies with effective personalization on their ecommerce sites will outsell competitors without the same level of personalization by 30% in 2018.
Benefits of Personalization are Simple, yet very Effective
97 out of 100 visitors coming to your online store from marketing channels, leave without a purchase because usually the first product they see isn't what they're looking for. With personalization, you make sure that each visitor finds what they are looking for and the products that are most interesting to them. So, you can convert more visitors into paying customers and increase your Return on Investment Rates.
By converting more visitors into paying customers you get to lower your Customer Acquisition Costs which are usually quite high. So, investing in a personalization solution is a smart way to increase your sales and decrease your acquisition costs.
With unique and personalized shopping experiences you offer to each customer, you will also be creating customer loyalty through increased customer satisfaction.
First Step Towards a more Successful Ecommerce Website
Long story short, if you still haven't started to explore how ecommerce personalization can benefit your business, here's the first step.
Start by displaying personalization campaigns on your homepage and product detail pages with our Smart Offers. Smart Offers are a great way to greet your first-time visitors and an even greater way to continue to please your loyal customers. They show the most popular products of the month to first-time visitors and the most popular products of their favorite categories to returning visitors.
How do Smart Offers work?
With our machine learning technology, we are able to recommend products and campaigns to our visitors based on content, rules and behaviors. Audiences are divided into micro-segments, which are created by matching different tastes and online behavior patterns. Offering the most relevant campaigns and products to these micro-audiences significantly improves crucial metrics, such as website visit times, click rates and average purchase times. Therefore it's more than accurate to say that smart recommendations significantly improve overall website performance.
Display Smart Offers Campaigns on your Homepage and Product Pages
Your homepage and product pages are the two most effective pages on which to display Smart Offers. More often than not, the first page your first-time visitors come across is your homepage. You must be able to grab their attention in just seconds before they leave. The only way to make them stick around longer is by showing the most relevant products the instant they click on your website. With Smart Offers, you'll be able to do exactly that, while keeping your visitors engaged until they move on to your Product Detail Page – the second most effective page for Smart Offers!
Lead the journey
We already have sufficient data to keep each of your visitors engaged from the second they click on your website. All we need in order to generate more accurate product recommendations that will lead to purchases is more data! And more data tranlates into your visitors clicking, viewing and moving through the funnel. Our engine keeps track of everything in real time and generates the most relevant product recommendations in just milliseconds! That's why displaying Smart Offers on your Homepage and product pages is a sure way to instantly increase your sales!
Choose the right words
Campaigns with Smart Offers are fully personalized for each of your visitors. So you can try giving them even more personal names such as 'Selected just for you' or 'We know you'll like these' to engage with your visitors individually. The more human you name your campaigns, the more sales you'll drive through them.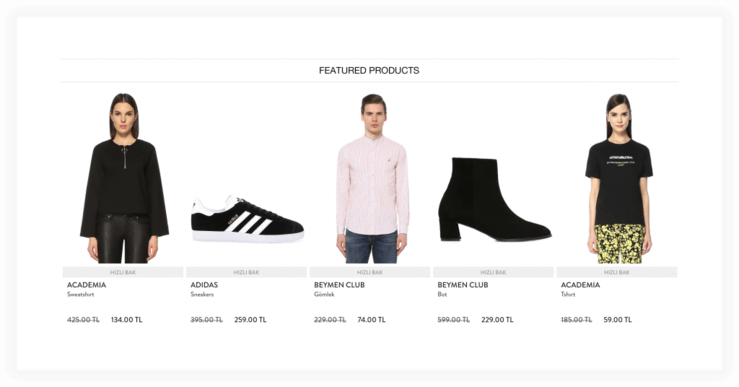 Keeping the first-time visitors engaged is vital for any ecommerce company!
What is the Cold Start Problem?
High bounce rates, low ROIs and high customer acquisition rates – the nightmare list for all e-commerce companies goes on and on. And the core problem behind it is not being able to engage interest for first-time visitors. With the attention span of online customers being just 8 seconds, any recommendation engine must be able to recognize visitors and generate recommendations in just seconds! But how can you make recommendations to first-time visitors that you know nothing of? This is what's known as the Cold Start Problem in e-commerce personalization.
How do we solve the Cold Start problem?
Our Smart Offers algorithm already knows a lot about each of your visitors, from the second they visit your online store! It knows where they are coming from, approximately what time they are browsing your website, which devices they're on and, most importantly, which referral channel they're coming from!
By combining all the non-click data and placing every visitor into their corresponding micro-segment, the Smart Offers algorithm has the ability to welcome your first-time visitors with extremely relevant product recommendations right from the start! This gives you the opportunity to guide your customers' journeys right from the start, all while solving some of the most crucial problems in e-commerce.
Converting your visitors is not enough, you need to focus on creating customer loyalty.
Data fuels personalization.
Data equals insights. And insights are everything your visitors do in your online store. From their browsing history, to their click history, past purchases and the products they add to their baskets, every action customers take in your e-commerce store leads to the most relevant recommendations. That's why Smart Offers get even better for repeat visitors. And let's be fair, they return because you always show them the exact products they're looking for. A second visit is more than enough for our personalization engine to know each of your customers' tastes, interests and preferences!
Like what you read? Start exploring how personalization can improve your business right now!