TikTok Marketing Strategy: Tips and Examples for eCommerce, B2B, TikTok Shopping & TikTok Ads
If your eCommerce business's target audience is aged between 18 to 24, which is almost 42% of all TikTok users, TikTok is the ideal place to market your products to this demographic.
With more than 1 billion active monthly users, TikTok is the next best social media platform for companies. Additionally, after Facebook, Youtube, WhatsApp, Instagram, and WeChat, TikTok is the 6th most used social media platform. Let's get on with what TikTok marketing is, TikTok for B2B and eCommerce marketing and TikTok ads!
What is TikTok?
The Chinese corporation ByteDance owns the short-form video hosting service TikTok, also known as Douyin in China. It features a wide range of short-form user films, lengths ranging from 15 seconds to 10 minutes, in categories such as pranks, stunts, tricks, jokes, product promotion, advertisement, dancing, and entertainment.
Hear Us Out: TikTok Marketing for B2B
TikTok has quickly become an inseparable part of content marketing. TikTok content enables businesses of all sizes to connect emotionally with potential customers, showcase their products, and increase their reach. Despite not having any plans to shop, 67% of users claim that they are inspired to do so while scrolling through TikTok. This figure effectively demonstrates the connection between TikTok and consumer behaviour, making it a top tool for B2B marketing teams across all industries.
Businesses must be willing to adapt as the social media marketing landscape constantly changes. Building up our B2B TikTok account is an investment that will pay off because TikTok has the highest user interaction per post compared to any other social media platform. It enables us to have more fun with content creation, demonstrate our organisation's beliefs, and establish a genuine connection with our audience. Try fresh, trendy, and occasionally ridiculous strategies since they can increase engagement in general.
They might just stumble upon our TikTok clip while browsing at two in the morning, form an emotional bond with our brand, and realise that their company requires what you have to offer.
What is TikTok Shopping?
TikTok Shopping provides a way for TikTok users to buy products in the app without opening a web browser to go to a separate eCommerce store. When a company creates a TikTok Shopping account, it gets a special Shopping tab on its profile. An icon of a shopping bag is used to signify this. Customers can then browse and choose products on TikTok before buying them there or by going to the business's website and finishing the transaction there.
TikTok initially limited TikTok Shopping to selected Shopify-based retailers in the U.S., U.K., and later Canada.
The ability to link or tag products in our TikTok videos is a crucial feature of TikTok Shopping. This way, you can mention products in our videos, and our viewers can learn more about them by clicking on the tagged products. At this point, TikTok will either lead them to our storefront to complete the process or, if you wish, finish it within TikTok. You can attach relevant links to buy products and services to live shopping offers, real-time demos, and live-streamed product showcases.
How to Set up TikTok Shopping
To use TikTok Shopping, you must first have a TikTok for Business account. From within Shopify, you can use the app to create video advertising, track results, and handle orders. The Shopify software not only allows us to manage our TikTok Shopping tab, but it also connects with TikTok For Business Ads Manager.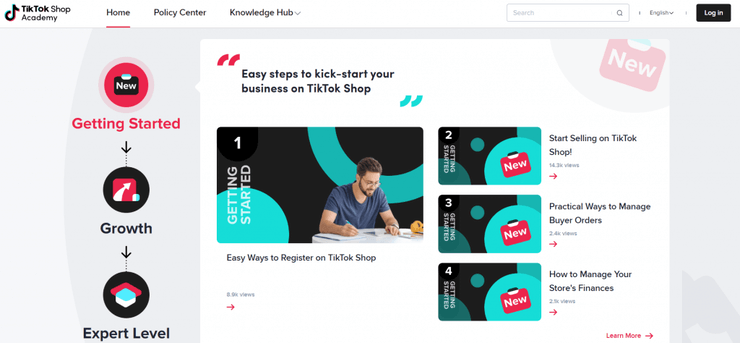 What are TikTok Ads?
TikTok Ads provides a sophisticated yet simple-to-use platform for businesses and brands to advertise to millions worldwide, including targeting, ad creation, insight reports, and ad management tools.
TikTok Ad types are:
Branded Hashtag Challenge
1. In-Feed Ads
In-Feed Ads are the video ads that appear in between user videos as you scroll through your For You page. If you're unfamiliar with TikTok and the For You page, In-Feed Ads are similar to the ads you'd see while tapping through Instagram Stories.
You can get super creative with In-Feed Ads. You can include multiple call-to-actions and make your video length anywhere between 9 to 15 seconds.
Having the opportunity to include a call to action is a huge advantage. For example, you can encourage users to shop now, download your app, or visit your website right through TikTok.
Keep in mind that, similar to other videos on your For You Page, In-Feed Ads may be swiftly scrolled over or avoided. You have just 2-3 seconds to capture your audience's attention before they continue to browse. In-Feed Ads should take up the entire screen and be intriguing enough to keep consumers from scrolling past your content.
2. Brand Takeover Ads
Brand Takeover Ads play automatically when a user launches an app, taking over the entire screen with a video aimed at that user's demographic. TikTok Ads are one of the finest ways to raise brand recognition and generate immediate sales by putting your message in front of your intended audience.
Not only do these advertisements play automatically whenever a user launches TikTok, but they can also show up on the For You page in the form of still photos, GIFs, or videos, complete with a clickable link that takes them to an external website or a Hashtag Challenge within TikTok.
TikTok ensures that users do not view more than one Brand Takeover per day, as Brand Takeover Ads are restricted to their respective categories. With Brand Takeover Ads, your content will be seen by a large audience with minimal other competitors.
Brand Takeovers might not be the best option for your first TikTok Ad campaign. Brand Takeovers are highly efficient but not without a hefty price tag. They are an excellent choice for rapid expansion and getting in front of a wide audience of TikTok users if you're a larger business with a substantial marketing budget.
3. TopView
TopView Ads is a new kind of advertising that expands upon Brand Takeovers. TopView Ads vary from Branded Takeover Ads in that TikTok viewers are not immediately inundated with an ad when opening the app – TopView Ads are the first in-feed post after 3 seconds.
It appears at the top of the For You page, TikTok's most valuable real estate, with up to 60 seconds of full-screen video with auto-play and sound.
4. Branded Hashtag Challenge
TikTok's Branded Hashtag Challenges are an innovative kind of marketing that can only be found on the platform. If you've ever visited TikTok's Discovery page, you've definitely seen some branded hashtag challenges.
Branded Hashtag Challenges provide sponsored and unsponsored chances for companies on TikTok, similar to the usual hashtag trends and challenges. They are an excellent tool for generating user-generated content and spreading brand awareness.
The most attractive feature of Branded Hashtag Challenges is that they're a great source of entertainment. They're fantastic for facilitating interaction between companies and the TikTok community. Creating a Branded Hashtag Challenge is more effective if you have clear goals in mind. Do you need help getting the word out about a brand new product? Or creating fresh prospects? Or maybe you just want to raise your brand's profile in the public eye.
Users who click on a sponsored hashtag are directed to a landing page on TikTok that has the brand's logo, a link to the website, an explanation of the challenge, and examples of user-created content utilising the hashtag.
5. Branded Effects
TikTok now includes branded shareable stickers, AR filters, and lenses in its advertising mix. TikTok's branded effects, similar to Snapchat's branded lenses, allow advertisers to create their own distinctive filters on the app.
Branded Effects may be active for up to 10 days at a time and are an excellent method to encourage people to connect with your business directly.
TikTok Marketing Strategy Tips for eCommerce
1. Go Viral
The TikTok algorithm is fairly different from the Instagram, Twitter and Facebook algorithms. TikTok emphasises the TikTok video itself rather than looking at the accounts' popularity. Therefore, producing content that can go viral is easier than it is on other social media platforms.
TikTok offers a variety of brief campaigns known as hashtag challenges that are followed by #tags. These challenges have a covert message intended to inspire or raise awareness in the younger Generation Z.
3. Partner Up with TikTok Influencers
TikTok has created its own influencers, mainly from the age group 13 to 24, similar to its user demographic. TikTok influencers can vary in the content they produce, from comedy to dance, singing, makeup, and other forms of entertainment. By finding the most suitable influencers for your products, you will be able to grow faster on TikTok.
4. Have Promoted TikTok Ads
Promoted TikTok ads are becoming more and more used by eCommerce businesses to grow their brand awareness and product sales. Five main TikTok ad types are In-Feed Ads, Brand Takeover, TopView, Branded Hashtag Challenge, and Branded Effects. With these ads, businesses are able to market their products to the target audience.
5. Engage Your Audience with Challenges
One good thing about TikTok is that it is almost effortless to sign up and grow your account. Therefore, a successful TikTok strategy would be to create engaging content with your audience.
For example, a beauty and skincare brand can create a hashtag where they introduce their new foundation with a piece of specific music and hashtag. They can have a campaign where they will give out 20 free foundations for the best TikTok videos using that sound and hashtag. This way, the campaigns will be interactive, and it is better for understanding the influence of the marketing campaign.
6. Keep Track of Your Statistics
Everyone wants to become viral on TikTok, but you should sustain this success in the long run and constantly analyse your TikTok statistics to grow. TikTok has a great Analytics page where businesses can check and analyse their TikTok traffic, retention and overall how they are doing.
With this, eCommerce companies can check how their page is doing and how many followers it gains and loses in a certain time frame. Additionally, specific video data is also available for companies that want to analyse each one of their content in detail.
Wrapping Up
In conclusion, TikTok is the fastest-growing social media platform that businesses should consider joining. It has become a must for eCommerce companies with a younger demographic to be active on TikTok and use it as a marketing tool. TikTok allows companies to sell their products directly, with different types of paid advertisements they can use to get traffic to their website.
At Segmentify, we provide personalised marketing tools for eCommerce companies to grow and expand their website traffic, sales rates, and basket sizes. So far, we have been having great results with our customers, which you can check from our Success Stories page. And we also have great news: you can book a free trial, try out our unbelievable personalisation tools, and make the most out of your eCommerce store.