Is There a Way for Brands to BeReal?
Everyone's, especially Gen Z's, new favourite photo-sharing social media app BeReal encourages its users to show who they truly are without filters and the need to stage, overthink, or edit images. In line with this, the app doesn't allow for paid ads and strongly discourages influencer culture. Still, there's a question to be asked here: Is there a way for brands to BeReal?
Key Takeaways

Gen Z cares about authenticity above anything else. That's why they're turning to BeReal, where they can be themselves.
Gen Z is tired of pretending to be someone they are not as imposed on them by other social media apps. Marketers who want to build a strong presence on BeReal should lean on authenticity and mental health advocacy.
At the moment, BeReal prohibits paid ads and explicitly discourages influencer culture, which poses a unique challenge for marketers. To overcome this challenge, marketers must find creative ways to connect with their target audiences.
3 Strategies for Building a Strong Presence on BeReal
Here are three strategies for winning at Gen Z marketing on BeReal:
1. Be Authentic
The BeReal app encourages people to be their authentic selves by eliminating filters and the need to stage, overthink, or edit images. It's no wonder this app is Gen Z's new favourite app. Authenticity is the most important value for Gen Z, beyond future plans and being rich.
This new trend can also be interpreted as a wake-up call for brands and their branding efforts. Consumers are looking for the real deal behind the façade brands have built over the past decades. So make sure your marketing campaigns are genuine and reflect your brand's values.
Posting behind-the-scenes content goes hand in hand with authenticity. This type of content will allow consumers to see your brand as more than just a business and make it easier for them to connect with your marketing.
Posting behind-the-scenes content from regular office days, meetings or branding events will help humanise your branding. Marketers can use BeReal to show customers what goes behind the curtain and how actual humans prepare those polished marketing campaigns.
3. Advocate for Mental Health
The rise of social media apps like Instagram and TikTok led to influencer marketing and the pressure to perform all the time. The "culture of comparison" mindset encouraged by social media platforms like TikTok can be very challenging for a young person, says Anne Marie Albano, PhD, director of the Columbia University Clinic for Anxiety and Related Disorders.
The BeReal app, on the other hand, encourages people to "show your friends who you really are, for once" Naturally, one of the main reasons why BeReal became so popular among Gen Z is because they are tired of pretending to be someone they are not.
A fashion brand, for example, can post behind-the-scenes pictures of models wearing their clothing without makeup or the correct light. Admittedly, they can do this on Instagram as well. However, you have to admit catalogue pictures and BTS pictures as mentioned next to one another look a bit weird and not so authentic.
A Unique Obstacle for Marketers
With ad restrictions, BeReal presents a unique obstacle for marketers. So how can you leverage branding if the app explicitly discourages influencer culture and prohibits paid advertising?
You get creative, of course.
1. Chipotle Taps into BeReal with Promotion Codes
The fast-casual Mexican chain Chipotle used its first BeReal moment to boost its account: The first 100 people who used the reusable promo code posted would get a free meal. The codes were used in 30 minutes, says Candice Beck, Chipotle's director of social and influencer.
2. Logitech Makes BeReal Debut with Holiday Campaign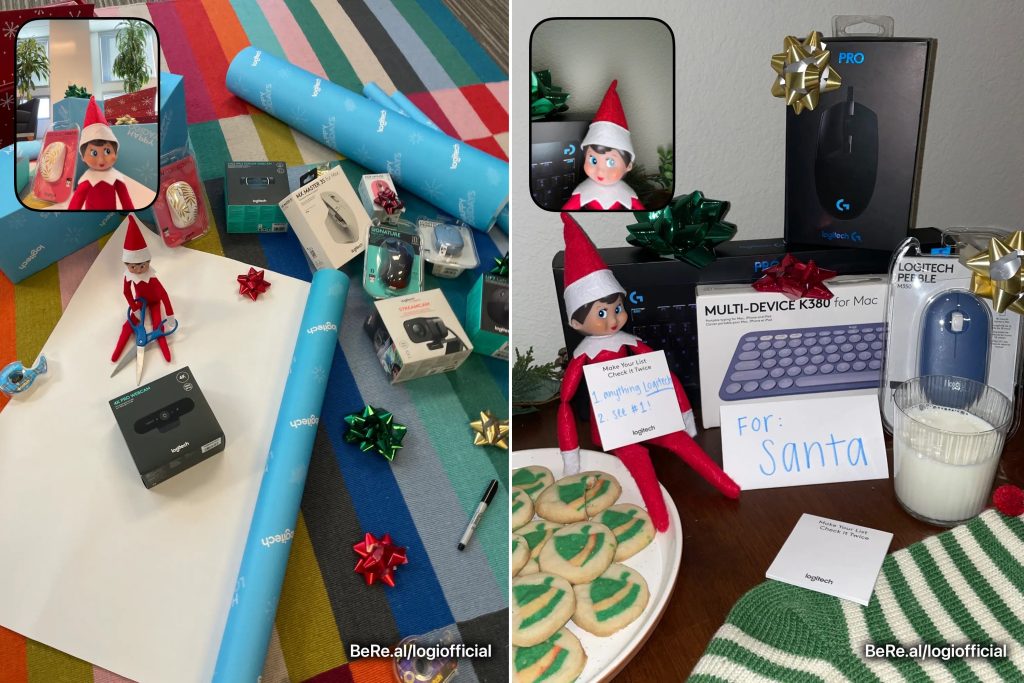 In the quest for capturing Gen Z's attention during the holiday season 2022, Logitech bit the bullet and joined Gen Z's new favourite social media app BeReal with a holiday gift guide reinterpreted for the platform. 
The "12 Days of Deals" holiday campaign included surprise deals and exclusive offers on microphones, gaming headsets, keyboards, etc., with several cameos by The Elf on the Shelf.
The Future of BeReal
Only time can tell if BeReal's "no ads, no filters, no influencers" policy will be sustainable. But right now, it's an excellent tool for creating a buzz around your brand and poses a new opportunity for marketers to stretch their creativity.