Cross-Selling vs. Upselling: Definitions, Examples, and Tips
Here's a million-pound question:
Which strategy, you reckon, is better: Cross-selling or upselling?
While both strategies involve increasing revenue by encouraging customers to spend more than they initially planned, they differ in their approach and goals.
In this article, we'll explore the differences between cross-selling and upselling and provide insights on which strategy may work best for your business. So, let's dive in!
Key Takeaways

Cross-selling and upselling are two necessary strategies to optimise sales, build stronger customer relationships, and increase CLV.
Relevancy and personalisation are substantial to making on-point cross-selling and upselling recommendations.
Choosing the right strategy depends on your industry, customer base, business goals, product range, and CRM data.
What is Cross-Selling?
Cross-selling is a strategic approach aimed at enticing customers to purchase additional or complementary products or services along with their primary interests, intended purchases, or previous acquisitions.
Think of those times when you wanted to order a burger and were asked if you wanted fries or a drink with it, and you said yes. Well, you got cross-sold!
Advantages of Cross-Selling
By offering related items that enhance the value or functionality of their initial choice, businesses can create more personalised and relevant user experiences, ultimately increasing both revenue and customer lifetime value.
But let's dive deeper into how cross-selling benefits your business:
Boosts revenue: Cross-selling helps businesses make more money by getting customers to buy extra stuff they might like along with what they initially wanted.
Keeps customers coming back: Offering related products or services will make customers feel understood, increasing customer loyalty and encouraging repeat purchases over time.
Makes shopping personal: It's like the perfect shopping buddy! Cross-selling allows you to give out recommendations based on the user's interests, making the whole experience feel tailor-made.
Happy customers: You know that feeling when you find the perfect shoes to match your dress? That's what cross-selling does — it leaves customers satisfied and happy with their choices.
Bigger shopping carts: You'd be surprised how easy it is to end up buying more with all those "You may also like" recommendations. Cross-selling encourages customers to add additional items to their carts, leading to bigger transactions and higher Average Order Value (AOV).
Irish Home Improvement Store Heavins Optimises Cross-Selling and Achieves 25% Increase in AOV. Discover how.
Cost-efficient marketing: It's easier and cheaper to cross-sell to existing customers than to acquire new ones since the existing customers have already engaged with the brand.
Strong customer relationships: A successful cross-sell builds trust and reinforces the connection between the customer and the brand, fostering a long-term relationship.
Stand out from the crowd: Businesses that do cross-selling right stand out from the competition by showing that they care and understand what their target audience wants.
Upselling opportunities: Cross-selling can open doors to tempting upgrades. It can create upselling opportunities and entice customers to buy higher-tier products or services based on their initial purchase.
Valuable data insights: You'd be surprised to see the interesting pairs of items people purchase together. Some are such pairs that no human can imagine them being bought together. However, with a tool such as Trendify, you can analyse cross-selling patterns, gain valuable insights into user behaviour, and optimise your marketing strategies for the best outcomes.
Examples of Cross-Selling in Different Industries
The cross-selling options are wide as long as you have insight into the products and services and the customer's needs to make the right offers. Let's illustrate our point with some solid examples for specific industries —all aimed at enhancing customer satisfaction and increasing business revenue.
Airline Industry

Offering seat upgrades or access to airport lounges during the flight booking process.
Providing travel insurance options when customers book flights.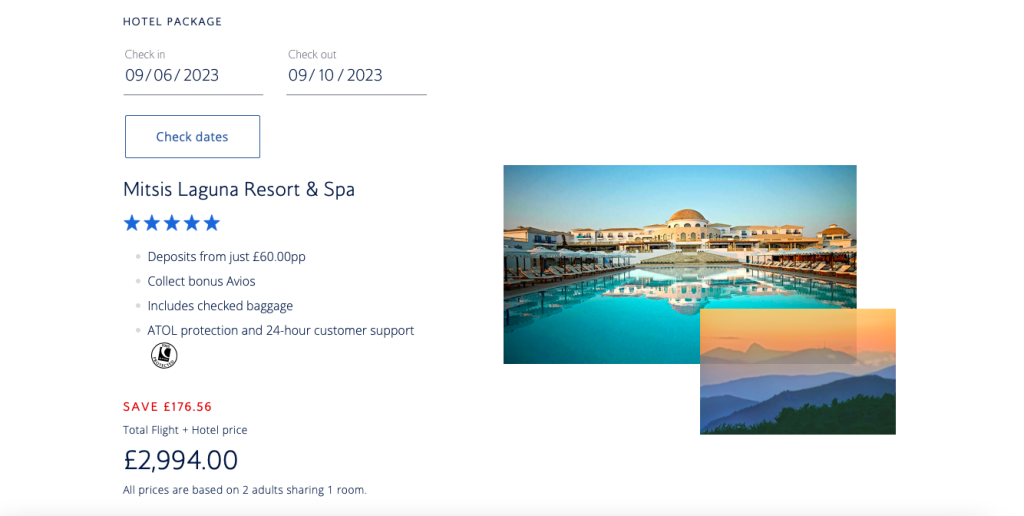 Automotive Industry

Recommending car care products like wax, polish, or interior cleaners when customers purchase a vehicle.
Offering package deals for purchasing additional accessories like floor mats, seat covers, and air fresheners.
Banking Industry

Recommending credit card options with specific benefits based on customers' spending habits.
Offering investment opportunities or financial planning services to customers with savings accounts.
Recommending credit cards to individuals opening up a savings account.
Beauty Industry

Recommending a matching lipstick to go with the chosen shade of foundation.
Bundling skincare products like cleanser, toner, and moisturiser as a complete skincare routine.
Recommending the proper brush, foundation base, and setting powder for longer-lasting makeup for the foundation category.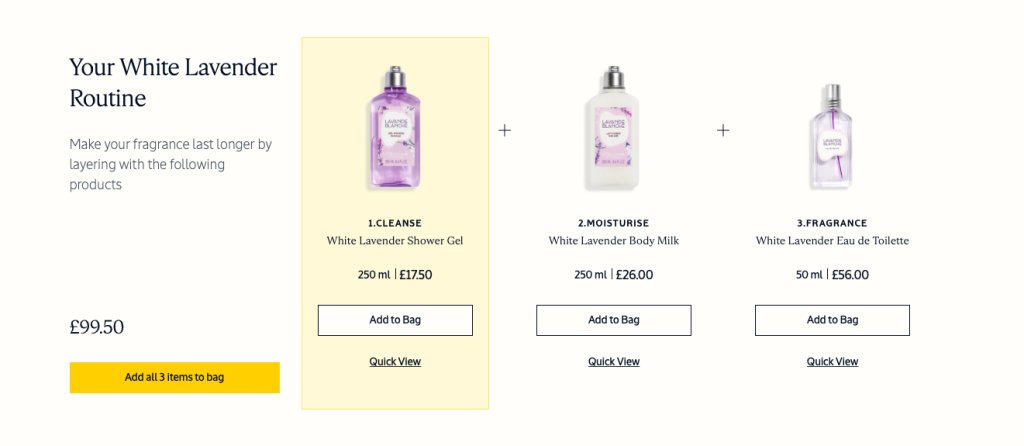 Coffee Industry

Suggesting baked goods or snacks to complement customers' coffee orders.
Offering loyalty programs with discounts on future purchases for frequent customers.
Bundling different coffee selections together as a discovery set.
Suggesting coffee machine cleaning products for customers purchasing a coffee machine
Consumer Electronics Industry

Providing recommendations for compatible accessories, such as phone cases or screen protectors, when customers buy electronic devices.
Offering extended warranty plans or insurance coverage for the purchased electronic item.
Event Booking Industry

Suggesting additional tickets or VIP packages for related events during the booking process.
Offering merchandise bundles with event tickets, such as T-shirts or souvenirs.
Fashion Industry

Displaying matching accessories like belts, scarves, or jewellery with selected clothing items.
Offering discounts when customers buy multiple items from the same clothing line or collection.
Grocery Industry

Suggesting complementary products like chips and dips to go along with a customer's choice of party snacks.
Offering discounts on purchasing a certain quantity of a specific product, encouraging customers to stock up.
Gym Industry

Offering personal training sessions or fitness classes as add-ons to gym membership purchases.
Recommending workout accessories like resistance bands or water bottles when customers sign up for fitness programs.
Home Decor & Garden Industry

Suggesting matching curtains, pillows, or rugs to complement furniture purchases.
Offering gardening tools or planters when customers buy plants or seeds.
Hotel & Tourism Industry

Offering room upgrades or special amenities for guests who book longer stays or premium room types.
Providing discounted spa services or dining vouchers when guests book accommodation packages.
Offering plane tickets for the chosen hotel's location, perhaps with a little discount.
Insurance Industry

Offering bundle packages that include multiple types of insurance coverage, like home and auto insurance.
Recommending higher coverage limits or additional policy add-ons to provide comprehensive protection.
Luxury Industry

Offering exclusive add-ons or limited-edition items as a special bonus with high-end purchases.
Providing personalised services, such as monogramming or engraving, to enhance luxury item purchases.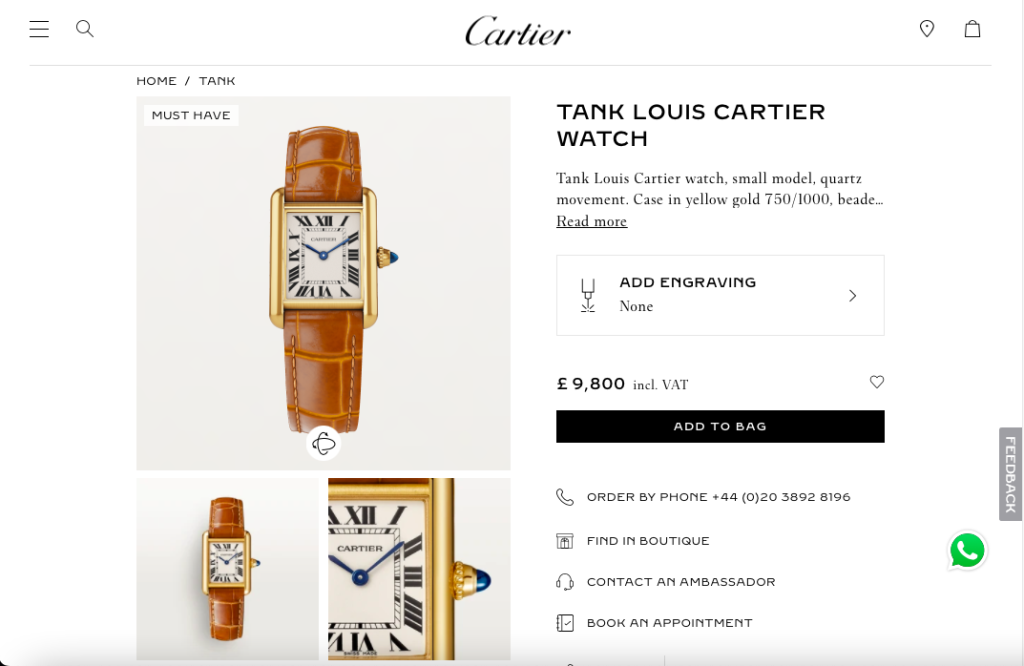 Pet Shop Industry

Suggesting pet grooming products or toys when customers purchase pet food.
Offering discounts on pet treats with the purchase of pet accessories or grooming services.
Restaurant Industry

Recommending appetisers, sides, or desserts to complement customers' main course selections.
Offering loyalty programs with rewards or discounts on future visits.
Sports Equipment Industry

Recommending appropriate sports gear, such as helmets, pads, or sports bags, when customers purchase sports equipment like bicycles or skateboards.
Offering sports nutrition supplements or drinks for customers buying fitness equipment.
What is Upselling?
Upselling is selling an upgraded or a higher version of the initial product the customer intends to buy. It aims to increase the profit and AOV by offering a more expensive product.
Advantages of Upselling
Upselling is much more than boosting your AOV by simply making the customer buy the higher-priced version of the product or service. Here are all the ways upselling can benefit your business:
Increases revenue: Upselling encourages customers to purchase higher-priced or upgraded versions of products or services, resulting in higher transaction values and increased sales revenue. Cha-Ching! 💰
Improves profit margins: Upselling often involves offering higher-margin products or add-ons, which can positively impact a business' overall profitability.
Happy customers, happy life: When you score a deal, an upgrade in the case of upselling, that's totally worth it. You can't help but feel like one happy camper. Upselling leaves customers feeling valued and satisfied with their purchase.
Loyalty and repeat business: When businesses nail the upsell, they create a loyal fanbase. Customers love the attention and may become regulars, coming back for more of that fantastic service.
Outshine the competitor: When a business offers irresistible upsell options, it stands out from the crowd. You can tell they're the real experts, exactly understanding what their customers crave.
Cross-selling opportunities: Upselling can lead to exciting cross-selling opportunities. The buyer might discover awesome add-ons that complement their main purchase. Double the fun!
Change in value perception: An upsell may be perceived as a way to get better value for money, leading customers to choose the higher-priced option. It's hard to resist such sweet deals.
Efficient inventory management: Businesses can manage inventory more efficiently and maintain a balanced stock of various items by promoting higher-end products.
Showcase product range: Upselling lets businesses showcase all the products and services they have to offer, ensuring customers are aware of all available options.
Examples of Upselling in Different Industries
Let's paint a vivid picture of upselling with solid examples tailored to various industries, all geared towards delighting customers and sending your business revenue soaring.
Airline Industry

Offering seat upgrades to premium classes with more comfort and amenities.
Suggesting travel insurance or additional baggage allowance during the booking process.
Recommending upgrades to business or first-class cabins for a more luxurious travel experience.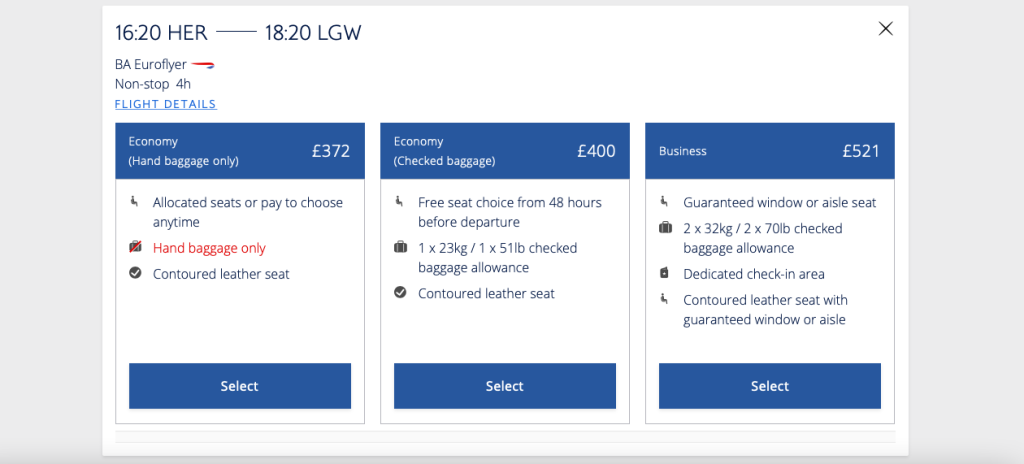 Automotive Industry

Upselling customers to higher trim levels with advanced features and luxury upgrades.
Recommending optional add-ons such as extended warranty plans or premium sound systems.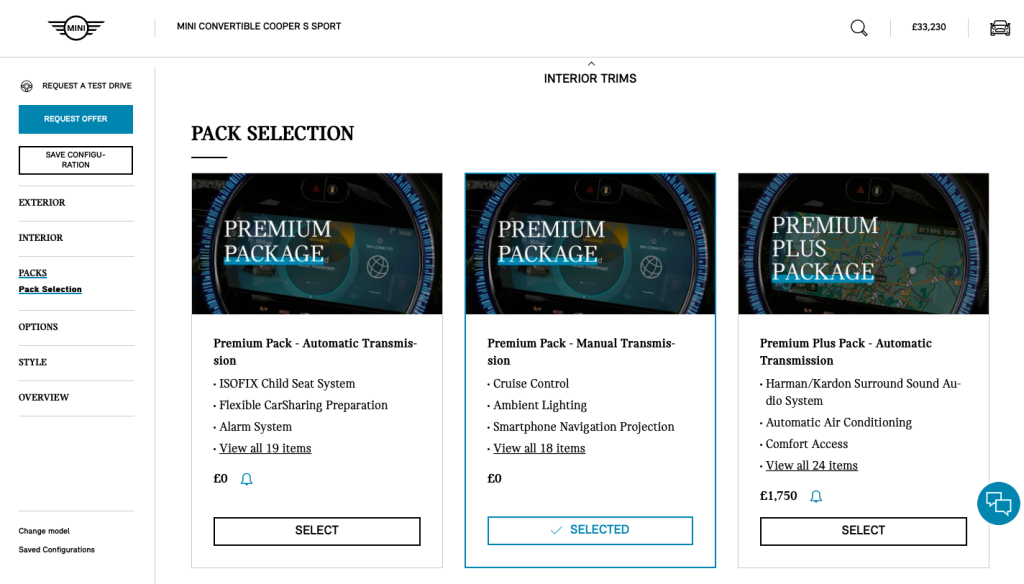 Banking Industry

Suggesting upgraded account packages with additional benefits like higher interest rates or waived fees.
Offering credit card upgrades to cards with better rewards and perks.
Beauty Industry

Offering premium skincare products with advanced formulas and added benefits.
Recommending makeup sets or bundles for a complete and coordinated look.
Recommending signature scents or niche perfumes that evoke a sense of luxury and individuality.
Coffee Industry

Offering upsized coffee or speciality drinks with extra shots or flavours.
Recommending limited edition coffee options to loyal customers.
Suggesting coffee machines with coffee grinders built into customers looking at the coffee machines.
Consumer Electronics Industry

Recommending higher-end electronic devices with better specifications or more features.
Recommending accessories like cases, screen protectors, or additional gadgets for a seamless experience.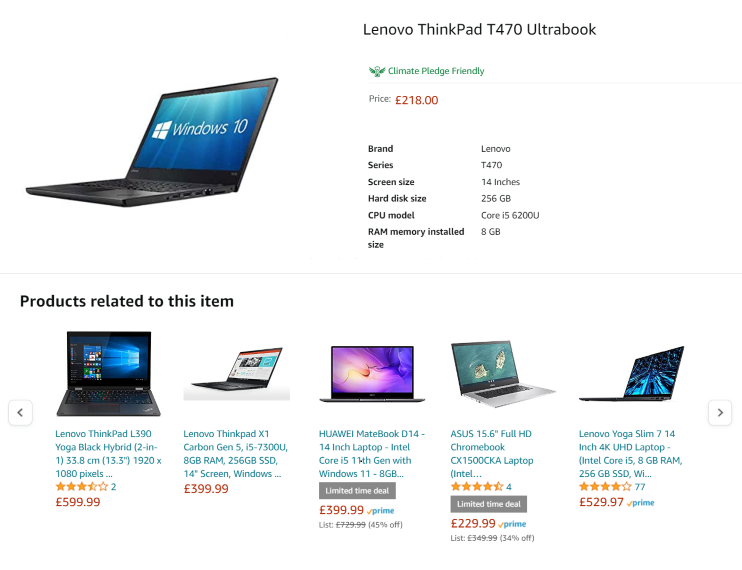 Event Booking Industry

Offering VIP or premium packages with exclusive perks and access to special areas.
Suggesting merchandise bundles that include event souvenirs or memorabilia.
Recommending additional activities or excursions that enhance the event experience, such as guided tours or workshops.
Fashion Industry

Promoting limited-edition or designer capsule collections that create a sense of exclusivity and uniqueness.
Recommending clothing items made from luxurious fabrics like silk, cashmere, or high-quality organic cotton.
Grocery Industry

Offering upsized or family-sized portions of certain products for a better value.
Suggesting premium or gourmet food items as an upgrade.
Gym Industry

Upselling to higher-tier membership plans with additional gym amenities or personal training sessions.
Recommending fitness accessories or supplements to enhance workout routines.
Home Decor & Garden Industry

Suggesting higher-quality furniture or decor items.
Recommending premium gardening tools or outdoor accessories for a beautiful garden.
Hotel & Tourism Industry

Offering room upgrades with better views or additional amenities.
Suggesting add-on experiences or excursions during the hotel booking process.
Recommending premium dining experiences or luxury spa services for a truly indulgent stay.
Recommending romantic setups, champagne, or flowers for guests celebrating special occasions.
Insurance Industry

Upselling customers to higher coverage limits or comprehensive insurance plans.
Recommending additional policy add-ons to cover specific needs or situations.
Luxury Industry

Offering customers exclusive limited-edition products or collections.
Suggesting personalised or customised options for a truly luxurious experience.
Offering exclusive memberships or loyalty programs that provide access to special events or early product releases.
Pet Shop Industry

Upselling to premium pet food or treats with natural or organic ingredients.
Recommending high-quality pet accessories or grooming services.
Restaurant Industry

Offering upsized meals with larger portions or additional courses.
Suggesting premium menu items or chef's specials for a delightful dining experience.
Sports Equipment Industry

Upselling customers to high-performance sports gear or equipment from top brands.
Recommending specialised accessories or sportswear for better comfort and performance.
Cross-Selling vs. Upselling: Key Differences
You can combine cross-selling and upselling strategies for maximum effect. However, to do that, you first need to understand the differences between the two strategies.
Nature: Cross-selling refers to recommending additional complementary items to the customer's initial purchase. In contrast, upselling refers to persuading customers to choose upgraded versions of the initial product or service they were considering.
Customer experience: The purpose of cross-selling is to allow the customer to explore new products, while upselling is to provide them with better or more premium options to meet their needs.
Purpose: Cross-selling aims to increase AOV with multiple items in the cart, while upselling focuses on increasing the transaction value within a single purchase.
When to Use Cross-Selling and Upselling
Knowing when to bust out cross-selling and upselling is key to getting the most bang for your buck and keeping customers happy. It's all about maximising their effectiveness and delivering that extra value they'll love. So, let's discuss some of these awesome strategies!
6 Cross-Selling Techniques You Can Try
There are a couple of ways to cross-sell your products effectively. Here are some of them:
1. Product Recommendations Based on Purchase History
As a part of customer research, a customer's past purchases grant you the great insight required to segment your customer base. It not only helps make accurate and related product recommendations, but also provides information for building customer profiles for future recommendations and strategies.
2. Offering Additional Services
Cross-selling additional services is another way to increase AOV. Services like furniture installation, extended warranty or insurance, software products, etc., help you compose a complete shopping experience and result in satisfied customers who would like to come back and see what else you have got to offer.
3. In-Cart Recommendations
Customers may add the product to the basket and directly proceed to the cart page to finalise their purchase. But there is still time to show them what else you have! You can take another shot and showcase complementary products by utilising order bumps and bundles.
4. Post-Checkout Offerings
When a customer finalises their purchase without an additional item, you can still have a chance to draw them back to you! You can make post-checkout offers on the "Thank You" page, get to them via email to make other related offerings, send push notifications or use pop-ups to both remind them of the product and create urgency.
5. Offering Discounts
Discounts and campaigns also have a high possibility of bringing back a customer or convincing them to add additional items to their basket right on the product page. Those deals are great for boosting your customer retention rates, too.
6. Product Bundling
Product bundles are great for showing a couple of products to customers at once. As long as the products are not far-fetched, and the pricing is reasonable, in a way that will not scare away or confuse the prospect, they are wondrous tools that will bring you many benefits on your way to growth.
You can use it to make your offers as a package to make it easier for the customer, as all it takes is one click to add a couple of products to the basket at once, or you can just suggest a couple of related and frequently bought together products and let the customer choose the best option for them.
Personalise products, supercharge your upselling skills and create an unbreakable bond with customers. 📚 Download Dynamic Bundles Playbook 📚
Bundling should not be restricted to a single form. Bundles can be devised distinctively for any industry. You can build different types of recommendation campaigns like product bundling, frequently bought together, shop the look, buy the room, similar products, order follow-up and many more through the Segmentify dashboard with only a few clicks and monitor their performance with ease.
6 Upselling Techniques You Can Try
1. Added-to-Cart
When a customer adds a product to the cart, display an Added to Cart pop-up and place more recommendations in case they missed out on the ones on the product page.
2. In-Cart Recommendations
Do not give up! Trust your AI-based algorithms and carry on recommending. Your customer may be one of those people who like to jump to conclusions, but do what you can to improve their shopping experience.
4. Post-Checkout Offerings
A one-click upselling offer on the "Thank You" page can be an opportunity for the customer to reconsider their purchase or note them for their next purchase. Emails can be another place to make your offers, too. Send them coupons and make special offers to let your customers know that you still care about them and are still a part of their shopping journey.
5. Offering Discounts
Discounted products with upgraded features are likely to make your customer change their mind and lead them to get a better version of the product they are viewing for a reasonable extra price.
6. Product Bundling
There are no limits to product bundles. You can benefit from them in any way you want to. For your eCommerce upselling strategy, use them to show products from the same category with better features.
Tips for Successful Cross-Selling and Upselling Campaigns
Despite their differences, the main points you must pay attention to are not so different whether we're talking about cross-selling or upselling. Take a look at our tips for successful cross-selling and upselling strategies:
3 Tips for a Successful Cross-Selling Campaign
Relevancy: Whatever the product is, you must be diligent about the additional products you want to cross-sell. They need to complement and add value to the initial product. The more relevant the product, the more likely the customer will buy it since they already are looking for a product in a specific and related category and are eager to up their order's value.
Pricing: Besides relevancy, the prices of recommended products are also worthy of consideration. They should be low enough for the customer to add them to their basket without a second guess but high enough to contribute a remarkable amount to the AOV.
Personalisation: It is great when the cross-selling offers are integrated with the product well. Reasonable pricing is superb! But they will not be as effective without identifying the best offer for the customer. Personalisation is the key to analysing each customer and their interests. It helps you make the most relevant recommendations that might get your customers' attention and make your cross-selling strategy work.
3 Tips for a Successful Upselling Campaign
Relevancy: Relevancy is substantial in upselling as well. Yet it is a different kind of relevancy we are talking about. Since you are trying to sell an upgraded version of the same product, your upselling recommendation should belong to the same category as the initial product. If someone is looking for a laptop, you cannot upsell them a keyboard. Show them laptops, but with better features.
Pricing: Yes, the aim is to increase the profit and sell a product at a higher price. But a big price difference between the initial and the recommended product might come off as aggressive, and the customer might not even consider taking a look. Pre-purchase upselling should be soft and plausible.
Personalisation: We have already covered the importance of personalisation in eCommerce cross-selling. But it is also worth noting that the purchase history can be used to tailor special offers and discounts for a specific customer base. And you can display products according to their browsing history to create a better shopping experience.
Wrapping Up: Which One is Right for Your Business?
To decide between cross-selling and upselling for your business, analyse customer behaviour, evaluate your product range, consider business goals, utilise CRM data, test both strategies, and prioritise the customer experience. Tailor your approach to provide genuine value and boost sales effectively.
If you haven't tried upselling and cross-selling yet, you're missing out on their abundant advantages. These strategies can boost your AOV and revenue while increasing customer satisfaction and retention in the long run.
However, don't forget the importance of segmentation and personalisation to make the most of these benefits. Want to witness the wonders of AI-based personalisation? Consult us and book a demo now!