Everything You Need To Know About Instagram Threads
Launched as an alternative to Twitter, Instagram-based social media app "Threads" activated over 40 million users in its first 24 hours and more than 100 million sign-ups during its first weekend.
Key Takeaways

Instagram Threads reached over 100 million users in its first weekend after launch.
Instagram CEO Adam Mosseri believes Instagram Threads can attract more users due to growing dissatisfaction among Twitter users.
Twitter accuses Meta of intentionally and unlawfully misappropriating Twitter's trade secrets and other intellectual property.
What's Instagram Threads?
Meta, the parent company of popular social media platforms Instagram, Facebook, and WhatsApp, recently unveiled a new app called "Threads".
Defined as "Instagram's text-based conversation" platform, Threads is clearly a Twitter alternative and might mean bad business for Twitter, which has been unstable, to say the least, since the billionaire Elon Musk acquired the social media platform.
How Does the Instagram Threads App Work?
The Instagram Threads app operates similarly to Twitter. It allows users to share text-based content, including the option to include links, photos, and videos. Here are some key points to note:
Threads can be linked to your Instagram account.
Posts on Threads can have a maximum length of 500 characters.
Threads posts can include links, photos, and videos, with videos being up to five minutes in duration.
You can have either a public or private Threads account.
You have control over who can reply to your posts on Threads: anyone, profiles you follow, or only profiles you mention.
Deleting your Threads account will not delete your Instagram account.
Instagram Threads Threatens to Destabilise Twitter
The rivalry between Elon Musk and Meta leader Mark Zuckerberg has been more intense than usual for a while. Only last month, there was talk of a literal cage fight between the two billionaires.
Threads' launch is strategically timed following Twitter's limitation over how many tweets users can consume based on their subscription level, which was quickly dropped upon user backlash but not without some consequences.
The decision to rate-limit access to the blue bird app caused it to lose some important keyword rankings. According to a crawling case study, Twitter lost 32% visibility in the US in the 24 hours that followed.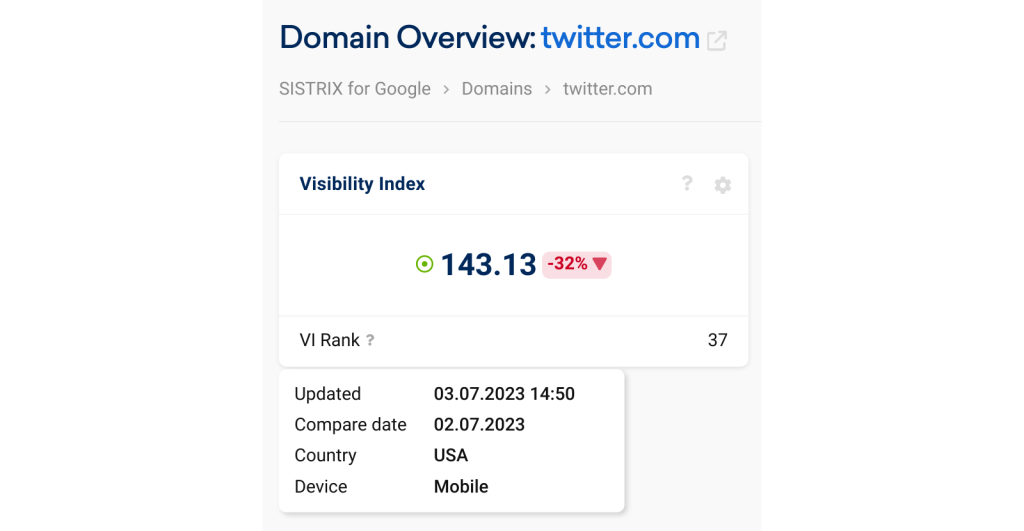 Instagram CEO Adam Mosseri believes there is an opportunity for Instagram Threads to gain more users due to increasing dissatisfaction among Twitter users. Many users have become frustrated with Twitter, particularly after Elon Musk's takeover, and are exploring alternative platforms like Mastodon.
Mosseri sees this as a chance for Threads to expand its user base. He believes that the volatility and unpredictability of Twitter, along with potential stability issues or drastic product changes, could create an opening for Threads in a competitive space.
Twitter Threatens to Sue Meta over Instagram Threads
Shortly after the launch of Threads, Alex Spiro, a lawyer representing Twitter, sent a letter to Meta CEO Mark Zuckerberg. The letter accused Meta of intentionally and unlawfully misappropriating Twitter's trade secrets and other intellectual property in a systematic manner.
In the letter, Spiro accused Meta of hiring numerous ex-Twitter employees who still possessed access to Twitter's trade secrets and confidential information. According to the lawyer, Meta deliberately assigned these employees to develop the Twitter-like app "Threads" with the explicit intention of utilising Twitter's trade secrets and intellectual property to expedite the development of Meta's competing application. Spiro alleged that this conduct violated state and federal laws and the employees' ongoing obligations to Twitter.
Following this, Andy Stone, a Meta executive, rebutted Twitter's claims on Threads:
To be clear: No one on the Threads engineering team is a former Twitter employee — that's just not a thing.

Andy Stone, Communications Director at Meta
What Instagram Threads Means for Marketers and Advertisers
Zarina Stanford, the CMO of Bazaarvoice, a user-generated content platform, emphasises the significance of convenience for the success of social media platforms. Stanford tells Vogue Business that Twitter's recent imposition of limits on the number of free posts for users could potentially impede brands' marketing objectives. She highlights the increasing difficulty marketers face in capturing social media users' attention.
The same Vogue Business article mentions that the fashion industry "has not historically thrived on text-based social media". Instagram Threads might actually end up changing that:
Users can sign up to Instagram Threads with just one click through the Instagram app—extremely convenient.
Once you sign up to Instagram Threads, you can choose to follow all the accounts you follow on Instagram automatically.
Most fashion brands, for example, have a lot higher following on Instagram than on Twitter due to the visual emphasis of the former.
Considering these facts, marketers must keep in mind that their audiences on Instagram Threads and Twitter are going to be different. The difference will not just be in numbers, but the demographics, preferences, behaviours, and expectations as well.
In other words, copy-pasting your old Tweets will likely not resonate with the Threads audience and work in building engagement.
Wrapping Up: Do You Need an Instagram Threads Strategy?
According to the social media marketing tool Later, you don't need an Instagram Threads strategy as of yet.
Right now, all of us, Meta included, are in the learning curve phase. There are a lot of things that the users have accepted as a natural feature of any social media platform, such as direct messaging, which Instagram Threads doesn't have at the moment.
Instead of trying to build a strategy for a platform that's only a couple of weeks old, here's what we should do according to Later:
Explore the app and experiment: See what others in your community are saying and doing; try to find out what your audience on Instagram Threads is responding to.
Connect with your community: Threads is just another platform to connect and engage with your community. Use what's already working for you on Instagram, but repurpose it in a more text-focused way.
Take your time and don't overthink: During these initial phases, anticipate the introduction of new features and updates in the upcoming months, weeks, and even days. Adam Moseri himself said that users can expect some recommendation-related features at a later point in time.
"Sign up, don't be too serious with your content, and engage with other like-minded people and brands. We'll all just wait and see how this social platform develops."

Later's Marketing Team