GA4: Everything You Need to Know Before July 1, 2023 | Webinar Notes | Ian Lewis
On April 27, Segmentify and Launch came together for the latest edition to eCommerce Growth webinars: From Data to Revenue.
The webinar was made of two parts:
Everything You Need to Know About GA4 Ahead of July 1 with Ian Lewis from Launch
The following are our notes from the latter half of the webinar.
Meet Ian Lewis
Starting his digital marketing career in SEO, Ian Lewis is currently working as an Analytics Director at Launch. Launch is a paid media agency offering digital advertising, data insight and conversion optimisation services to clients looking to take their marketing to the next level.
Oh, and Ian loves a good spreadsheet.
Change is the Only Constant: A Brief History of Google Analytics
Change is an inherent and ever-present aspect of life; it is a constant. From the tiniest atoms to the largest galaxies, everything is in motion and constantly changing. Naturally, this state of flux and transformation also applies to technology.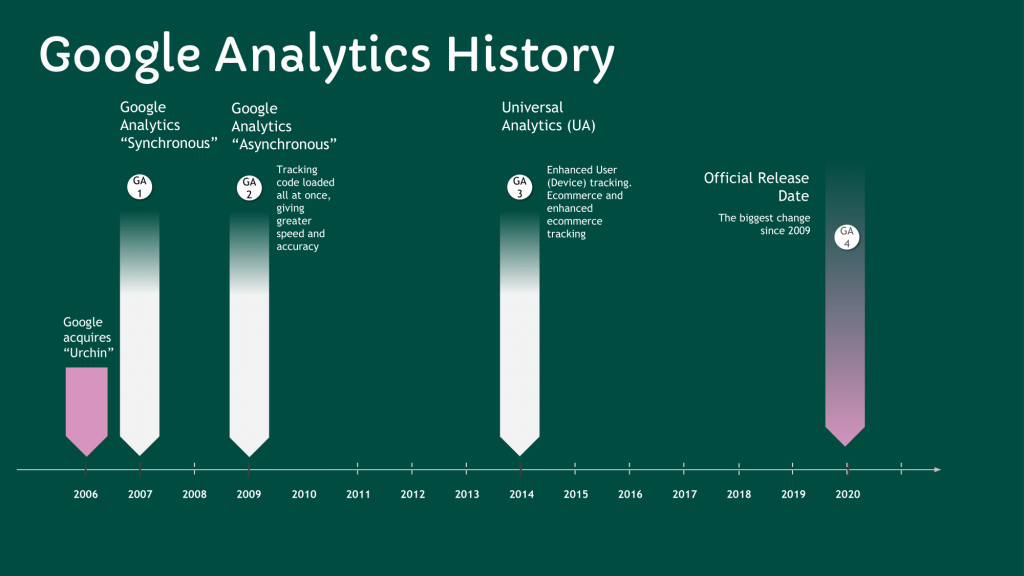 Google Analytics started when Google acquired Urchin, an analytics company, back in 2005, which led to the creation of GA1, a synchronous loading analytics tool. However, this caused problems with tracking and bounce rates, so they moved to GA2, which was asynchronous and loaded all the code at once.
Universal Analytics, or GA3, introduced enhanced user tracking and eCommerce tracking. Then in 2020, GA4 was introduced, which combines website and app data, allowing for tracking of user journeys from app to website and vice versa.
Why You Should Switch to GA4
The change from Universal Analytics to GA4 is mainly due to the need for a more holistic view of the user journey, which includes tracking from app to website and across different devices, as well as privacy concerns and the phasing out of third-party cookies.
GA4 combines all platforms and uses machine learning to provide more valuable and up-to-date information. It also works with Google Ads to improve ad campaigns' efficiency.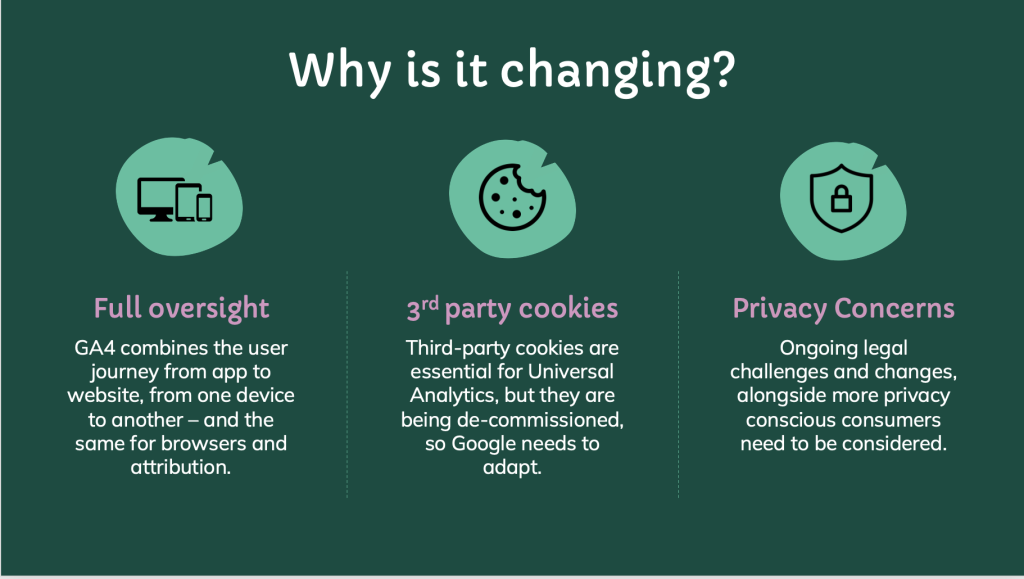 Additionally, as Ian points out in plain language, Universal Analytics will be gone entirely, and all data will eventually be deleted, making GA4 the only option for tracking data.
Universal Analytics will be completely phased out, with data collection stopping on July 1. After that, all data will be stagnant, and a complete deletion of Universal Analytics will follow. Users will receive notifications with a 6-month warning stating that all Universal Analytics data will be deleted on a specific date, leaving only GA4 as the tracking option.
Don't Compare Universal Analytics and GA4
Ian emphasises that comparing Universal Analytics to GA4 is fruitless since there's a reason why they are different.
"If you're seeing loads of sessions on one particular channel in Universal Analytics and you're not seeing it in GA4, just remember that it's probably being tracked differently."

Ian Lewis, Analytics Director at Launch
He points out the necessity of embracing the change. It is, after all, ever-present in all corners of life. Google Analytics has come a long way since Google acquired Urchin in 2005. Universal Analytics came because the previous versions weren't meeting the then-current needs of marketers and website owners.
And now, GA4 needs to come in because cookies will no longer be a thing, and users keep going back and forth between the app and the website, which needs to be considered in tracking website engagement analytics.
"What GA4 is doing is trying to streamline everything, make sure it's cookie-compliant, make sure it's ready for a cookieless world and link all three devices for you—iOS, Android, with your apps as well. So it's not complicated if you use it for what you need to use it for."

Ian Lewis, Analytics Director at Launch
Closing Remarks
Ian Lewis' final advice about GA4 to marketers and analysts is as follows:
Speak with your marketing team, web agency, or marketing agency regarding the tracking setup you have in GA4. Inquire whether they are satisfied with the current setup and its configuration.
Take some time to explore GA4 and get acquainted with its features. Begin considering the data you want to track and gather to support your paid activities. If you don't see a particular metric or information in GA4, remember that it may be possible to create an event for it and track it within GA4.
It's essential to prepare for the eventual discontinuation of UA by Google. They have announced that they will delete all UA properties and views with six months' notice. In a worst-case scenario, if your UA is deleted on July 2, you will have at least until the end of the year to transition. If you're relying on UA data regularly, such as pandemic-related data from previous years, know that it will eventually be deleted. Therefore, it's advisable to plan where that data will be stored if you need it.