Unlocking ROI with Real-Time Analytics | Webinar Notes | Melisa Çakır Suskun
On 27 April, Segmentify and Launch came together for the latest edition to eCommerce Growth webinars: From Data to Revenue.
The webinar consisted of two parts:
Using Real-Time Analytics to Increase ROI with Melisa Çakır from Segmentify
The following are our notes from the first half of the webinar.
Meet Melisa Çakır Suskun
Formerly the Director of eCommerce for brands like Decathlon and English Home, Melisa Çakır Suskun currently works as the VP of Account Management at Segmentify.
Segmentify is a Customer Engagement Platform that creates omnichannel personalised experiences for each user throughout their entire digital journey to increase conversions, engagement, revenue and customer lifetime value.
This is Melisa's favourite quote:
"Without data, you're just another person with an opinion."

W. Edwards Deming
Leveraging Real-Time Analytics with Trendify
Trendify is an advanced analytics tool designed to provide real-time insights into the performance of individual products on your website. It offers a comprehensive range of data, including total views, purchase counts, click-through rates from various channels, and the number of times a product has been added to the cart. This tool conducts thorough data analysis across product, brand, and category dimensions to deliver comprehensive and actionable information.
Trendify currently reports 15 analyses and reports that can be used to develop social media, paid channel marketing, affiliate marketing, on-site marketing, cross-channel automation strategies, or even stock planning.
Let's take a look at one example real-time analytics report and see how this particular report can be translated into action:
Trendify Reveals Inefficiencies in Paid Channel Marketing
Melisa begins her lecture by shedding light on a crucial issue faced by businesses: High spending products failing to convert despite heavy investment in paid channels.
The highlighted products in this report are those that receive substantial traffic from paid channels such as Google Ads, Facebook/Meta ads, and Instagram ads. These are the products that companies eagerly promote and invest significant resources into for advertising purposes.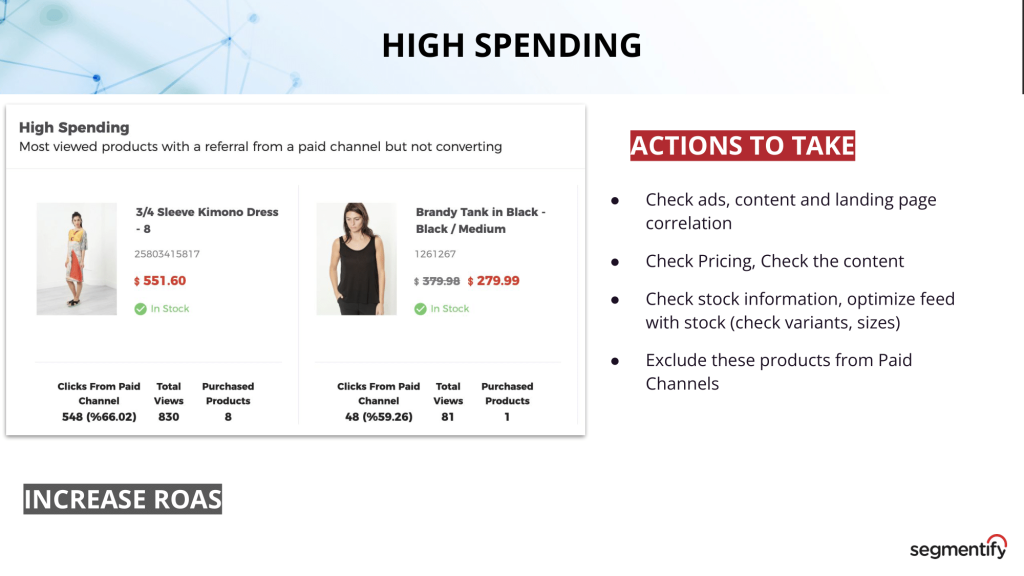 However, the alarming revelation in the report she shows is that despite the high investment and traffic generated, these products are not delivering the desired results in terms of conversions. In other words, they are not translating into actual sales. This poses a significant challenge, as the primary expectation from promoting products through paid channels is to see a conversion into sales.
What Actions to Take to Optimise Paid Channel Marketing
The first step Melisa recommends is to thoroughly examine the content of the ads, including banners, text, and overall messaging. Ensuring that the ads align coherently with the landing page is crucial. If considerable traffic is driven to the website but no conversions, it suggests a potential mismatch between the ad and the landing page. Checking and rectifying this discrepancy can significantly improve conversion rates.
Check out Melisa's article Web Push Notifications: Beginner's Guide for a better grasp of the relationship between real-time analytics and personalisation.
Another aspect to consider is pricing. Visitors arriving at the website through ads have shown interest in the product, and competitive pricing is an essential factor in their decision-making process. If high traffic fails to convert, reevaluating the pricing structure, such as offering discounts or adjusting prices, may prove beneficial in driving conversions.
Additionally, examining the content on the landing page is essential. This includes product images, catchy taglines, and product names that should be relevant to the ad. Ensuring the content is aligned with the messaging and expectations set by the ad can enhance user engagement and increase conversion rates.
A critical consideration is maintaining adequate stock levels, particularly for products in high-demand categories like fashion and sports. Lack of stock availability for popular sizes or variants can hinder conversions. Ensuring sufficient stock is available for these sought-after items can eliminate this potential conversion barrier.
For more information on how to use Trendify analytics for YOUR sustainable growth, reach out to us.
Lastly, businesses should consider excluding non-converting products from paid channels. Continued investment in products that fail to generate revenue is an inefficient use of advertising budgets. By redirecting funds towards high-converting products, businesses can improve their return on ad spend and increase overall conversion rates.
Closing Remarks
Implementing strategies based on real-time analytics can lead to higher conversion rates, better targeting of traffic from paid channel marketing, and increased revenue generation. The insights shared by Melisa about Trendify and the importance of real-time analytics provide businesses with actionable steps to optimise their marketing efforts, ultimately boosting their success and growth.
If you have more questions about Trendify and how its real-time analytics reports can help your business' particular needs, shoot us a message. We'll gladly discuss this at length and give you a test run. Cheers.