Why eCommerce Platforms Need Real-Time Conversion Analytics
The eCommerce space is full of data flowing fast and customers waiting for personalisation. Are you curious about how you should manage this data and provide solutions to your customers? Let's dive into the real-time conversion analytics effects on your business.
What is Real-Time Conversion Analytics?
eCommerce analytics is the data that enables you to follow the trends and track your products performances by analysing your online stores. eCommerce has many vital metrics and key performance indicators to track data for examining and evaluating your business performance. One of them is Real-Time Conversion Analytics, and it offers you this kind of crucial conversions performance metrics such as purchases, impressions, AOV, click rates, and more.
eCommerce analytics has a significant role in creating the business strategy on consumer behaviour. As the eCommerce market grows, online shopping stores' need for personalised recommendation solutions increases day by day. In addition, consumers prefer eCommerce platforms with better UX, and deciding a consumer's journey is getting more complicated and challenging as data and industry metrics diversify. Research by Deloitte shows that analytics helps 49% of executives while deciding business strategies.
However, tracking these data and properly analysing them to understand trends and consumers is complex. Nevertheless, most of the brand recognises it as a top challenge for their business. To provide these data by a user-friendly interface and constantly updating analyses are crucial.
Why is Analytics Important?
As the eCommerce market grows every year, it becomes highly competitive for brands that force them to increase their service qualities and platforms. In these circumstances, eCommerce marketers aim to compose better and easier decision-making processes for consumers. However, making extensive changes in the vital areas from the product to the user experience required comprehensive data about consumers, such as demographics and behaviours. Here are the three areas that you can quickly develop with the help of analytics:
Product
eCommerce transforms the word of mouth comments about products into written comments and ratings, affecting the purchasing decisions of online shoppers. To consider these evaluations while developing the product is needed. Therefore, data-driven product development has become one of the most crucial capabilities of eCommerce brands in the last decade. Analytics lets you develop the non-admired parts of your product according to customer comments.
eCommerce brands should deliver customer's purchases fast, but inventory might be a headache sometimes. Moreover, guessing the right amount of product might sometimes become difficult with primary data. Nevertheless, the long-term data of the purchase number of the products will help you think which districts which products sell most. With these guesses, you can your upcoming orders so that you can manage your inventories efficiently.
In the end, every market will have a few losers and winners. But, the data gathered from purchases make it possible to analyse the reasons behind the unsold products. Also, optimising the product portfolio using the best seller products will help to build a perfect product shelf.
Customer
Analysing customer data and creating a customer-friendly experience is more effortless than talking to every customer one by one. In addition, this data might be used for understanding customer's demands and pain points.
Consumers say personalisation affects their decision-making by 86% by offering products according to their segments and purchasing behaviours. Therefore, creating a relevant shopping experience for each customer by using personalised solutions, such as search recommendations, push notifications, product recommendations, etc., becomes crucial every day.
Marketing
eCommerce stores aim to increase customer loyalty by providing a better online shopping experience for existing customers because existing customers generate an online shopping brand's business by 65%. So, this focus comes with two methods: up-selling and cross-selling. For example, offering complementary products according to customer behaviour improves cross-selling or encourages customers to up-selling by understanding their needs.
In addition, eCommerce brands use different channels to reach visitors and increase revenue. While creating your marketing strategy, determining which channels are working best is needed. Analytics will provide data that guide this decision process.
How Can You Boost Your Sales by Using Real-Time Conversion Analytics?
Real-time analytics has many benefits that you can apply to different parts of your business to develop an online shopper journey, but how can you do it? Here are the heads that conversion analytics might help you: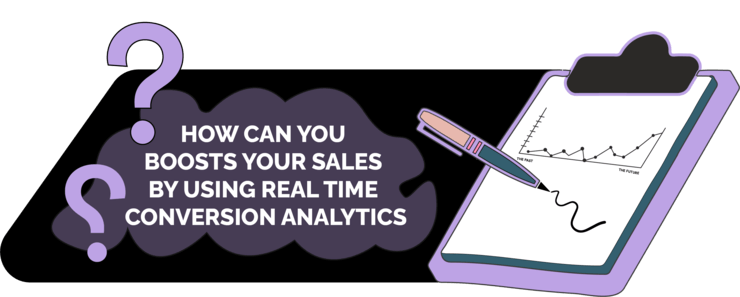 Building Customer Loyalty
eCommerce personalisation is the primary function of building loyal customers in this decade. Hence, online shopping stores that create personalised journeys build customer loyalty more effortlessly than others. Moreover, real-time analytics gives essential insights before personalisation.
Furthermore, real-time personalisation with the help of real-time analytics helps to understand the interests of the visitors and gives insights about customer segmentation that create constantly developing shoppers' journeys.
Determining the Marketing Strategy
Using real-time analytics develops two primary business strategies: Referral Campaigns and Social Media Campaigns.
Most brands receive high traffic to their website from different sources. However, tracking these traffic sources may not be easy for companies. Conversion analytics can assist in managing these sources and using these potentials more efficiently. As a result, decision-makers can use their potential better and get more customers by spending their effort and budget on the sources to gain the most traffic and customers.
Influencer and social media campaigns are a significant part of eCommerce marketing. Since they constitute an essential part, monitoring and optimising these campaigns is crucial for marketers to increase efficiency and ROI. Real-time analytics help to create suitable campaigns by following the links in lead generation and product promotion campaigns.
Generating the Right Business Strategies
Companies add different functions and products to increase their revenues, but it can be confusing to find the right strategies. Real-time analytics provide valuable insights into the success of campaigns and give an essential chance to measure their efficiency.
Moreover, real-time analytics prepare a substructure for successfully ended A/B tests. Also, testing A/B scenarios can be completed more easily with the analytics tool. Finally, real-time analytics allow eCommerce stores to increase their income by tracking customers' behaviour, click-through, and conversion rates against these functions and products.

In conclusion, because every eCommerce store needs to be on top of everything on their website, using real-time conversion analytics is one of the essential tools for them, serving many benefits and the key points in improving their business success.