eCommerce Stores Before and After COVID-19
The COVID-19 pandemic, its social aspect, and the urgency to stay at home have driven customers to turn to online shopping. For the eCommerce business, this has an impact on demand and uncertain supply chain concerns. COVID-19 also has affected older retailers with physical stores, who are seeing a decrease in informal shopping, supply chain disruptions, and an increase in the purchase of essential toiletries, food, and other items.
COVID-19 has dramatically changed consumers' purchasing habits, resulting in the eCommerce sector growing to $26.7 trillion. With consumers used to online shopping, the eCommerce industry will grow even faster than ever. Here is a short sectoral analysis and review of the COVID-19 effect on the eCommerce businesses.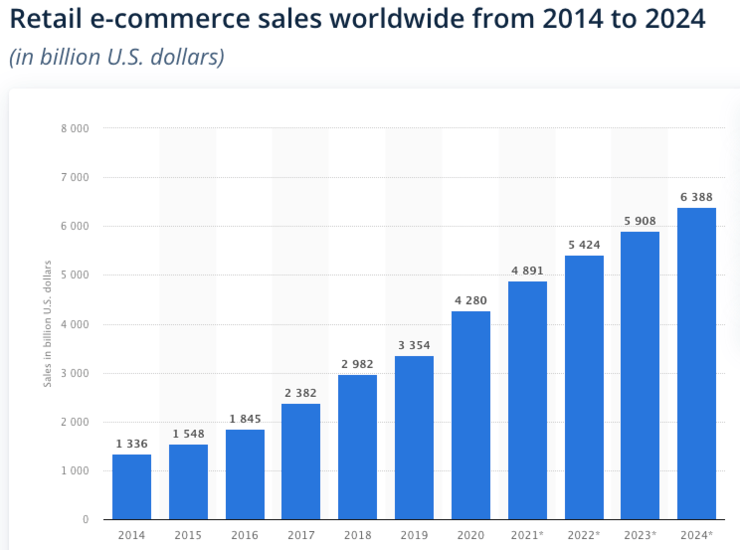 An Overview of the COVID-19's Effects on eCommerce Businesses
Due to the COVID-19 epidemic, Business to Business (B2B) and Business to Consumer (B2C) online sales of physical items have lately seen a rise in demand for particular products. Many companies and consumers first reacted by stockpiling up. Medical supplies such as hand sanitisers, disinfectants, surgical facemasks, and everyday necessities like toilet paper and non-perishable meals were stocked. Teleworking became a reality for businesses, and homebound customers had to interact and entertain themselves from afar. Many governments have imposed social barriers, imposed lockdowns, and/or temporarily shuttered "non-essential" enterprises.
As a result, there has been a surge in online purchases of some items, as well as an increasing demand for a wide range of digital services, as many customers have turned to online shopping – whether through computer or phone. Consequently, several brick-and-mortar firms have transferred their resources to eCommerce. In addition, the growing popularity of digital services has prompted both service providers and telecommunications companies to expand their network capacity and offer low-cost or no-cost data and service bundles.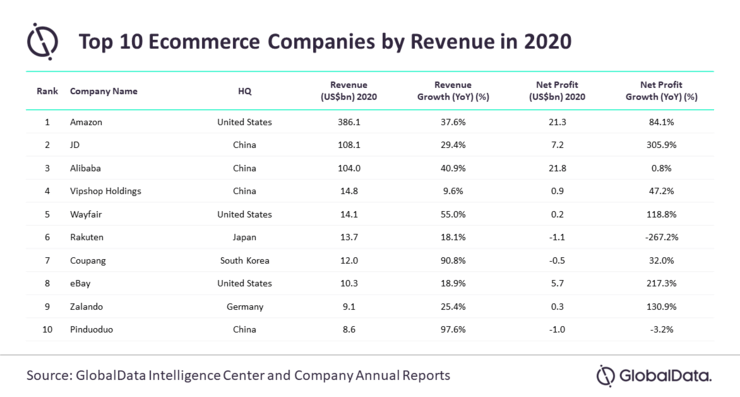 As seen above, 9 out of 10 of the biggest eCommerce companies have made double-digit revenue growth in 2021.
The proportionate shift to online B2B and B2C sales via retail and wholesale distribution services relies on manufacturing activity and service availability, given how commercial activities are linked and supply chains work. Government-imposed controls on the transmission of the virus, on the other hand, hampered these efforts.
First, due to the lockdowns, manufacturing in many economies came to a standstill, resulting in lower productivity and labour shortages in many countries. Second, online goods purchases have experienced the same supply chain constraints as physical transactions. The implementation of new health standards has significantly impacted international transportation and logistics services since they have severely interrupted most international modes of transit such as land, sea, and air cargo.
Sectoral Analysis of the COVID-19's Effects on eCommerce Businesses
Fashion
The fashion eCommerce industry was both positively and negatively affected by the COVID pandemic. At the height of the pandemic, staying home and lockdowns resulted in people buying fewer clothes since people did not know when to wear the items and created high social media traffic to clothing items. However, the easing of lockdowns resulted in high spendings on clothing items and fast trend changes.
Currently, the fashion eCommerce industry is facing a new period where consumers are used to buying items online. Therefore, they are offering customers new technological experiences with Augmented Reality, 360 degrees videos and voice search opportunities.
Read more: Fashion Industry Report
Pharmacy
The pharmaceutical industry experienced the highest growth rate during the epidemic season. Consumers bought hand sanitisers, masks and colognes that were necessities during the pandemic. Therefore, lockdowns evolved pharmacies to have e-pharmacies where they can offer their products online to their customers.
Even though e-pharmacies are not widely spread, many countries, such as the UK, allow online sales of medications, and it is seen in the foreseeable future that e-pharmacies will be spread among the world.
Read more: E-Pharmacy Industry Report
Grocery
Before COVID-19, online shopping was not spread among customers in the grocery sector. However, the pandemic forced customers to buy their groceries online and created a 40% sales growth in the overall industry. There was a significant consumer habit change with consumers cooking more at home and getting their groceries delivered.
This habit change led to big companies entering this sector, such as Amazon Fresh, and the emergence of applications and websites regarding fast online delivery of groceries. Currently, supermarket stores are making online delivery an option, and new businesses are entering the market.
Read more: Online Grocery Shopping Industry Report
Electronics
The pandemic resulted in remote working and studying opportunities, which led to the high demand for electronic devices, primarily personal computers, tablets and mobile phones. Industry giants started giving more importance to their online shopping websites. US-based electronics company Apple has stated a 20% revenue growth in the year 2020.
An issue with high demand in this sector was disruptions to electronic companies' supply chains from prolonged factory closures and labour shortages in China. Electronics giants are reliant on Chinese factories, and the closure of these factories resulted in supply issues for many companies.
At present, the electronics sector is growing increasingly, and the demand and consumer habit change is helping out the industry. Both industry giants and new competitors are stressing their eCommerce websites and are willing to create customer trust and convenience.
Read more: Electronics Industry Report
Cosmetics
Before COVID-19, the beauty industry (skincare, colour cosmetics, hair care, fragrances, and personal care) was an industry where consumers were used to trying products physically and buying them from physical stores. Therefore, with the pandemic hitting, sales became weaker and resulted in the closure of stores. However, compared to other industries, such as apparel, it recovered a lot faster.
Overall, according to research by McKinsey, the cosmetics sector sales are moving online, but stores still have a crucial role. With the age group Millennials and Gen Zs, it is seen that around 30% of the sales are done online. In conclusion, COVID-19 has brought new trends to the industry. Self-care and personal hygiene have become a lot more critical for consumers. In addition, with influencers promoting their beauty and skincare routines, beauty products have received high demand from consumers.
Read more: Cosmetics Industry Report
The eCommerce industry has grown 4 times faster than expected
Many offline businesses and sectors have received damage from this shift to online. However, the changing consumer habits are resulting in the more growing eCommerce sector. Therefore, businesses that want to stay relevant in the post-COVID-19 world must develop alternative channels for their customers, such as online stores, to avoid losing customer loyalty.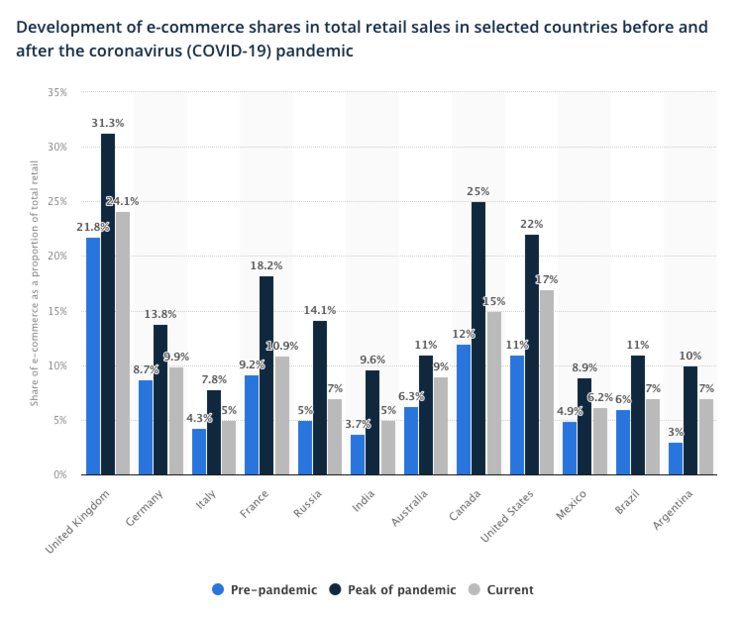 COVID-19 has impacted the eCommerce industry sharply. Even though, as seen in the graph above, with the ease of restrictions, consumers are going back to shopping from physical stores, COVID-19 has changed consumer habits. Consumers are now aware of online shopping, have had more trust in payments, and realised the ease and comfort of it. As a result, with COVID-19, the eCommerce industry has grown four times faster than expected.
Artificial Intelligence solutions in time analytics and, therefore, is the only solution for the fluctuating markets. Therefore, it is essential to keep up with the eCommerce trends to survive in these competitive fields.
Segmentify works with eCommerce businesses from a wide variety of industries such as Fashion, Electronics, Cosmetics, and Groceries. With the changing consumer habits such as spending less time on the website and finding what they want quickly, Segmentify can provide solutions to help satisfy the customers. It offers solutions for eCommerce website owners to succeed in the harsh competition in this industry. Book a free demo to try and learn about Segmentify's smart solutions to improve your customer experience and increase revenues!