Top Trends of Fashion eCommerce Stores and COVID-19 Effect
The fashion eCommerce industry has an annual growth rate of 21.6% and is expected to grow faster in the following years. COVID-19 has changed consumer habits, and buying clothing online has become popular among all age groups. This article will dive into the COVID-19 effect on the fashion industry with fashion trends and new technologies.
The fashion eCommerce industry reportedly was $549.55 billion in 2020. It is expected to grow $668.1 billion in 2021 at a compound annual growth rate (CAGR) of 21.6%. COVID-19, lockdowns, social distancing and physical store closures have been significant reasons for the industry's fast growth. Consumer habits have also been changed over the past year, and the fashion eCommerce market size is expected to reach $1207.23 billion in 2025 at a CAGR of 16%.
Regional Growth of Fashion eCommerce
Regionally looking, Asia Pacific had remained the largest region in the global fashion eCommerce market, withholding 32% of the market in 2020. Western Europe and North America regions come second and third respectively, having high shares in the fashion eCommerce industry. Following that, South America and the Middle East have relatively more minor market shares with 16.7% and 15.7% growth rates, respectively. Finally, Africa and Eastern Europe remain the lowest contributing regions to the market.
Regionally the fashion eCommerce growth list:
1. The Asia Pacific
2. Western Europe
3. North America
4. South America
5. Middle East
6. Africa
7. Eastern Europe
Fashion Industry During COVID-19
At the height of COVID-19 around May 2020, consumers were not able to go out and were obligated to stay at home. According to research by McKinsey, fashion brands and adverts received a lot of traffic via social media and other channels. However, the traffic did not translate into conversion since there was uncertainty at the removal of restrictions. Nevertheless, this drought lasted for a couple of months; and with the ease of the restrictions worldwide from the summer of 2020, online retail continued to grow faster than the previous years.
Changes in Fashion Trends
Staying at home, online school and work also impacted fashion itself. Not going out resulted in consumers preferring loose-fitting, comfortable clothing rather than fancy outfits. As a result, basics and sleepwear were the fastest growing trend with the highest annual growth rate. The highest winners of the fashion eCommerce sector were companies in the value/discount segment and sportswear companies, receiving a 5% and 7% stock price growth in 2020, respectively.
A year of quarantining resulted in the change of fashion trends. People got used to wearing loungewear and pyjamas over the past year. Therefore fashion brands stressed creating more comfortable clothes for outerwear fits.
The Rise of Online Fast-Fashion Companies
Online fast-fashion companies (in the value/discount segment) became a new trend for younger consumers. A UK based eCommerce company BooHoo reported a 45% sales growth in May 2020, with its marketing strategy based on social media channels such as Instagram, TikTok and Youtube.
COVID-19's debatably biggest winner in the fashion eCommerce industry was ASOS. In the first half of the fiscal year ending in February 2021, ASOS reported a 24% revenue growth, having a 46% growth rate in the UK. 2020's adjusted profit before taxes was up 275%, with net cash ending at plus £92 million. ASOS added 1.5 million active customers, which is a 12% growth from the previous year. Another big step taken by ASOS was acquiring Topshop brands (Topshop, Topman, Miss Selfridge). Topshop closed its physical stores and integrated itself into ASOS's digital format.
Influencer marketing has also risen over the past year, with small-scale and medium-scale brands collaborating with influencers' various audiences from all over the world.
Shein, a China-based online fashion company, prefered to use TikTok as their marketing platform with its 1-3 minute videos from influencers that helped the brand show its products and create trust from customers. Shein had a 100% annual revenue growth rate for its eight years running and was valued $15 billion last summer. Shein's marketing strategy is being an ultra fast-fashion brand. Another essential marketing strategy that Shein implements is its algorithm recommendation features. Since Shein sells affordable clothing, therefore, aims to sell as many items as possible. This leads to the company creating similar designs and recommending them to customers to buy them.
Closure of Fashion Retail Stores
With the growth of the fashion eCommerce market, the fashion retail industry faced a lot of damage due to COVID-19. There was a reported 40-60% shrinkage in the sector in May 2020 due to retail store closures. The US department store retailers JCPenney, Nordstrom, Macy's and Kohl's had lost $12.3 billion combined in market capitals. Furthermore, in May 2020, Neiman Marcus, J.Crew and JCPenney filed for bankruptcy. In the UK, 30% of retail stores closed in 2021.
Primark, a UK based affordable fashion retailer company, has predicted a $1 billion loss due to lockdown restrictions in the UK in 2021. However, even with high revenue losses, Primark refused to go online. The critical reason for this was because Primark offers low prices, and with its high returns, they would not be able to offer low prices if they go online. However, according to the BBC, the fashion industry is very competitive in price, but online shopping availability is also essential. Furthermore, not having an online option will not keep the customers loyal to the brand; since customers are able to discover new brands and new ways to shop.
New Online Shopping Technologies in Fashion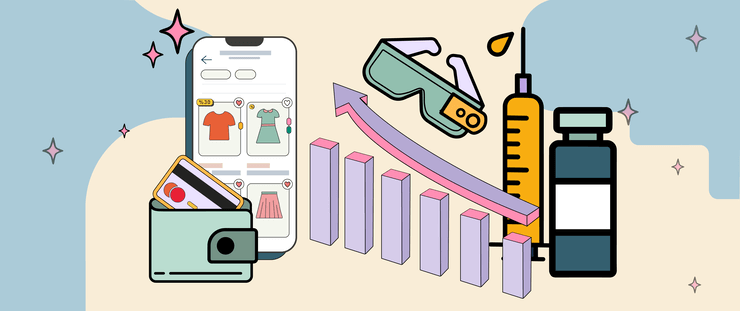 eWallet
A digital wallet is an electronic device that allows one party to exchange digital currency units for goods and services with another party and stores your payment information in one location.
eWallet usage gives clients simplicity of use and enhanced security while increasing sales and conversion rates for businesses. Customers do not have to enter credit card information on websites or hand over their cards to cashiers. As a result, they ease the process of paying and are more convenient and trusted by the customer.
360 Degrees Videos
Many fast fashion brands have incorporated videos in their clothing promotion photos. They put photos of the products in different angles and have 360 degrees turning video at the end to give the customer a better understanding of the product.
Three Dimensional Product Overview
Another new shopping technology is a three-dimensional product overview video by fashion brands. Brands want to increase their customers' understanding of the product and decrease any questions regarding the product. Therefore brands put a 3D version of the product for the customers to see.
Trying on Clothes with Augmented Reality
Augmented reality is the new trend in the fashion eCommerce industry, allowing customers to try on clothing virtually before buying them. Currently, AR has 0.81 billion customers. However, it is expected to overgrow and reach close to 2 billion at the end of 2024.
Voice Search
Voice search allows end-users to do searches, purchases using online voice commands. It is expected to grow the fastest among Generation Z, with a current statistic as 55% of teenagers using it in their day to day life. Voice search is also an upcoming trend among fashion eCommerce businesses, with its ease to search for a piece of clothing three times faster than with traditional search.
Conclusion
Consequently, the online fashion industry has faced both positive and negative outcomes from the pandemic. Still, overall the industry has transformed and is one of the highest online shopping preferred sectors by consumers. Therefore, even though the competition is increased within the industry, it is essential to follow the trends and implement business strategies accordingly.
The fashion eCommerce industry will continue growing concurrently, and fashion businesses need to adapt to the changing circumstances. With high competition in the sector, eCommerce stores need intelligent solutions, recommend the right products to the right customer in real-time.