Optimising Content Centred on Customer Behaviour
SEO, or search engine optimisation, has undoubtedly become one of the most popular digital buzzwords over the past few years. More and more businesses are beginning to understand that optimising their website and content for the search engines will help their business be found and increase traffic flow to their online content. Many businesses fail to consider, however, how to optimise their website not only for search engines but based on their customer behaviour. Why should you optimise content based on customer behaviour?
A key way to ensure your content stays relevant for your customer base is to understand how your customer reacts to and engages with your content. This ensures your content can develop to meet the changing needs of your growing customer base and will help propel your business forward, rather than staying static. What are the best practices for optimising content based on customer behaviour?
1. Focus on personalisation
By selecting accurate personal recommendations for a customer, you are not only increasing the likeliness of making a sale, but you are also building a stronger trusting relationship between your business and a client. All of your content from email to push notifications should be personalised, helping to attract the attention of potential clients. Using the best solutions on the market can help you increase visitor engagement and decrease bounce rates by up to 30%. Real time insights into returning customers activity, pop ups based on customer activity and prompted articles aligned to the visitors actual interests can help you move the needle and secure more sales and better engagement.  
2. Reduce payment drop-off rates
By personalising the payment experience using real-time data, you can reduce basket abandonment and help customers seamlessly complete purchases. Recommending relevant items to add to their basket also increases the number of sales you may make.
3. Don't forget online site optimisation
By taking an omnichannel approach to managing your online activity, you can ensure your customers get a flawless online experience no matter which of your channels they wish to engage with. For example, if you decide to run seasonal offers, you can do this cohesively, ensuring content is not repeated across your online sites and is tailored to each potential customer.
4. Focus on ecommerce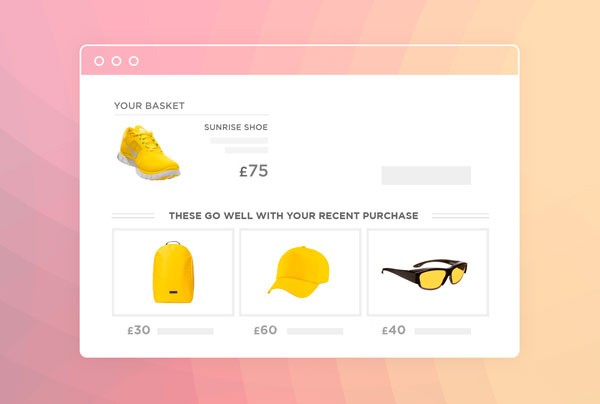 When a customer shows interest in a certain item, a proactive and responsive ecommerce website is essential to secure a sale. Once the item is added to a basket, increasing the order size is the next step and can similarly be achieved by recommending complementary items or up-selling the existing product. Personalised prompts can help increase AOV as well as create engagement with website visitors based on their activity.
Combining segmentation with additional shopping context
Every user who visits your website is a unique individual and should be treated as such. In order to create an exceptional, personalised shopping experience for them, you must first establish who they are. What other brands do they like? What are their shopping habits? Having the answer to such questions will allow you to create unique segments to target different customer needs.
For example, a segment for new customers, a segment for existing customers who may require a product attachment or upgrade, and a segment specific to the season/location of a user. Specific segmentation will ensure you are presenting existing customers and potential customers with the most relevant, personalised content possible. But, does this work in the real world?
Content personalisation can help increase visitor engagement by up to 20% while also decreasing bounce rates by up to 30%. Successful personalisation strategies create real effects in the real world, and Mothercare Ireland is one excellent example of this. By taking a personalised approach to their business operations, with the help of the Segmentify team, Mothercare was able to increase their conversion rate by 2.8x and increase AOV by a whopping 40%. 
The worlds premium publishers and content providers have switched to Segmentify, because our dedicated team of onboarding specialists will have your 14-day free trial up and running within 5 days, so you can experience the results faster. To offer your customers personalisation solutions before the holiday rush, book a demo with our team today!