Sustainability in eCommerce: 5 Ways Your Brand Can Support Sustainable Practices in eCommerce
Consumers are increasingly demanding more sustainable and eco-friendly solutions in eCommerce. And many businesses are looking to change their business models and practices to answer this demand from the customers. In this article, we are discussing what suitability is, what sustainability in eCommerce entails, and how companies can adapt to the changing environmental situation and consumer expectations.
What's Sustainability?
Sustainability is the practice of consciously using the present natural resources so as not to deplete them and obtain a long-term ecological balance. To put it differently, sustainability is about balancing the needs of the current and future generations and leaving a habitable world for future generations.
Building and transitioning to a sustainable economic model is one of the greatest challenges of the 21st century. The ultimate goal of sustainability is to create harmony and balance between the environment, society and economy.
The Rising Power of Sustainable eCommerce
eCommerce was already experiencing rapid growth before the COVID-19 pandemic hit. And because of the pandemic, this growth in eCommerce accelerated beyond what was expected. So naturally, this increased growth in eCommerce has severe consequences on the environment.
To illustrate, it is estimated that 1.15 to 2.41 million tonnes of plastic enter the ocean each year from rivers. And there are currently 80,000 tons of plastic floating in the Great Pacific Garbage Patch (GPGP), which equals the weight of 500 jumbo jets.
It is only natural that consumers are becoming more aware of the consequences of their actions and the actions of the companies. They are anxious about the future and are looking for companies that are willing to do something about it.
Recent research shows that consumers are willing to spend more money if they believe that the brand/company in question reflects their values. In addition, according to Shopify's The Future of Commerce 2022 Report, 77% of consumers are concerned about the environmental impact of their purchases.
The report further explains that consumers want to do business with brands with a certain stand in social matters and brands that align with their personal beliefs and values. Therefore, brands should be willing to invest more in building a community that focuses on creating everlasting relationships with their customers since 52% of consumers are more likely to shop from a brand with shared values.
What's Greenwashing?
Before we dive into what you should do to promote sustainable shopping and sustainability in retail, let's discuss what major pitfall to avoid: Greenwashing.
Greenwashing is the process of falsely communicating misrepresenting information about a company's sustainability practices. In other words, greenwashing is deceiving consumers into believing that a company's products or services are eco-friendly.
Greenwashing attempts to capitalise on the rising interest and demand for sustainability in retail. However, greenwashing does not necessarily involve lying outright about being environmentally conscious. Instead, it's usually about exaggerating the eco-friendliness claims or glossing over the company's harmful practices.
For example, greenwashed products might go through a process of repackaging and rebranding to convey a message that says it's clean, natural and eco-friendly. However, this new environmentally friendly packaging doesn't mean much if the product's ingredients or production process harms the environment.
H&M, the Swedish fast-fashion retailer, is continuously accused of greenwashing because of its "Conscious Collection". The company claimed that this collection was more environmentally friendly and made out of more sustainable materials such as organic cotton. However, it soon came to light that almost all of the claims made by the fast-fashion giant were either false or misleading.
The clothing items claimed to be made out of 100% organic cotton were only 20% organic cotton and what's more is that H&M never stated or explained where the materials were sourced, which goes to show the company in question is not.
It's easy to understand why you should avoid greenwashing. These kinds of misleading practices always come out to the public at some point (e.g., Volkswagen emission scandals) and are highly damaging to the company's reputation.
Before moving on to the next section, one big piece of advice we can give is that you should tread carefully. The practices we'll be talking about in the next section are great ways to start being an environmentally conscious company. Still, if other aspects of your business do not align with these sustainable practices, you'll be guilty of greenwashing, too.
5 Ways to Make Your eCommerce Business More Eco-Friendly
Now let's take a look at 5 simple but effective ways to start creating a sustainable eCommerce business model.
1. Reduce packaging waste
First and foremost, it's high time that you ditch the plastic packaging. You can reduce your environmental impact significantly by opting to go plastic-free with your packaging. So consider switching to cardboard packaging or, even better, recycled packaging to eliminate packaging waste and promote a sustainable shopping experience. Plus, these boxes can be used by the customers for storage as well!
Another thing to remember about sustainable packaging is to have different sizes of packaging at hand. For example, you really don't have to send a pair of earphones in a box big enough to fit a laptop. In fact, you shouldn't be doing that.
2. Send multiple items in one package
Oftentimes consumers order multiple items in one go, and these items may be sent in separate shipments. This could be because items are available at different shipment centres or at different times.
Nevertheless, retailers should avoid multiple shipments for one order whenever possible. First, however, you must let the customer know about your decision to hold the shipment longer to send everything in one package to avoid waste. Even better, you can present this as an option for the customer at the checkout.
We've already covered how consumers are more environmentally conscious nowadays. You can prepare small blog posts or just some simple banners explaining why you've decided to reduce your packaging waste and put these on your homepage or pin these banners to your search box, search results, basket pages, etc.
3. Switch to greener shipping options
You've ditched plastic packaging and opted for slower delivery, but there's still more you can do for more sustainable shopping and delivery processes. So let's talk about green shipping companies.
These green shipping companies, such as Green Courier from the UK, usually use a combination of zero to ultra-low emission vehicles. The goal is obviously to reduce and minimise the carbon footprint such services create and provide a carbon-balanced service.
Admittedly, at the moment, such service is challenging to apply for international orders since bicycles or electric vehicles are not great options for cross-border deliveries. However, these green shipping options are excellent for eco-friendly inner-city deliveries.
4. Support and highlight eco-friendly products and brands
This one depends on the type of eCommerce store you're running and the types of products you're selling. However, since consumers are becoming more and more conscious, it's an excellent opportunity to consider adding more eco-friendly products to your product catalogue.
If you're an eCommerce marketplace, you can start by working with more eco-friendly and green brands. And if you're already working with sustainable brands, simply highlight them. You can do this by preparing special category pages for eco-friendly products. And with the help of Segmentify, you can pin this category to your search box.
Alternatively, Segmentify can help you create banners to be shown on your homepage or search results page. The best part is that you can monitor the performance of these banners in real-time and see how well they are doing in terms of click-through rates (CTR), product views, purchases, etc.
Remember, it's essential to highlight these green brands if you want to communicate that you care deeply about sustainable eCommerce.
If you're not an eCommerce marketplace and are serious about sustainability in eCommerce, start by evaluating your product catalogue. Identify what aspects of your products are not exactly compatible with sustainability or cannot be considered "green".
Do your research on how you can make your products more sustainable and how you can make your customers' lives greener. This is a long-term project since it requires so much research time, energy and money. So tread carefully and be patient.
5. Reduce printed paper by moving things online
We've already discussed that one critical tenet of sustainability in retail is eliminating or avoiding paper waste. However, we need to come back to it once more.
One primary source of unnecessary paper waste is packing and return slips that come with our orders. Not everyone is going to want to return what they've purchased. By eliminating and sending these via email or your app, you will be getting rid of an extreme amount of paper waste.
You can create a system that does not require your customers to print out their return slips. For example, once they select the item they want to return through your website, you can give them a return code to give to the delivery company. Likewise, you don't need your customers to mark why they're returning an item on a physical piece of paper; this can be quickly done online.
What's Segmentify Doing About Sustainability?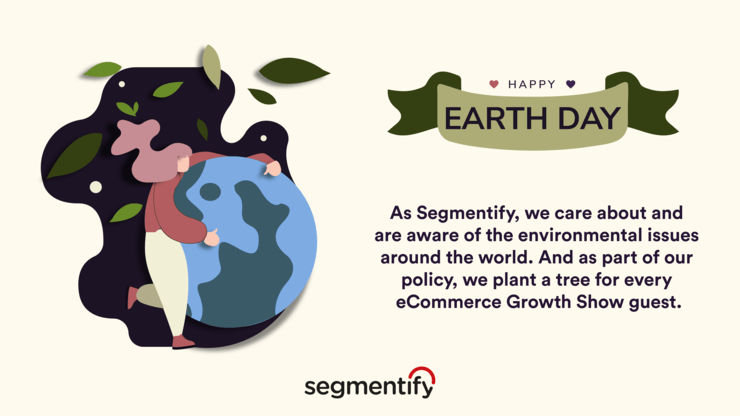 The eCommerce Growth Show is a podcast show created by Segmentify to build an eCommerce community and bring together different thought leaders from all over the world. However, it is not just a podcast with over 150 episodes, broadcasting in 10 countries/regions and 7 languages. It's much more than that.
Segmentify cares deeply about sustainability and sustainable eCommerce practices, and The eCommerce Growth Show is a part of these sustainability efforts as well. Therefore, to that end, Segmentify has been planting a tree for each guest that attends the eCommerce Growth Show.
Today, The eCommerce Growth Show family has a small forest with over 150 trees, and it's ever-growing alongside our eCommerce community. The eCommerce Growth Show, attended by eCommerce experts worldwide, where all aspects of eCommerce are discussed while shedding light on the latest news from the eCommerce world, does not forget about leaving a habitable planet for tomorrow.
Wrapping Up
The future of our planet concerns all of us. Younger consumers, in particular, care more about how their purchasing decisions are affecting the environment since they are the ones who will have to live in that future one day. As a company, by taking on the task of becoming more environmentally conscious, you will be participating in creating a more sustainable future as well as distinguishing your business.