What's Your Mobile Search Strategy?
Get the customer what they need quickly, actually quicker than quickly and then get them off the site.
The main rule in eCommerce is that good UX + history/speed = success. Yes, it's a risk-free strategy, but will it grow your business? Will your AOV ever grow if that's your only strategy?
Shoppers today want to find the exact thing they are looking for instantly and without necessarily knowing the detailed product description! They have become products of the Netflix or Amazon effect where they expect you to know what they want and deliver it to them right now. Therefore, the onsite search on a modern eCommerce store is critical and must be fast and intelligent, and it should even visually predict what your visitor needs before they even know themselves.
Now add the following facts:
80% of your traffic is coming from mobile devices
Site search converts 1.8x more than regular browsing
Over 30% of your traffic go straight to your search box to find what they need
So how important do you think having a great search is now?
Search Personalisation
There are many tools out there, all flying the flag for Dynamic Synonyms, Dynamic Retargeting or even AI-driven voice search, and all would be right in shouting it from the rooftops as they are all game-changers. And yes, there is a "but" coming here.
How does your search go deep enough into your visitors' data and predict what they want next before you create the seamless search journey?
A search experience is only as good as the data you feed it. Plus, if your visitor keeps going for the same product, how will you ever increase your AOV?
Step 1: Introduce a hybrid personalisation tool
The trick here is to run a hybrid personalisation tool that has real-time AI-driven personalisation and combines collaborative filtering.
You're like, what now??
Basically, it's the same system Amazon uses.
So in layman's terms, your personalisation tool learns everything about the visitor and compares every click-through and every product purchase they make with every other visitor who took the same journey.
It then scores every product and ranks it accordingly to your journey, so if 1000 people bought a particular running shoe or TV and 30% or more then purchased a certain t-shirt or firestick, it would be added to the journey. The next phase is drilling down into your product activity on Social media, PPC and even your SEO to complete the ultimate data set.
Now take all this valuable data, all these real-time journeys, and all these scenarios that lead to predicting product purchase and pump it into your search bar.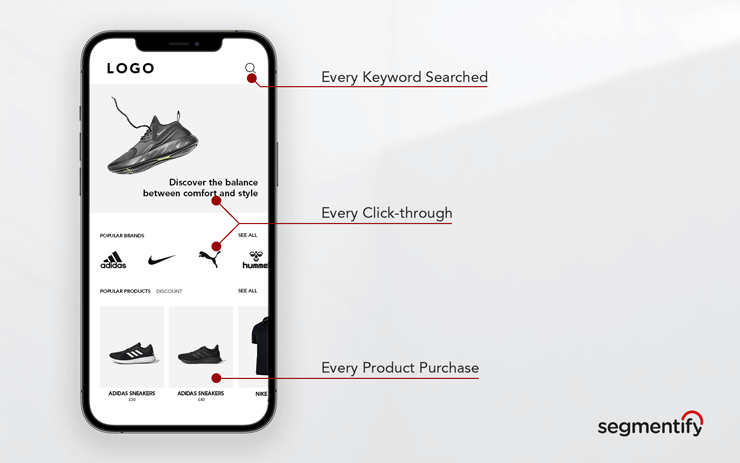 Step 2: Improve the UX
But we are not finished here yet as we need to sharpen this experience and add even more seamless usability.
Built-in predictive text: A necessity for people typing with their thumbs. Believe me when I say it's a necessity 🙂
Dynamic synonyms: Allowing the AI to figure out what best suits the synonyms requested
Auto-correct: Why cause visitors to waste time by making them retype their keywords?
All languages: We live in a borderless commerce world, so we need to be able to talk to every person who visits the site. Your search should have all languages built-in and even understand left to right and right to left type search.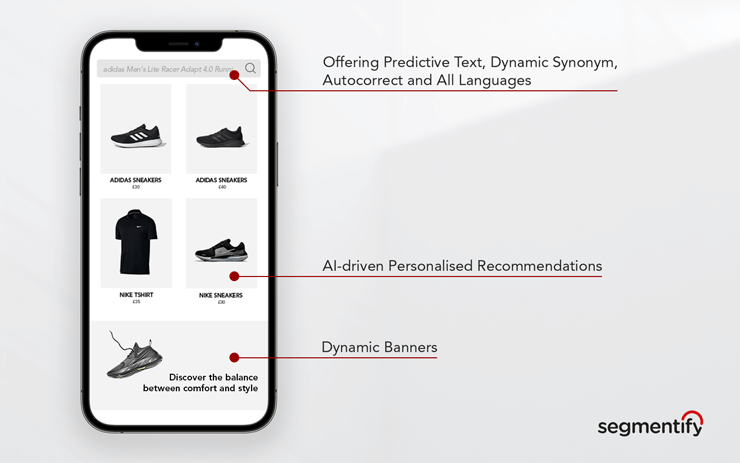 Dynamic banners in search: It is sometimes referred to as "the safe zone upsell". For most visitors, the search box or iFrame is a safe environment (Kinda like getting to your gate in the airport before you eat or shop). Placing dynamic banners in this area dramatically affects conversion as visitors take time to read the offer.
Pin static products: So that you can push overstocks and launch new brands. Many AI search and personalisation providers fail to remember that you are a retailer in an ever-changing environment. Things like overstocks, margins, and brand strategy need also to play a big part in your search. Having a static product Editor to merchandise and optimise the search experience is also necessary.
And finally we add
Enhanced dynamic product imagery : We buy with our eyes, so the imagery is probably the most important thing you need to get right with your search. The only way you will ever increase AOV is to increase your visitors' connection, emotion and need for your products. You can't possibly do this with written words anymore as people don't have the time to read. Physical products need to be represented in the best possible way if you are ever going to increase your sales.
Welcome to Your Personal Shopper in One Click with Segmentify
No typing needed for those of us with big thumbs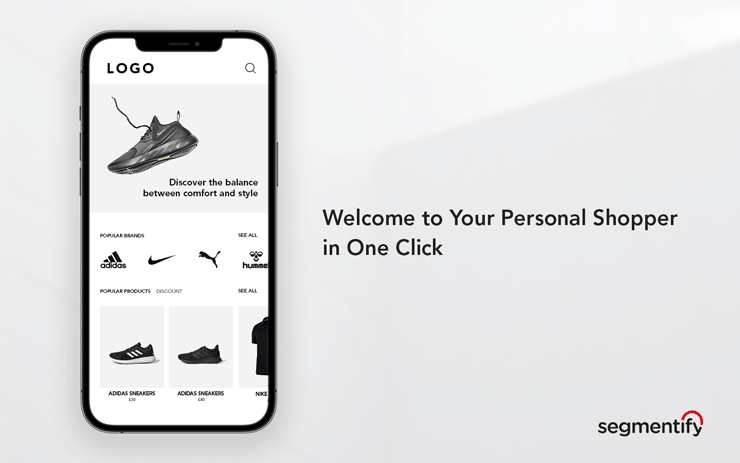 Get an Expert's Help with Search Personalisation
Lucky for you, Segmentify is an expert at personalised search. As a company, we understand the importance of personalised search and personalised product recommendations for an eCommerce store and offer just the right products for you and your customers! Integration for all this is free, and design and development are completed in just 5 work days. Book a demo with our experts to learn more about how we can help your eCommerce business increase conversion rates and AOV.