eCommerce Gamification: Meaning, Examples and Uses
Why do we like SuperMario? Why did we spend all those hours trying to save Princess Peach? What made us come back to it? Was it because Mario's world was so much more desirable than our own reality? Sure, escapism might be the reason why some people love video games; however, the real answer is a bit more complex than escapism. We love playing games because they fulfil our natural needs for competence, autonomy, and relatedness.
The built-in reward systems combined with compelling storytelling are what makes games so engrossing. They intrigue us. And in recent years, marketers have realised the power of using gaming-related elements in creating brand awareness and engagement.
This article will explain what gamification is and the psychology behind how gamified experience designs motivate users to specific actions. We will then look at the three best gamified marketing examples with Spotify Wrapped, MAISON KARL LAGERFELD, and NikeFuel. Finally, we'll finish with three gamified designs eCommerce websites can use, including journey builders, spin the wheels, and customer loyalty programs.
What is Gamification?
Gamification is about implementing gaming-related concepts, such as rewards, into a non-game concept. Gamification has become a beloved tool in marketing activities as well. It's based on using rewards and achievements to induce the customer to take the desired actions.
In other words, gamification is about engaging customers in the brand and its products by offering them a gamified experience. The goal of a gamified marketing design is to entertain, educate, and engage.
Gamification marketing is your own personal cheat code to victory!

Download eCommerce Gamification Marketing Guide to learn how to wield it.
Psychology Behind Gamification: The Octalysis Framework
As mentioned in the previous section, a gamified experience focuses on implementing rewards and achievements to keep users engaged. Levelling up in a video game is one of the best feelings in the world, right? You level up, get a reward or badge or a new item, and it's like someone patting you on the back saying, "Good job, kid."
Yu-kai Chou, gamification guru, calls gamification a "human-focused design". He argues that a gamified design focuses on the human experience instead of pure efficiency and function. And that's precisely why it works.
In 2012, Chou published a framework explaining how gamification works, which he named "The Octalysis Framework for Gamification & Behavioral Design". Yu-kai Chou explains that video games are engaging because their design appeals to our core drives and uses them to motivate us to move forward.
The Octalysis Framework analyses the psychological reasoning behind human motivation and then discusses how these reasonings can be used in building gamified experiences for the users. Let's take a brief look at the Octalysis Framework: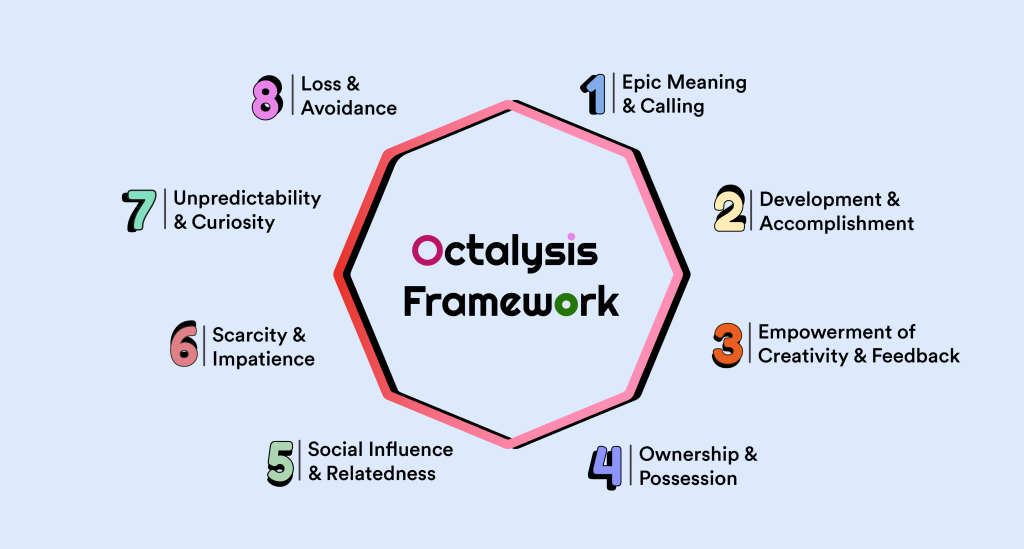 1. Epic Meaning and Calling
This is the core drive where the person believes they're doing something greater than themselves or they are "the chosen one". These users spend a lot of their spare time creating something for the community (open source projects, forums, etc.). They also believe that they have a gift that others don't.
2. Development and Accomplishment
This is the core drive about achieving goals and overcoming obstacles. Development and Accomplishment core drive is all about challenges. A goal or trophy is only as satisfying as the challenge you overcome. Goodreads uses this core drive, alongside social influence, to motivate readers to read more each year with its reading challenge.

3. Empowerment of Creativity and Feedback
People have a desire to share their creativity and receive feedback in turn. According to Yu-kai Chou, Legos are beloved because the user is constantly trying new combinations to create new things.
A successful example of using this core design came from Starbucks: In 2016, the coffee chain released plain red versions of their iconic Christmas cups in their US and Canada stores. Starbucks invited their customers to create their own designs and share them on social media with #RedCupArt. The company later chose and shared their favourites on their official accounts.
4. Ownership and Possession
Because you own something, you want to improve, protect, and get more of it.
Remember Scrooge McDuck? Ownership and possession is the core drive that made him want to accumulate even more wealth. This is also why people are more tied to the products that they've customised themselves. They feel an emotional connection to them.
5. Social Influence and Relatedness
We all desire to feel connected. Additionally, we also constantly compare ourselves to others. Social media is the perfect example for showcasing the working principles for this core drive: While what's shared on social media increases the feelings of connectedness, it can also cause serious mental harm due to inducing feelings like jealousy and envy. Nevertheless, both the positive and negative sides of this core drive are powerful tools.
6. Scarcity and Impatience
We want what we cannot have. This core drive motivates us either due to lack of something or the difficulty it takes to obtain it.
Ever seen your mom play Candy Crush? Then you know how impatient but also eager someone gets just to have something. In the case of Candy Crush, this is about waiting for the hearts to fill up so you can continue to level up.
Or do you remember when the Clubhouse app was launched? Because you needed an invitation from someone to open an account and the fact that one person could only send invitations to two people, everyone wanted to join the app as soon as they heard of it.
7. Unpredictability and Curiosity
Think of Dan Brown's novels. Almost every chapter ends on some kind of a cliffhanger. It's not that you get incredibly critical information each time this happens, but every chapter end is written and designed in a way to make you curious enough to go on to the next chapter. This is because we are all curious by nature. We want to know what happens next.
The unpredictability and curiosity core drive is about the very human desire to know and explore more. Interestingly, this core drive is also highly related to gambling addictions.
8. Loss and Avoidance
This core drive is about motivation through the fear of losing something or any other negative consequences. We could say that this and "Ownership and Possession" are two sides of the same coin. For example, Duolingo uses push notifications to remind you that you will lose your streak if you don't practice your target language that day. These notifications became a series of popular memes about how the Duolingo owl will hunt you down if you do not practice daily. The company embraced this slightly unhinged persona fully and uses it as a part of their marketing campaign at every chance they get.
3 Best Real-life eCommerce Gamification Examples
There's definitely more than one way to create a gamified shopping experience for your customers, and over the years, some brands have gotten real creative with their gamified marketing designs. So let's take a look at some of the best real-life gamified marketing examples:
Explore how the bookstore giant D&R boosted its AOV by 73% during Black Friday 2022 with gamification!
1. Spotify Wrapped
Spotify Wrapped stands as a notable gamification marketing initiative orchestrated by Spotify. With its yearly unveiling starting in 2016, each early December marks the return of this campaign, enabling Spotify users to access a comprehensive aggregation of their engagement data on the platform throughout the preceding year (spanning from January 1 to October 31). Users are encouraged to broadcast this compilation on their social media accounts.
In 2020, it was reported that Spotify's mobile app download increased by 21% in the first week of December, thanks to Spotify Wrapped.
The gamification aspect of Spotify Wrapped comes from multiple sources:
When you reach the Spotify Wrapped part of the year, it feels like you've completed a milestone. Congratulations, you've survived the year one song at a time!
It allows you to compare yourself to others – Either by what genres you've listened to the most or how many minutes you've spent streaming music in general or your top artist specifically. (I'd like to take a second to point out that in 2020, I was in the top 0.01% of Taylor Swift's listeners, thank you very much.)
Spotify encourages its users to share their Spotify Wrapped data with their friends and followers on their social media accounts, primarily through their mobile app. They do this by using a combination of personalised data, vibrant colours, bold graphics, and some humour (e.g., "You're a good listener. Feel free to show this to your ex." from the Spotify Wrapped 2020 campaign.).
Spotify uses gamification all year round. Their daily mixes, weekly discovery lists, or on repeat playlists are all a part of a cleverly designed gamified experience. However, Spotify Wrapped is definitely the most beloved and anticipated one.
So who else is excited for their Spotify Wrapped this year?

2. MAISON KARL LAGERFELD
Karl Lagerfeld, the fashion house built by the German fashion designer with the same name, took designing a gamified marketing campaign at its literal meaning with an actual game inspired by Pac-Man.
The MAISON KARL LAGERFELD game was part of the marketing campaign done for Lagerfeld's Spring 2020 Pixel collection. People visiting the Karl Lagerfeld online store would play as Lagerfeld's almost equally famous cat, Choupette, and try to navigate their way around the iconic Karl Lagerfeld Maison at 21 Rue St-Guillaume in Paris. The goal was to avoid dogs while collecting KARL Koins.
The game had its real-life incentives as well. The users with the top scores were included in a weekly prize draw, where the prize was a shopping spree at a Karl Lagerfeld store in the UK and Europe!
According to SMACK, the digital marketing agency that Karl Lagerfeld worked with for this campaign, the online store of the fashion house got over 21,000 visits in the first week of the campaign and obtained 18,000 emails.
3. NikeFuel
Finding the motivation to exercise regularly is hard. How many times have you been on a run and said to yourself, "I'm going to be doing this every week."? I think we can all guess how that turned out.
As an athletics company, Nike knows that the lack of motivation is the biggest obstacle to regular exercise. Nike's fitness app Nike+ in combination with the company's Fuelband accessories were designed to motivate the users through gamification. While the NikeFuel app was taken off the market in 2018, to this day, it still remains one of the superior examples of gamification marketing. Here's why:
NikeFuel motivated its users in two main ways:
The app sent little messages of encouragement to its users to motivate them to continue exercising.
The app's game-like design allowed users to share their fitness achievements on social media, which helped create a sense of community while also satisfying the validation needs of people.
Additionally, there was another aspect to Nike's gamified design: Nike collected and stored the data about their customers through NikeFuel and then used this data in targeted marketing campaigns.
3 Best eCommerce Gamification Examples You Should Try
So we arrive at the final question: How can an eCommerce store boost sales with gamification?
Gamification can be a useful tool in smoothing out the buyer's journey while humouring the customers. Take a look at a few of our favourite eCommerce gamification examples you can use:
1. Journey Builder
Why not offer your customers personalised product recommendations based on their answers to some simple questions? And why not make this in a fun and engaging way?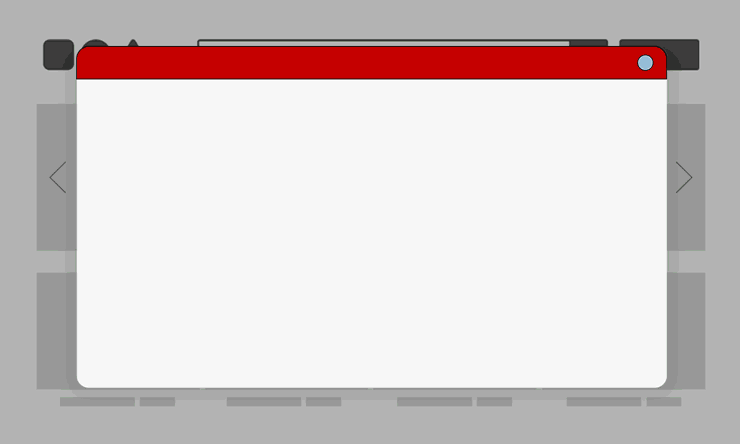 You could do this by asking them simple and straightforward questions about their gender, age group, and budgets. But you can also ask more detailed questions, such as their style (classic or sporty?), favourite colours, patterns of choice, etc.
2. Spin the Wheel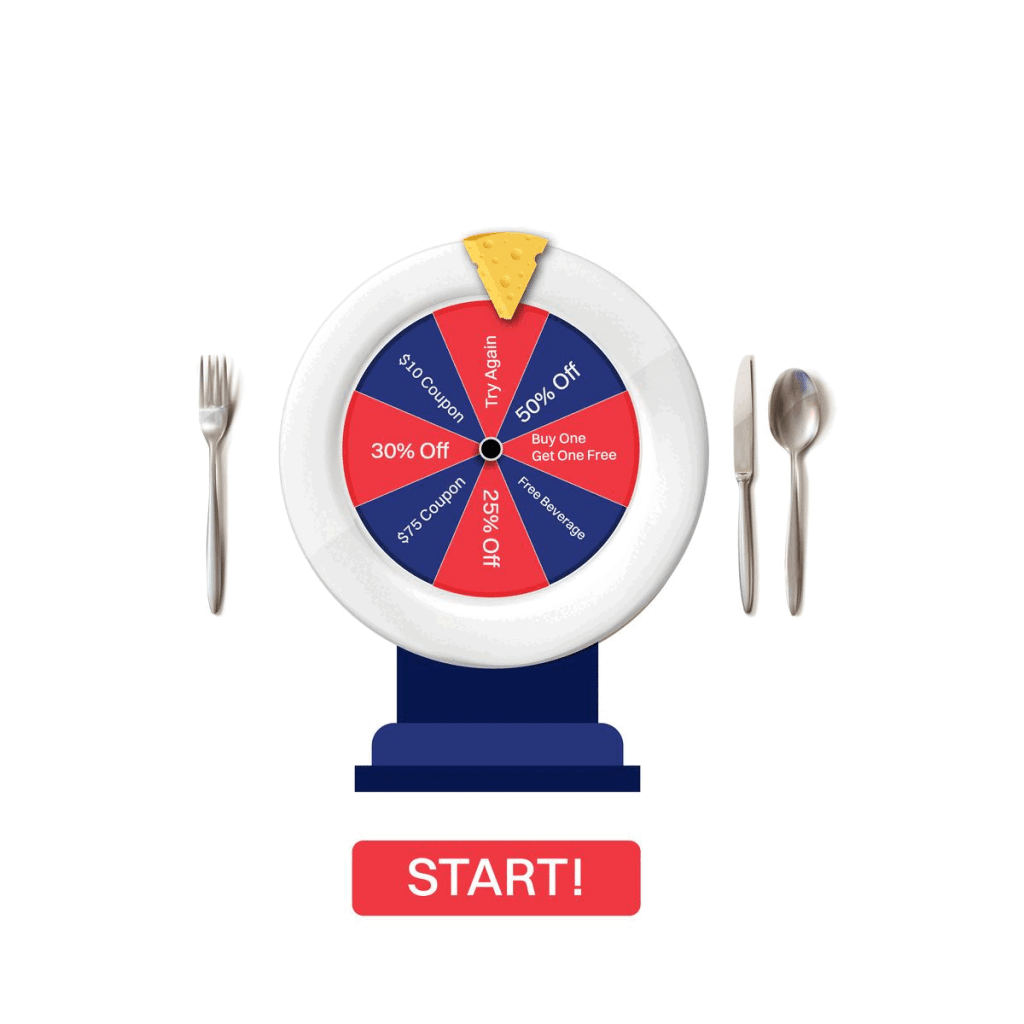 Many eCommerce websites use spin the wheels, also called wheels of fortune, to give away discounts or other types of rewards and deals. You can lure potential customers in by offering them the chance to earn unexpected discounts, free shipping, etc. For example, by putting a "No luck today" slice to the wheel, you can tell visitors that they should come back tomorrow.
Explore how the famous online bookstore Idefix increased conversion rate by 115% with Gamification.
This type of gamified shopping experience also allows you to build your email marketing list by collecting email addresses from first-time visitors. Then, you can later use those emails to get that first purchase!
3. Customer Loyalty Programs
With loyalty programs, customers earn points for certain actions and events, such as placing an order, leaving a review, sending out that referral link to friends, birthdays etc. This type of gamification employs mainly the Ownership & Possession and Development & Accomplishment core drives. Your customers will want to get more loyalty points/rewards than they have, and they will also see these loyalty points as milestones to achieve.
Wrapping Up
How will you differentiate your eCommerce store, your brand, or your products and services? This is the million-pound question. Trends and tastes change at an unprecedented pace. In such a world, it's getting more and more challenging to connect with customers.
Offering gamified experiences is one of the best ways to differentiate yourself from your competitors while engaging with your customers at an emotional level. As with everything in life, designing an engaging experience is about planning. So get ready, set your rules and rewards, and go!