Your Checkout Success Page is Where Loyal Customers are Made
The checkout success page is the final step in the customer purchase cycle. Although it seems like it's the least important of the Big Five, it's actually very important. It's the make or break page when it comes to turning first-time shoppers into occasional customers, and occasional customers into loyal ones!
Imagine having a friend over for a nice dinner at your house on a Friday night. You make sure your house is warm & inviting, right from the entrance. You lead your friend into the dining room, and present her with the delicious meal you've prepared for her. You have a nice dinner and great conversation. And just when it's time for her to leave, you suddenly disappear. You expect her to find her own way out, and close the door behind her. No matter how great of an evening you had, she probably won't be coming over again any time soon, right?
Now imagine that you politely see her out, tell her what a great time you had, and that you would love to get together again soon. Sounds much better than the first scenario, doesn't it?
This is exactly what you should be doing with your online customers at the checkout success page to convince them to come back for more. E-commerce managers spend time, effort and money to acquire new customers, but they often seem to forget that customer retention is the most profitable. In fact, your revenue would double if only 10% more of your current customers came back for a second purchase!
Luckily, we have two very relevant and efficient Segmentify algorithms for e-commerce store owners who want to monetize the opportunity otherwise known as the checkout success page!
Cross-selling made easy: Complementary Products
Your checkout success page is a great opportunity for cross-selling products and increasing your average revenue per customer. Your customers are already warm, and probably in the right state of mind to buy more. By displaying Complementary Products right under your success message, you will undoubtedly catch their attention.
Our Complementary Products algorithm offers products that are best suited to the one the customer has already purchased. If a customer recently purchased a bikini, she'll probably be interested in sunscreen, too. The Complementary Products algorithm knows this by default, and displays products that will grab your customers' attention. It's as simple as that. There are, however, a couple of things you should consider to get the most from Complementary Products:
Avoid multiple shipping costs for same day orders
This is a given if you work with a warehouse instead of multiple suppliers. Remind your customers that they won't be required to pay a shipping fee for each individual order. This will give them the freedom to order more products from the Complementary Products area.
Offer same day delivery
Similar to single shipping costs, you can let your customers know that all the products they order on the same day will arrive on the same day. So a customer who just purchased a new laptop will receive the mouse on the same day. She won't have to wait, and that's a good thing because no one likes waiting!
The use of smart filters
Did you know that you can strengthen your Segmentify algorithms with the use of smart filters?
There a few filters we strongly recommend using to get the most accurate results from your Complementary Products recommendations.
Size Filter:

If you're selling clothes online, consider including the size filter. What's the use of offering an XL dress to a customer who just bought an XS?

Stock Count:

Next up, consider including the Stock Count filter. You're only able to recommend three or four additional items, so don't waste your time recommending out-of-stock products.

Price Range:

Most important of all is the Price Range filter! Don't recommend a product that's more expensive than the one your customer has just purchased. Set a minimum and maximum price to the Complementary Products you recommend in order to get the best returns.
Sit back and let Smart Offers do the job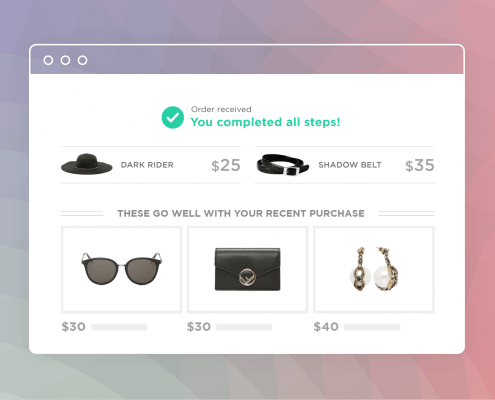 By the time your customers are at the checkout success page, you already have a lot of valuable data on them. Well, you personally may not, but our Smart Offers algorithm does! Segmentify's Smart Offers algorithm tracks your customers' behavior from the moment they land on your website. It knows the channels they've come from, the devices they're on, the pages they've been to, and the products they've searched for and viewed prior to purchase.
Naturally, the recommendations it generates are extremely relevant, and resisting the urge to purchase is nearly impossible. The Smart Offers algorithm is like a sales associate in an offline store, but is data-driven, works on continuous machine-learning, and adjusts its outcomes in real-time, based on customers' online behaviors.
Your Checkout Success Page is only the beginning
According to Retailtouchpoint, "the probability of converting a new customer falls in the 5% to 20% range; for existing customers, it's between 60% and 70%". This is why you need to optimize your Checkout Success Page. It's not the end of a short trip. Instead, if operated intelligently, it may be the beginning of a much longer journey!