5 Big Benefits of Push Notifications in Ecommerce
In digital marketing, things rarely stay the same for long. Whether it's new competitors or changing customer preferences, the landscape is always shifting. For many companies, there is a perpetual quest to be faster and more responsive. Advances in technology certainly make that easier, and today, marketers are spoiled for choice when it comes to innovative new tools that can help them build their brand.
In this article, we're going to explore one of them: Push Notifications.
By the end, you'll see just what they can bring to your business, and why they just might be one of the best marketing tools you can use today.
What are Push Notifications?
Put simply, a push notification is a simple text message that allows marketers to reach mobile users, even after they have left the company website. There is genius in the simplicity, as it allows companies to build audience engagement from beyond their platform. Push notifications can take multiple forms, such as:
News updates
New content releases
Product offers
Order status updates
Push notifications have quickly become the default method of communication for many mobile apps, and research indicates the open rates for these messages is as much as 50% higher than email. It's safe to say that push notifications are settling in for the long haul.
The Benefits of Push Notifications for Ecommerce Store Owners
With rising competition, it's tough to stand out. If you want to grow your business, you need to communicate with people in ways that they engage in. Right now, push notifications is the best way to accomplish that. More specifically, if you can combine personalization with push notifications, then your ecommerce business will be able to drive engagement levels in the right direction. Here are five key benefits to using push notifications for your ecommerce store:
1. One-Click Subscription
They say the gold is in your email list, but people don't give out their email address too easily these days. The great thing about push notifications is that you don't need to capture an email address. In fact, you don't need any lead information at all! People can subscribe to your web communications with just a single click. That means they don't need to give over personal information, and you can gain instant subscribers with a single click. It's win-win.
Push notifications allow for an easy, one-click subscription to brand messaging.
2. You Can Reach Thousands of Customers with Just a Single Click
By using push notifications, you can grab the attention of first-time visitors and casual browsers as soon as they arrive. Offering them the chance to stay updated with the valuable content you're providing without any need to give over their email address is a tempting proposition, and many people are willing to jump on-board. This is a quick and easy way of building brand awareness.
Furthermore, it takes very little time to create push notifications, especially compared to email. By partnering with Segmentify, your brand can fire out short and sweet messages to engage thousands of visitors in an instant.
Segmentify can help you reach a bigger audience in an instant.
3. Retarget Your Customers
One of the biggest challenges in ecommerce is dealing with abandoned carts. On mobile, these rates can soar as high as 97%, with online shoppers abandoning carts for all sorts of reasons, including:
High shipping costs
Hidden costs
A confusing checkout process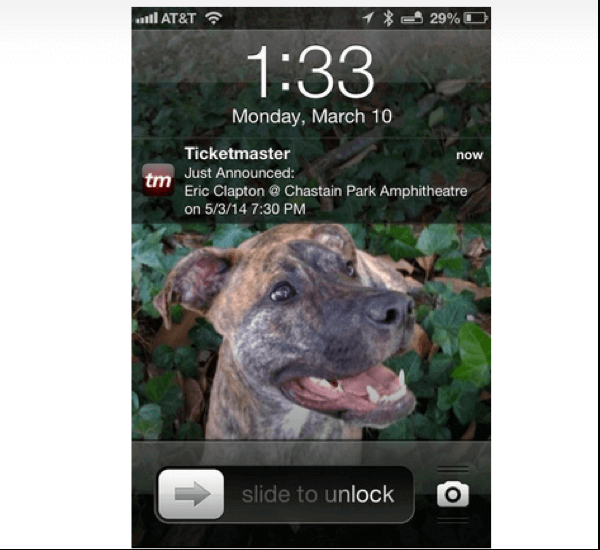 You could try cart abandonment emails. However, marketers are discovering that push notifications may be more effective, especially as they get higher open rates and click rates. The fashion store, La Redoute is one of the world's largest ecommerce apparel stores. It used personalized push notifications to combat abandoned carts, effectively retrieving sales from the brink of collapse. This proved highly successful, as the retargeting clickthrough rate generated 3 times the rate of classic mobile ads.
La Redoute uses push notifications to bring people back to complete sales.
4. Remind Customers About You From Afar
Once people subscribe to your push notifications, you have a direct channel to communicate with them on their mobiles, even when they aren't on your site or app. There is no other marketing channel like this, making push notifications uniquely powerful in the hands of savvy marketers. People can see your notifications on their mobile devices or desktop, and there is no need to open a mailbox to read or interact with it.
Studies by Responsys found 50% of mobile users subscribe to push notifications so they can gain access to special promotions and exclusive offers. Brands who offer time-limited deals can leverage the fear of missing out (FOMO) to lure users back to their ecommerce store.
In Saudi Arabia, the dominant electronics retailer is eXtra. The company has successfully used push notifications in this way to boost their mobile growth to a remarkable 100% year-on-year. Less than two months after they started the strategy, people were returning to the store four times as much and spent much more time on-site.
You can use push notifications to connect with customers even when they aren't on your app.
5. Simple, Effective Brand Messaging
Here's something you might not be aware of: Online shoppers want to receive personalized content. They want brands to care more about them. Personalized marketing is far more engaging now, and people will respond to content tailored to their needs and interests a lot faster than some meaningless, generic drivel.
The latter may actually turn people away, costing your subscribers and potential sales. By personalizing your push notifications, you could boost open rates by around 400%. An easy way to put this into practice is by analyzing consumer behaviors and past purchases to serve up personalized product recommendations.
Ticketmaster does this for their subscribers, using geo-targeting and user history to recommend users about upcoming events in their area that they might like. This has helped the company earn higher conversion rates.
Ticketmaster has boosted their conversion rates with personalized product recommendations through push notifications.
Personalized Push Notifications Epitomize Modern Marketing
When you take the time to craft personalized push notifications, you can connect with prospects in an intimate way that makes them feel special. This form of marketing is not only cheaper, quicker, and easier than email or social media, but it allows brands to forge relationships with a mobile audience who have little time or patience for long-winded communications. It may not yet be the finished article, but push notifications have a lot of promise in modern marketing.