3 Hacks for Optimizing Your Email Marketing for Ecommerce Businesses
Email marketing is nothing new. It's been around for quite a while. But the interesting thing about it, is that it is still innovating. While some people may have disregarded the impact email can have on your conversion rate in ecommerce, many companies have recognized the power of marketing automation.
The reality is that if it's done correctly, email can drive more sales and help your company build a loyal following of paying customers. Research by the Direct Marketing Association revealed that email marketing still drives more ROI for almost 70% of other companies, compared to other engagement methods. And here's the thing:
It's not that expensive to get started, especially when you consider the cost of paid advertising with Google Ads, or the poor organic reach of social media marketing. If you already have a decent data list at hand, it's relatively easy to get up and running with a good email marketing automation strategy.
However, standing out from your competition is another story. When it comes to devising your strategy, one thing you need to give special attention to is the optimum time to send your emails out. In this article, we'll give you a few tips that can make all the difference to your next campaign.
3 Hacks for Optimizing Your Email Marketing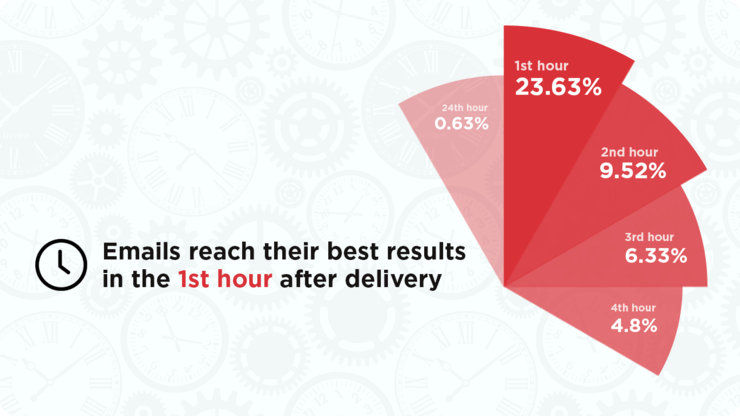 First off, why is finding the optimal time to send an email is really important? Well, according to HubSpot, 25% of the email opens happen within the first hour of receiving the email. After that, open rates drop dramatically, to the point that your email gets buried after a few hours.
Sending your email out at the wrong time can be a costly error, which is devastating for both open rates and overall marketing ROI. By the same token, getting the scheduling of your emails right for your audience can be a small, yet very significant tweak that transforms a campaign's success. So, just what can you do to make sure your emails are being sent out at the best time?
1. Don't Get Buried in an Avalanche
A lot of ecommerce companies tend to send out emails during normal working hours. While early in the morning or mid-afternoon are great times to send an email, it's also the time that all your competitors will be sending their emails too.
The problem here is that your subscribers may well be busy at that time. They could be at work, cooking at home, or driving in their car. If so, then your email might get buried among the others. In ecommerce, chances are your recipients have busy inboxes, which makes this scenario a greater risk.
Considering that emails get the best results within the first hour of receipt, it makes sense to optimize your delivery schedule so that your emails land in your customer's inboxes just before peak engagement times. Rather than waiting for the peak hour, beat the pack to the punch. Test out an early morning email, before your recipients are busy with their day, or alternatively experiment with reaching out in the evenings, while they're at home on the sofa.
2. Keep Time Zones in Mind
The beauty of ecommerce is that you can, and most likely, will sell your products to customers from all over the world. While that provides great opportunities for revenue growth, it comes with its own complications for marketing and communication.Thankfully, the rise of marketing automation is prepared for such challenges. You can segment your email list based on different time zones, allowing you to schedule emails at the optimum time, regardless of where your recipients are.
There are plenty of solutions to the time zone issue online, which provide useful insights into the optimal email send time over the next 24 hours. These recommendations are determined through data insights on click rates and past engagement.
Email segmentation is yet to be adopted by many businesses, but failing to do it will cost you money in the long-run. And your competitors who do use it will eventually leave you trailing behind. While there is no perfect sending time for every time zone, learning to optimize your marketing automation can pay dividends over time.
3. Separate Work & Personal Emails
While you're getting into segmentation, you can take it a step further by dividing your email list into two distinct groups: work emails and personal emails. In B2B ecommerce, many of your recipients will have work emails, which are easily identified by the company suffix. Compare that to popular email providers for personal emails, such as Gmail and Yahoo.
Using that as your yardstick, it's pretty simple to divide the two groups. But why would you want to do this? Well, with an ecommerce client base, you're going to be predominantly targeting white-collar workers during work hours. So, it's important to use the correct email at the correct time.
Furthermore, you can tailor your email marketing templates to be more professional when sending to their work emails, and more personal when sending out-of-hours emails to their personal emails. Ecommerce personalization that is carefully adjusted to speak to prospects in the right way, at the right time, can be a very effective strategy that boosts conversion rates.
The Best Time to Send Your Marketing Emails
For all the studies that have been done on email marketing, the definitive answer remains elusive. The truth is there is no single solution that can be applied to every industry, business, or scenario. In order to really understand what works best for your business, you must consider your audience, brand style, and products, and then experiment with different tactics.
Try out different things like sending your emails early in the morning, or tailoring personalized emails to connect with your recipients when they are outside of work. Optimize for different time zones and use segmentation to make it easier to target specific groups. With some solid data analytics, you'll soon be able to improve your marketing automation to maximize open rates and engagement.