Domino's Boosts AOV by 10% with Personalisation
Who doesn't love a warm and cheesy pizza after a long day at work or school? Most people would wholeheartedly agree that pizza is one of the best forms carbs can take. So the question we're asking today is, how does an online pizza delivery chain engage with its customers to boost its conversion rates and Average Order Value (AOV)?
Discover how Segmentify's Personalised Product Recommendations have helped Domino's Pizza Turkey increase its AOV by 10% and conversion rates by 2.81x. Learn the details of A/B tests Segmentify did on Domino's homepage and basket pages.
Domino's Pizza Company Background
Domino's Pizza started its journey in 1960 with a small pizza restaurant in Michigan, the U.S. Soon after, it opened its first franchise restaurants and expanded to 200 stores by 1978. Fast forward more than 40 years, Domino's is now operating in more than 90 international markets with over 18,300 stores and is one of the most well-known pizza brands globally.
Domino's started its operations in Turkey in 1996 under the name "Domino's Pizza Turkey" and is now leading the Turkish market with its 530 branches spread across 69 provinces. A pioneer in the pizza industry with its "home delivery" operations, Domino's Pizza Turkey has combined its Turkey, Russia, Georgia and Azerbaijan operations under "DP Eurasia" and started to be traded at the London Stock Exchange, thus becoming the first Turkish company born in Turkey and expanded with Turkish employees and franchises to enter the London Stock Exchange from the Premium List.
Not Just A Pizza Delivery Company
Domino's Pizza is currently the most common pizza delivery chain in Turkey and the world. In fact, Domino's app was the most downloaded restaurant app in Turkey as of 2021. No one does it better than Domino's when it comes to efficient home delivery of made-to-order pizzas.
Domino's Pizza also aims to make an impact as a technology company with its industry-leading approaches, technology investments, and high customer satisfaction figures. The online and mobile ordering system of Domino's launched in 2007, and today, more than 70% of the sales are generated through the company's online channels.
Naturally, as one of the leading food delivery companies, Domino's needed a strategic partner who offers solutions that could help them create highly personalised customer journeys and thus, increase revenues and boost average order values.
The Segmentify team worked with Domino's to understand the needs and requirements of the company. The main goal was to understand how well Segmentify's personalised solutions could help Domino's understand customer tastes and respond accordingly.
After the initial implementation was done with minimal effort from the Domino's side, the Segmentify team prepared A/B tests to be performed on the homepage and basket page widgets to examine closely how Segmentify's personalised solutions can help them with their goal of customising their products for individual customers.
Biggest Challenges Faced by the Online Food Delivery Industry
Online food delivery experienced an unprecedented boom with the implementation of multiple lockdowns due to the COVID-19 pandemic in the last two years. Lockdowns are (thankfully) no longer a part of our lives, but consumers have accepted online food delivery as a part of their daily routine once, and there's no turning back. As a result, online food delivery services are currently leading the marketplace.
There's a continuous increase in the number of customers for the food delivery services. As a result, the market is becoming oversaturated and, therefore, more competitive. So consumers have an abundance of choices, making it challenging for companies to engage and retain customers, even for the big names in the industry.
Another challenge lies with managing customer expectations. In this day and age, customers are used to getting what they need as quickly as possible. However, the main thing customers are looking for when ordering food online is convenience and simplicity.
It's not that difficult to understand. We've all been there: You're hungry and don't have the energy or time to cook, so you want the best that the Internet can offer as fast and conveniently as possible.
Naturally, customers want the process of searching and finding what food to order to be straightforward. No one wants to scroll aimlessly through an online menu to find something that will satisfy their appetites. In fact, they want the company to know what they need at the moment and recommend it.
Achieved with Segmentify
As mentioned previously, Segmentify's Personalised Product Recommendation campaigns were placed on Domino's Pizza Turkey's website. Plus, A/B tests were prepared for both the homepage and the basket pages to compare the results between Segmentify campaigns and no Segmentify campaigns. For definitive results, traffic was divided by 50-50 in both campaign setups.
Results From the Domino's Homepage
The homepage is extremely important for online stores since it's usually the first thing a potential customer engages with. Usually, that's where you make your first impression and let the customer know what you're offering them. In other words, a homepage is your storefront where you attract and convince customers to purchase from you.
Segmentify's Personalised Product Recommendation campaigns were placed on the Domino's homepage to learn from consumer behaviours and preferences and build on them to recommend products accordingly. The A/B test was set up between Domino's static product selections and Segmentify's dynamic product recommendations.
As a result, there was a 1.38x increase in "Add to Basket" clicks, and 1.37x more product checkouts were observed. Furthermore, it's clear that consumers responded positively to the personalised recommendations since unique purchases done through the homepage increased by 2x. Lastly, we've observed that 1.62x more revenue was generated through the personalised recommendation campaigns on the Domino's homepage.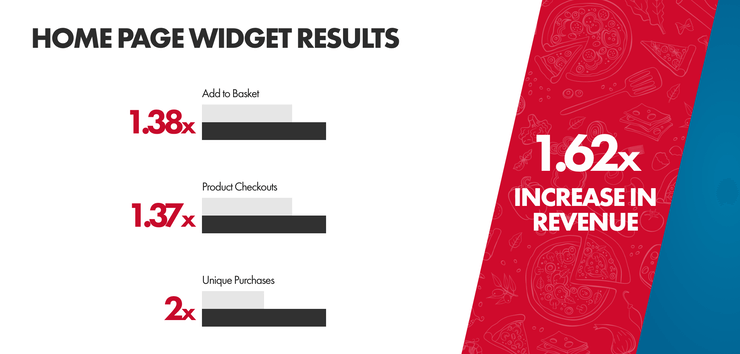 Results From the Domino's Basket Page Widgets
Basket pages are where the purchases are finalised, so their importance for eCommerce is pretty apparent. One of the most significant advantages of the basket pages is that as an online store, you can use them as an opportunity to increase the Average Order Value by recommending products that your customers can't resist. Who among us can say they've never made an impulse purchase at this last step?
For the Domino's basket pages, Segmentify's ability to order the products was used. This means that the basket page widgets were used to cross-sell or upsell by recommending additional food and/or beverages according to visitor behaviour and similar products.
A/B test on the basket page widgets was done by comparing the listing rules of Domino's with Segmentify's dynamic basket recommendations. As a result, a 35% and 21% increase in the products added to the basket and product checkouts was observed, respectively. In addition, Segmentify's product recommendations on the Domino's basket pages led to a 17% increase in unique product purchases and a 26% increase in revenues generated through the basket page widgets.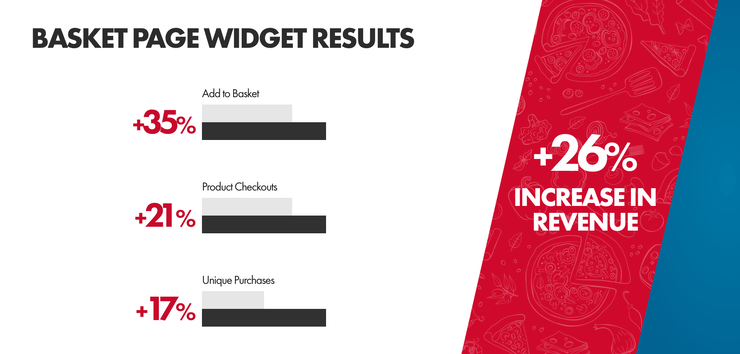 Overall Results From the Domino's Pizza
As a result of the A/B tests done by Segmentify on the two different types of pages mentioned above, there was an overall improvement in AOVs and conversion rates generated on the Domino's website compared to the no Segmentify scenario.
With the help of Segmentify's personalised solutions, the Average Visit Value has increased by 3.2x. Additionally, a 10% increase in AOV was observed. Testing these two different page types has shown us that using Segmentify's innovative solutions has increased the overall conversion rates by 2.81x.
You can get your copy of this case study by clicking the button below: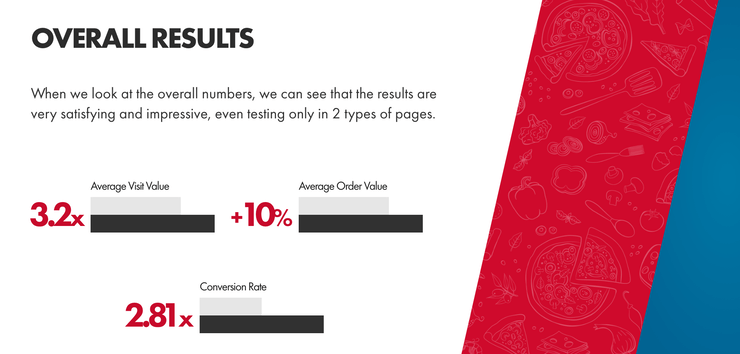 What the Domino's Pizza Team Says About Segmentify
At Domino's Turkey, we had a goal of customising our products for each customer based on their current and past purchase history. [As a result,] we received the full support of the Segmentify team, both in terms of implementation and during the A/B test period.
We did an A/B test between the products we showed as static and the dynamic products we displayed using Segmentify's machine-learning system and achieved an incremental 162% higher revenue.
We have integrated it into Domino's app channels with the easy SDK module. We were able to do this with minimal effort from the development team, which is one of the most significant positive aspects.
What's Next?
Contact Segmentify for more detailed information on how our personalised solutions can help elevate your online store to the next level. Let's join our forces to change the eCommerce game!