Label Recommendations: When you have a lot to offer
Running an eCommerce store means catering to hundreds or even thousands of online demands all at the same time. Unless you're running a hand-made items store targeting a very niche audience, having a large number of products usually helps convert your visitors into customers. This is especially true for marketplaces, but it can also sometimes cause challenges with respect to defining target audiences. If you're offering products both for family vacations and pet care, narrowing down your categories to a minimum is a must for effective eCommerce personalization!
In simpler terms, separating your product groups into categories is eCommerce 101. It helps with customer guidance, recommending personalized products and gathering more data. However, your customers may be interested in more than just one category.
Your customers aren't one dimensional
Your customers cannot be defined by one simple preference or style. Each of them is a unique human being, with multiple likes and needs. When you're talking to a wider audience, going off the path every now and then may not be a bad idea! After all, a female customer who is interested in mountain gear could also very well be interested in high heels – especially if they're all tagged 'Same Day Delivery'! So why not take a chance, and show her both of these items?
This is where our new feature, Label Recommendations, comes in handy!
Just like categories or brands, labels can also be used for creating recommendation campaigns in Segmentify. All you have to do is simply add the label you want to feature in your next campaign, and that's it!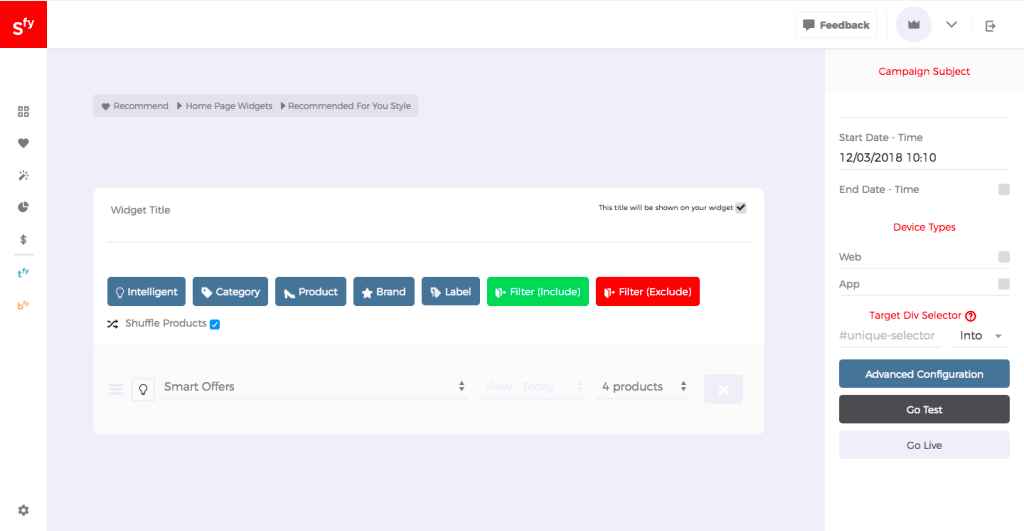 To avoid limiting yourself to just one category or brand, try putting tags on your products, such as '20% off', 'Just Arrived' or 'Free Shipping' to create recommendation bundles from various categories. If used strategically, having the option to step out of category lines is a great opportunity to drive more online sales.
So how can you use label recommendations to optimize your conversion rates?
Choose your words wisely
We all know how impatient e-commerce customers can be. Try putting labels on your products that will cause a stir, such as 'Last 10 in stock' or '50% off only for today'. Giving tempting names to your labels will definitely lead visitors to your checkout page!
And while they're there…
Labels can be a great way to up-sell
Once customers are on your checkout page and ready to make a purchase, try showing them a new group of products with the label 'Same Day Shipping'. It's almost impossible to resist the thought of ordering a product online and putting your hands on it the same day. It's a simple, yet very powerful way to up-sell to your customers while they're still warm!
Welcome summer – or any special occasion
We don't need machine learning for this one! No matter what age, gender or browsing history, everyone is always excited for summer. Remind them of the vanilla smell of sunscreen or the fruity taste of colorful smoothies with a recommendation bunch tagged as 'Welcome Summer'. They may be not related in category, but they're things all e-commerce customers would agree on missing during the rest of the year!
Of course, the same strategy applies to Christmas, with cinnamon rolls and warm sweaters tagged as 'Tis the season!', and to Mother's Day or any other special occasion.
Like what you read? Start exploring how personalization can improve your business right now!