6 Fantastic Mother's Day eCommerce Marketing Tips
Mother's Day is an international holiday to celebrate motherhood, the mother's influence, and honour the mother. This day is celebrated worldwide on different dates under different traditions.
Giving gifts on Mother's Day has been a tradition in modern society, and it has been a symbol for people to show their appreciation for their mothers and motherhood.
In 2022 Mother's Day is celebrated on these dates around the world:
| | |
| --- | --- |
| 21 March | Egypt, Jordan, Kuwait, Lebanon, Saudi Arabia, Qatar, United Arab Emirates (mostly Middle Eastern countries) |
| 27 March | United Kingdom, Ireland, Nigeria |
| 1 May | Hungary, Lithuania, Romania, Portugal, Spain |
| 8 May | United States, Australia, Germany, Singapore, Turkey (most countries) |
| 29 May | France, Morocco, Sweden, Tunisia (including some African countries) |
Mother's Day is a highly commercialised holiday with many brands participating, whether with their advertisements, products, or campaigns. In addition, many eCommerce brands in different industries also implement Mother's Day promotions to increase daily sales rates.
We have gathered the 6 most important Mother's Day marketing tips for eCommerce companies, regardless of their industry, to use during this special day.
1. Prepare gift guides and packages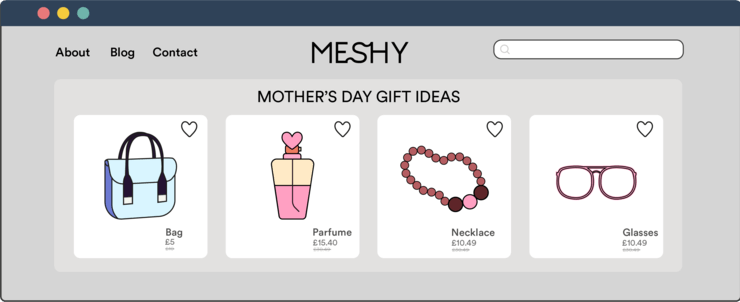 Google Search has shown that during Mother's Day, "mother's day gift ideas", " gifts for mother" and "mother's day gifts" are some of the most searched keywords. This is because most buyers are unsure what to buy and are searching for gift ideas before purchasing the gifts. This is an excellent opportunity for eCommerce businesses to market their products according to their customers' needs.
People mostly buy gifts for their mothers, mothers-in-law, wives, sisters, grandmothers, aunts, cousins, and friends. eCommerce businesses can recommend all kinds of related products to their visitors for the people mentioned above.
Moreover, since this is a special day where people buy gifts for other people, having gift wrapping and packaging options available for eCommerce websites will make the lives of the buyer much easier. This gift wrapping may seem pricely, however, websites can add an additional charge for this, also include an environmentally friendly option with a lower charge.
👉🏻 Segmentify offers personalised product recommendations for eCommerce businesses to offer their customers personalised solutions. Segmentify's smart algorithms will recommend personalised products in widgets on the homepage, product pages, and search page.
👉🏻 Additionally, Segmentify also offers basket recommendations and buy-it-with bundles. With these specifically designed bundles, visitors will be able to find what products match and mainly were bought together easily. Give them an idea of different gift opportunities.
2. Offer personalised discounts and coupons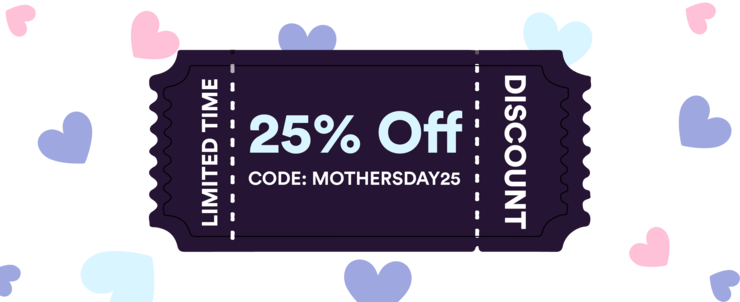 Mother's Day this year will be celebrated on May 8. eCommerce companies should start their marketing campaigns 2 weeks before the projected date. A classic but good strategy would be offering personalised discounts and coupons; websites can offer these coupons via email or push notifications.
Offering limited-time coupons is an effective marketing strategy for attracting new clients to your eCommerce store. In addition, you can give your clients an incentive to shop on your website by offering personalised coupons.
👉🏻 With personalised discount codes and bulk push notifications, Segmentify's solutions analyse visitors and send the most appropriate coupon for them. These discount codes will be time-limited and will expire after a set period of time.
3. Send reminders and push notifications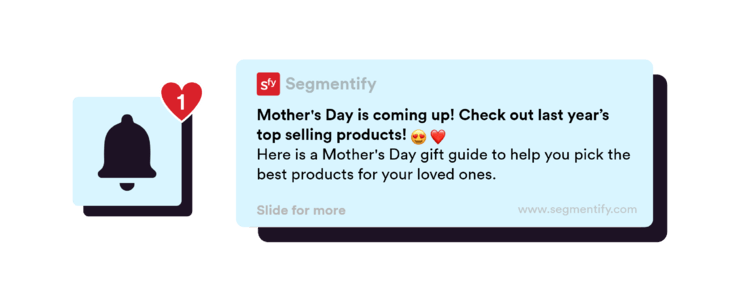 Mother's Day is celebrated on different dates, and it will be held on the second Sunday of May in the United States and on 8 May 2022 for most European countries. Therefore, eCommerce businesses should put the important dates in their calendars for all regions they serve.
eCommerce companies can send personalised email reminders and personalised push notifications about the upcoming Mother's Day promotions to their customers according to their region, previous most searched items and their likes. In this way, both the customers will be more engaged with the reminders, and the eCommerce companies will have more retention rates from their notifications.
Reminders can be sent both before and during the Mother's Day campaign. Push notifications can also be sent regarding the items left in the basket, newly discounted items, items back in stock, and gift ideas.
👉🏻 Segmentify offers both personalised emails and personalised push notifications for eCommerce companies in all industries. This is a very effective way to draw your visitors and old customers to your website and make them participate in the Mother's Day promotions.
4. Use Journey Builders to guide and engage the visitors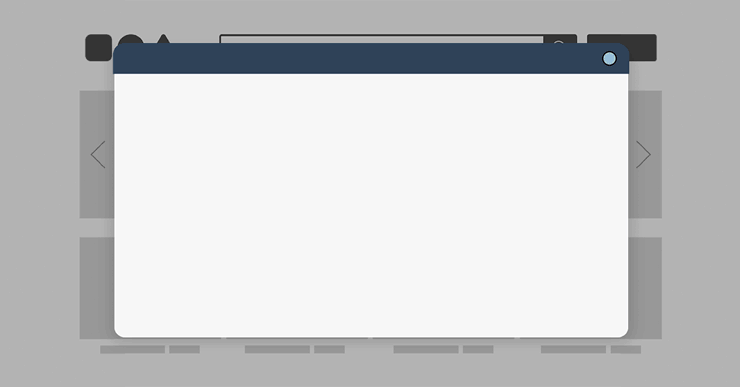 Journey builders are a great way to help indecisive customers find the most suited products available. For example, finding a Mother's Day gift every year might be tricky, and people might not want to repeat themselves by buying the same gifts every year.
Therefore, offering a journey builder will help people filter the most relevant products on your eCommerce website and show necessary products to the customer. This way, the customer will spend less time searching on the website and have personalised products available.
👉🏻 Journey Building is a solution that Segmentify offers its clients. These journey builders can be provided in two ways: They can be sent via email or actively used on the website. Especially with eCommerce websites with vast amounts of products, journey builders will help visitors filter their search even better and faster. Visitors will be able to pick their favoured product types, and with Segmentify's intelligent algorithms, the most suitable products will be shown to the visitor. This is also a fun way for visitors to get to know the website and have a satisfying experience.
5. Use Mother's Day pop-ups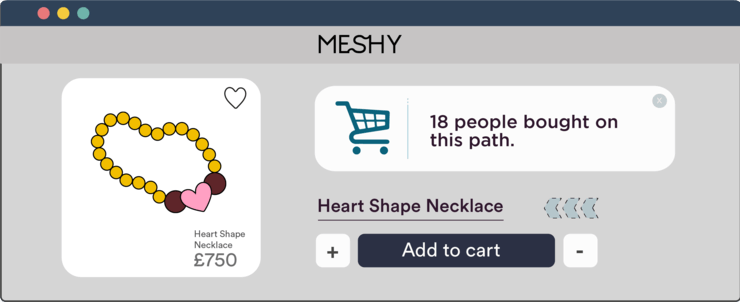 Pop-up recommendations are a great way to get the visitors' attention on your Mother's Day products and campaigns. Even though some websites might not want to add pop-ups due to complexity, it is proven that pop-ups increase sales rates and get the visitor's attention.
eCommerce websites can add a lot of information in their pop-ups regarding the products. For example, to create FOMO, you can give information such as "15 people are currently viewing this item", "20 people bought this item", and "2 are left in stock" about the item.
Additionally, eCommerce stores can add important information such as the ratings of the product and the reviews in the pop-up sections. In this way, the visitor will have a greater knowledge of the product by just simply clicking on the pop-up.
👉🏻 Segmentify offers personalised pop-ups for eCommerce websites for their marketing campaigns regarding a special day or a particular product. Pop-up recommendations can be fully personalised for the eCommerce store, and Mother's Day-related products can be recommended.
👉🏻 Additionally, you can monitor how your store is doing via the Trendify dashboard and learn about your rockstar products, best campaigns, etc.
6. Fully personalise your website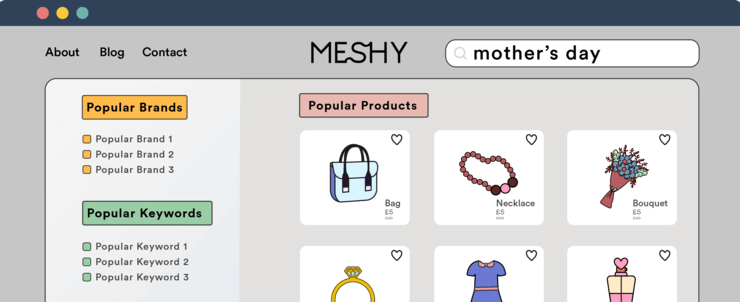 Personalisation is the key element for eCommerce websites to create a bond between the customer and the seller. As in traditional brick-and-mortar companies, sellers can read the customers' body language and act towards their needs and wants. However, being online makes it a lot less personal, and with the enormous competition, visitors want to have a reason to buy from that website.
We recommend eCommerce websites fully personalise their website, homepage, search results, product pages, and basket pages. Your eCommerce website will be more engaging than a very generic-looking website. Customers will feel more likely that the website is offering them related products and will not spend much time searching for what they are looking for.
👉🏻 Segmentify offers personalised solutions to eCommerce websites in all industries. Personalisation can start from the landing page and banners. Personalised Product Recommendations can be used on the homepages and also product pages.
👉🏻 Menus can include personalised Mother's Day pop-ups; the search bar can be entirely personalised with Personalised Search. In addition, Personalised Push Notifications can be sent to visitors regarding the Mother's Day campaigns.
Wrapping Up
We cannot deny our mother's influence and importance in ourselves and our societies. Most people want to celebrate this day by buying a present for their mother or mother figure in their lives. Buying a small gift has been the symbol of showing appreciation to our mothers for what they have done for us.
As a result, Mother's Day is one of the most important days for eCommerce businesses. This will both increase brand awareness and also sales rates. One should not forget that a psychological study showed that people are more likely to spend more money on gifts for others than themselves. Hence, eCommerce websites can make the most out of it by simply tailoring their products and campaigns regarding this special day.