How to Improve Search Relevance in 9 Steps
Getting irrelevant and meaningless results for your search query is frustrating. Needless to say, a lot of prospects are lost this way. There are ways to improve search relevance, though. Are you taking notes?
Key Takeaways

Customers using the search are 3x more likely to convert.
Non-relevant search results are huge turn-offs for visitors. They immediately disregard search results if the results are irrelevant to them.
Providing visitors with relevant results aligned to their search query and personal interests will increase their satisfaction, engagement and even their likelihood to convert.
What is Search Relevance?
Search relevance is the degree of the accuracy of the relationship between the search query and the search results. In other words, it's the measurement of relevant results you are able to give to the user.
Why is Search Relevance Important?
At this point in history, "search" is a natural instinct. We practically search for everything on the Internet or head directly to a website's search box. In fact, the search bar is the first stop for 43% of eCommerce visitors.
The results of a search are quickly discarded if they do not appear relevant immediately. Non-relevant search results are huge turn-offs for visitors. It's been reported that 68% of customers would not return to a website with poor search experience.
Providing visitors with relevant results aligned with their queries and interests will increase their satisfaction, engagement, and even their likelihood of converting. An effective UX design should therefore encourage users to search first and then navigate through the results.
9 Must-Implement Strategies to Improve Search Relevance
Okay, so how do you optimise search relevancy?
1. Write for Your Target Audience First
It may sound like a no-brainer; however, many businesses get this wrong about search relevance. The first rule of improving search relevance is writing content for your target audience rather than the general public.
2. Use Keyword Research to Understand Search Intent
Search analytics can help you analyse search behaviour and understand search trends, non-performing keywords, typo and synonym effectiveness, popular and no-result searches, etc. You can then use this information to optimise your search experience.
3. Optimise Your Title Tags and Meta Descriptions
Using the correct keywords in your product titles and descriptions will not only optimise your onsite search experience but will also improve your website ranking for search engines.
4. Structure Your Content Using Headlines and Subheadings
Headings and subheadings help break down content into meaningful and easy-to-digest sections so that it's easier for the reader to scan the page. Don't forget that better content for users means better content for SEO.
Structuring your content will also allow your onsite search solution to do a better job of bringing relevant results.
5. Use Personalised Images and Videos
If you think about it, search is a visual experience. Customers, quite literally, want to see the results. One of the best ways to improve the relevance of search and increase customer engagement is to turn your search box into a live billboard!
For the best results, product images should show up during the search and the results should be an intersection of the search query, search intent and the customer's personal tastes.
The same goes for video content as well. In fact, using videos for banners in the search box is a wonderful way to boost engagement.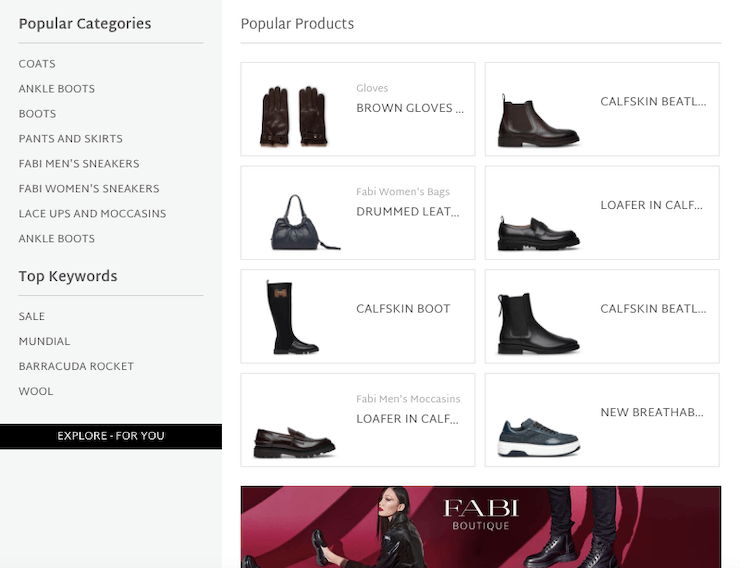 6. Use Relevant Search Filters
It turns out that 34% of websites limit the customers' search experiences due to their poor search filters. Search filters help users narrow down their search results, but they can only do so if they are relevant and align with the customer's search intent. Offering relevant search filters improves the customer experience and accelerates your conversion rates!
7. Understand Ambiguous and Fuzzy Search Queries
Users don't always use the clearest keywords while searching. Or they make unintentional typos—which happens a lot during mobile searches. Just because users make mistakes does not mean you're off the hook. Customers expect relevant search results.
Here are a few ways to overcome fuzzy search:
Typo Tolerance: Typo tolerance works by matching words similar in spelling, letting users make typos and still get relevant results.
Synonyms: The synonym feature allows different keywords with the same meaning to be matched and lead to the same relevant search results, e.g. jeans and denim, hoodie and sweatshirt.
Autocomplete: Brings up relevant search results while typing, e.g. "rain" being completed as "raincoat".
8. Monitor Your Click-Through Rate (CTR)
Search analytics can also help you understand which elements in your search box or search results page are working better than others. Understanding which content is generating more clicks is essential to understanding what customers deem relevant.
9. Conduct A/B Tests
Never ever forgo A/B testing when you're working on an optimisation project. Constantly monitor the changes you're making to the search box and search results algorithms you're using to see if you're getting the desired results.
What's Next?
The search function is a natural instinct for customers from different demographics. How well it works reflects your brand's image. That's why you need to constantly improve and optimise the relevance of your search.