All Aspects of 8 eCommerce Summer Marketing Ideas
Typically, summer is the slowest season for eCommerce, with July being the lowest point in terms of sales generation. However, it's up to you to turn things around. It doesn't have to be a cruel summer for eCommerce. Learn how to heat up your summer sales and boost conversion with this sizzling hot eCommerce Summer Marketing Guide!
Summer Marketing Strategies and Seasonal Marketing for eCommerce
Seasonality plays a significant role in eCommerce throughout the year. While Black Friday and Christmas are the peak season, summer doesn't experience that much action. In fact, generally speaking, both eCommerce and brick-and-mortar stores experience their lowest sales of the year during the summer months.
The reasons for this decrease in sales are simple: Consumers have more things to do during summer than spend their time online shopping. They hit the beaches and bask under the sun. Or they spend the time travelling.
And the people are definitely looking forward to travelling in Summer 2022. According to American Express Travel: 2022 Global Travel Trends Report, 72% of consumers plan on spending more on domestic travel and 64% plan on spending more on international travel than they did in the previous year. 
Moreover, 62% plan on taking up to 4 trips in 2022 and 76% want to travel more with family in 2022 than they did in 2021. Based on these trends, it's easy to see why eCommerce will struggle with seasonal marketing in summer, which was always a slow season, to begin with.
Catch the Wave with the Hottest Summer Trends and Key Events
Summer is somewhat of a slow season for eCommerce; that much is true. However, no one can deny the power of seasonal marketing in eCommerce. While none of them are at the Black Friday and Christmas scale, the summer season still has important dates and events you should pay extra attention to.
Since these events are scattered throughout the summer season, they should be a part of all of your summer marketing efforts. That's why we're examining these events separately from the Summer Marketing Ideas, which we will get to in a minute. But first, let's discover which events an eCommerce Marketing Director should pay attention to for their summer campaigns.
Trust us when we say planning your summer marketing campaigns and drawing up your summer advertising strategies around these events will make all the difference!
Father's Day
Celebrated every year on the third Sunday of June, Father's Day is not as big as Mother's Day is when it comes to revenue generation and boosting sales. However, Father's Day still holds excellent opportunities for eCommerce and should be included in your summer marketing campaigns.
Check out Segmentify's Father's Day eCommerce Marketing Guide for a more detailed look into the Best Practices for Father's Day Marketing Campaigns!
Weddings and Engagement Parties
Summer is a big season for all wedding-related events, from hen parties and stag nights to engagement parties and weddings. As we've mentioned, the summer season doesn't have a big, collective event like Christmas, but many people shop for events like weddings throughout the summer.
The wedding season holds great opportunities for summer marketing campaigns since there are so many different elements to focus on. During this season, shoppers continuously look for wedding gowns, evening/cocktail dresses, suits and tuxedos, wedding presents, decorations, wedding-related services, etc.
People are starting a new chapter in their lives and want to celebrate it with their loved ones. Be a part of the celebration with your summer campaigns.
Graduations
Speaking of starting new chapters, graduations are major summer events as well. Graduations and graduation parties usually take place around the beginning of summer, so plan your summer marketing ideas accordingly.
The shopping categories for graduations and weddings are essentially the same. The focus is mainly on cocktail dresses, suits and graduation presents. It's only the theme and maybe the age group that differs. So decide which channels are more suitable for this target audience and brainstorm possible advertising campaign ideas to figure out the best way to reach out to them.
Summer Music Festivals and Concerts
If there's anything that the two years without any concerts, tours and festivals taught us is that summer without these events is pretty dull. The excitement that the summer festivals and concerts create is immeasurable.
And since they are such large-scale events, summer festivals and concerts are always a big part of seasonal advertising and hold great opportunities for memorable summer marketing campaigns.
Take Glastonbury, for example. Glastonbury Festival (also known as Glastonbury Festival of Contemporary Performing Arts) is inspired by the hippie spirit and counterculture of the 1960s. And it is now one of the most significant cultural events in the UK and the world's largest greenfield music and performing arts festival, attended by around 200,000 people. However, Glastonbury's impact is not limited to the physical world.

The graph above depicts the search trends for the terms "festival clothing", "festival clothes", and "festival outfits" in the UK. The search volumes peak around June each year, coinciding with the Glastonbury Festival.
The anomaly in 2020 is because of the festival being cancelled due to the COVID-19 pandemic. The numbers peaked in 2021; however, Glastonbury was cancelled for a second year in a row that year. The peak in 2021 most probably represents people's beliefs and wishes for the pandemic to be over that year.
As one can see, the demand for summer-related clothing and accessories rises notably for music festivals. If your store has anything from categories like summer clothes, bags, sunglasses, etc., this is a perfect time to promote them and boost sales with seasonal marketing.
However, such summer marketing campaigns should not be limited to only fashion and apparel. What about tents and camping gear? Or sunscreen? Or raincoats for when the weather turns sour mid-way through the weekend? Think outside the box while drawing up your summer campaigns.
Summer Vacations
If you're living and/or doing business in the Northern Hemisphere, summer vacation usually means going to the beach. Therefore, the very first step in a well-prepared summer marketing campaign is to focus on promoting vacation-related products and services such as swimwear, beach accessories, sunscreens, etc.
But obviously, summer vacations are not limited to the beach. The most important thing to remember here is that there's a steep increase in domestic and international travel. Again, think outside the box and use this opportunity to promote other summer-related products such as luggage, cameras, skin care products, etc.
Even if you don't have the chance to promote beach-related products, you should incorporate summer and vacation-related messages into your summer campaigns and advertising.
Back-to-School
All good things must come to an end, summer season included. Back-to-School campaigns mark the end of summer; however, these campaigns usually start in the middle of summer. And in any case, you need to have a solid summer marketing plan ready at the beginning of the summer.
Clothing, school supplies, and electronics are the dominating categories during back-to-school shopping. Back-to-school campaigns can target different customer segments. For example, parents do the shopping for little children, while teenagers and university students focus on trendy clothing or dorm decorations.
8 Sizzling Hot eCommerce Summer Marketing Ideas
We've curated a list of 10 must-have components for a splashing eCommerce summer marketing strategy and will examine them in two parts, so let's jump right in!
Tech for the Summer
Let's start your summer marketing campaigns by preparing the website itself, and then we can discuss different ways of driving traffic.
1. Homepage Design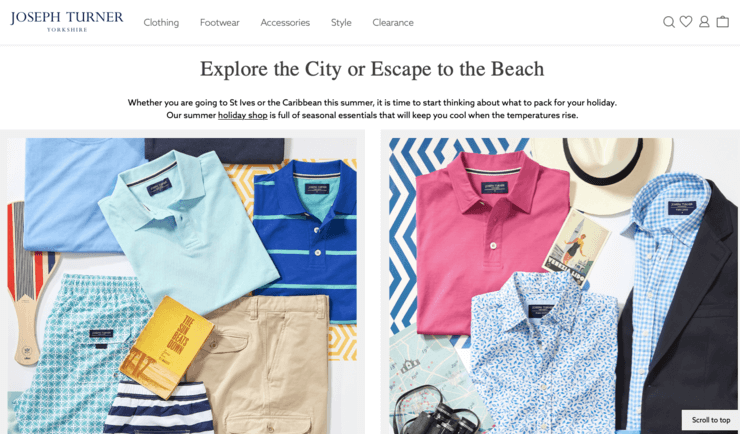 You must have heard this a thousand times already, but let us remind you once more: A homepage is to eCommerce what a window display is to brick-and-mortar stores.
Take full advantage of the homepage by showcasing the hottest summer trends, your best summer offers and summer campaigns. And always remember to use summer-related colours and images to help shoppers get in that summer mood.
Use your homepage design to invite people to explore the website further. Place Segmentify's Personalised Dynamic Banners to showcase summer sales, hottest arrivals, best summer offers, etc. and track their performance to continuously optimise this journey of discovery.
2. Summer Shopping Category Pages
Convenience is the keyword here. Shoppers don't like to inconvenience themselves and scour through an eCommerce site's catalogue. So don't send your potential customers down that rabbit hole.
Make their shopping experience easier and smoother by creating different summer categories around different contexts. For example, prepare different summer-related categories for events we've discussed a few sections back:
Wedding Dresses of Your Dreams
Be the Best Dressed Guest
Class of 202X
Down by the Beach
Poolside Fashion
Get the Festival Look
How to Be a Muse
Don't forget to create category pages for your best summer offers. And remember to attach these summer category pages to the homepage with special banners!
3. Search Box Design
A smart search box is another great way of inviting visitors to explore your store further and in more detail. Plus, it offers great convenience to the shoppers since it makes the website navigation more accessible and faster.
There are quite a few things you can do regarding the search box design, so let's go step by step. First, you can add a little splash of colour and that summer feeling to complete the whole website look for your summer marketing efforts. And why not black out the overlay to make the design pop out even more?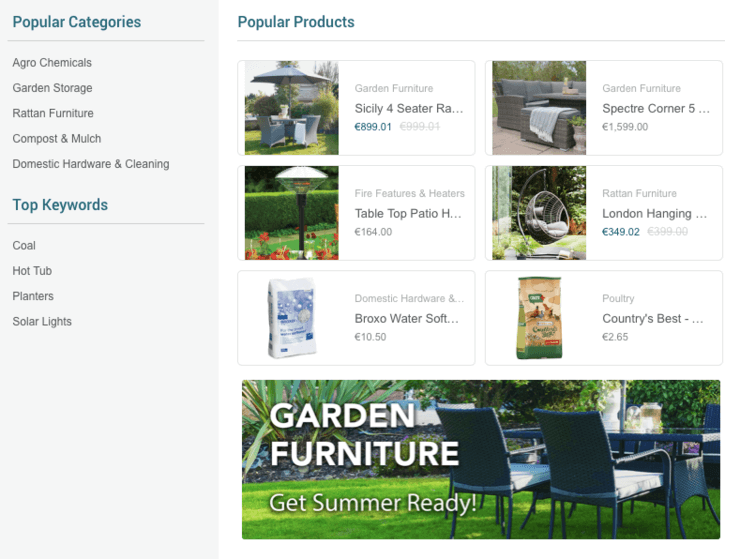 Customise the search box with static/dynamic banners to showcase your summer promotions. These can be category/brand/product specific— it's entirely up to you and your summer marketing campaign goals.
First-time visitors are shown the most viewed or clicked-on banners. For returning customers, dynamic banners are automatically added to the search box based on the visitor's browsing and purchasing data to create a better end-to-end shopping experience for the customers.
Another excellent way to enhance the search experience is to pin special category pages to the search box, such as the ones we've mentioned previously.
The best part of everything we've discussed regarding the search box design for summer marketing? All possible with Segmentify! Did you know that shoppers are 216% more likely to make a purchase using Personalised Search?
4. On-site Campaigns and Reminders
On-site campaigns and reminders are a big part of summer promotional campaigns as they are pretty helpful in increasing the urgency and triggering purchases. Take a look at some of our favourite examples for summer promotional campaigns:
Give discount coupons for newsletter sign-ups to collect emails, which you can use to promote your summer campaigns.
Have exclusive summer offers and limited summer sales, and add countdown timers to create a feeling of urgency.
Use pop-ups or send push notifications to let customers know about the latest summer deals, hottest summer trends, best summer promotions, etc.
Utilise social proof marketing to trigger purchasing by increasing urgency with messages like "Star of the summer! 23 people are looking at this sundress."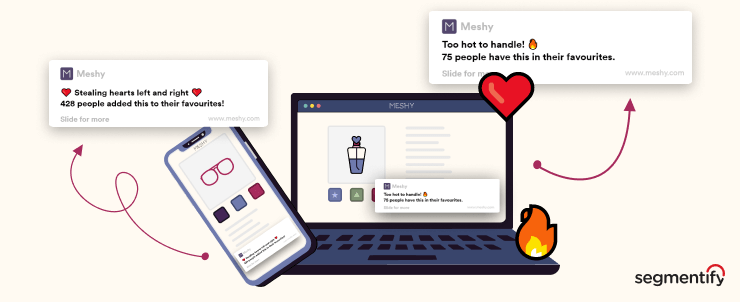 5. Summer Product Bundles
eCommerce product bundles are a huge win-win for the customers and the store itself. We've already mentioned that customers always look for convenience and product bundles are one of the best ways to provide this convenience.
Product bundles are also a great way for the store to increase its Average Order Value (AOV). The trick is offering relevant products together so that the bundle makes sense to the customer.
As an eCommerce store, you can custom-create your own bundles specifically for your summer campaigns. For example, a swimsuit can be bundled with sunscreen, a beach towel, a tote bag, and a pair of sunglasses. As we've said, the critical point is that the products in the bundle fit into a certain context.
Summer Marketing Campaigns
We've discussed what an eCommerce store can do on the website itself regarding their summer marketing strategies. Now, let's focus on different ways of attracting customers and driving the website traffic!
6. Personalised Summer Email Campaigns
So you've spent months and years turning visitors into email subscribers and building up your email list. Now what? Now is the time to put that email list to good use in your summer marketing campaigns and heat up the summer sales.
The best way to approach summer email marketing is to be as relevant as possible. Did you know that personalised emails are 6 times more effective in generating sales than bulk emails? How do you prepare these personalised summer email campaigns, though? Well, we've got you covered.
✔️ Write exciting email subject lines to get the customers' attention and get them to open the email.
✔️ Don't be scared to use emojis in the subject line or the email body 🌞🌊
✔️ Use the customer's name in the greeting part or the subject line.
✔️ Segment your email list and send targeted emails to increase relevancy.
Early Access Email Campaigns
Sending out personalised emails about the upcoming summer deals or new summer launches is a great way to create anticipation among customers. You can use this part of your summer marketing campaign to make your loyal customers feel extra special by sending these exclusive special teaser emails about the upcoming summer campaign launch. And you can even add a pre-order button for certain products where that's possible.
Special Offer Email Campaigns
Another great strategy to add to your summer marketing efforts is preparing special summer offer emails. Emphasising the limited availability of stock or limited time before the offer runs out will create a sense of urgency and trigger purchasing.
Thank You Emails
Humanising your email campaigns is a somewhat overlooked but crucial part of summer email marketing. Thank-you emails are so simple yet so effective in increasing customer loyalty. 
Almost all eCommerce transactions happen through electronic devices without ever talking to someone as you'd do at a physical store. Therefore, having this human touch with something as simple as thank-you emails will go a long way in creating a positive brand image.
Don't forget to wish your customers a colourful and happy summer when preparing your thank-you emails! It's all about making a connection and building relationships.
7. Summer Ad Campaigns
Advertise your summer deals and promotions to a wider audience to drive more traffic to your store and boost sales. Most shoppers still use google when searching for a particular product or when they want to browse a specific category. What you need to do is highlight your summer promotions with some strategically placed ads through platforms like Google, Facebook, Instagram, etc.
8. Summer Social Media Campaigns
Who doesn't like winning? That was a rhetorical question but let's answer it anyway: Everyone loves winning. So why not launch a contest through your social media accounts?
Social media contests help brands enlarge their audience and increase website traffic. In addition, incorporating social media contests into your summer marketing strategy allows you to collect user-generated content and identity data, which you can later use to build more specific audience segments.
Organising giveaways is another excellent way to expand your follower base and promote your summer deals and campaigns to a larger audience. The simplest form of these giveaways is asking your followers to tag a couple of their friends in the comments, which will create a chain reaction of tagging and exponentially grow your user base.
Prepare summer shopping guides on your blog and use your social media channels to distribute and promote these. These guides will often put your summer marketing in a meaningful context in your audience's minds and boost the conversion rates.
Wrapping Up
It's a well-known fact that summer is the slowest season for eCommerce. That is mainly because summer is a time of relaxation and taking things slow. So the consumers are more likely to spend this season travelling or enjoying the nice weather.
Just because it's a slow season does not mean summer is a lost season. Any successful digital marketer knows that with the right solutions at your fingertips, you can create an effective summer marketing campaign to heat up the sales!