Best Practices for Father's Day Marketing Campaigns
Father's Day is one of the many special days and significant events throughout the year to include in your eCommerce calendar. It can be an excellent opportunity for eCommerce business owners to skyrocket their conversion rates thanks to special days when people buy each other gifts or even treat themselves.
Every year, Father's Day is celebrated on the third Sunday of June. This year, Father's Day will be celebrated on 19 June 2022. Father's Day is one of the most important days of the year, especially in terms of retail and consumer spending. The average amount that is spent during Father's Day is scaling up each year, and the sales of gifts are getting more competitive. Most consumers celebrate this day with joy and want to give the best gifts to their beloved fathers. However, buying the best gift is not always easy. And that's why eCommerce businesses have to provide their customers with the best Father's Day marketing campaigns and inspire them to purchase meaningful gifts for their fathers.
eCommerce stores need to provide their customers with outstanding merchandising to draw them into the funnel of gift-buying. With the love for our fathers and some creativity, you can come up with great advertising ideas, and you can touch the lives of your audience on their special days. A good onsite marketing strategy and convenient user experience will definitely make you profit from the online Father's Day sales while also helping your customers find the right presents.
The growing online retail audience on a global scale and shifting consumer trends and expectations can make coming up with Father's Day campaigns challenging. But don't worry, we have gathered some good examples that will sharpen your ideas and enlighten you on how to do a marketing campaign for this special day.
How to Create a Good Father's Day Marketing Campaign?
Creating unique Father's Day campaigns may not be easy, but for sure, it is an excellent opportunity for your business to engage with your customers across almost all channels. Therefore, you should amplify your ads and offer the best shopping experience for your customers possible. Whatever campaign type you use, be it a discount email or a push notification, there are some core elements that you should always keep in mind. Here are some promotion ideas for eCommerce businesses:
Showcase Gift Ideas
Buying a gift is never easy. Especially when it comes to choosing a gift for their fathers, many customers have difficulty thinking outside the box. Yes, it can be hard to shop for fathers, but you can always ease your customers' stress and make their shopping experience a bit simpler by giving gift ideas and including shopping guides into your Father's Day marketing campaigns. Approximately 30% of consumers look for gift advice on eCommerce websites. Therefore, with inspiration galleries and product recommendations, you can show your commitment to provide personalised value for your customers and create an opportunity to engage your audience more sensitively.
Make It Unique
All fathers are unique, so should be your Father's Day marketing strategies. It is important to keep in mind that all fathers have different experiences with their children while thinking of creating a campaign. Your customers will look for presents that can make a special memory. Create a special themed campaign that resembles your company the best while inspiring your customers to choose an exclusive Father's Day gift, and this way, you will be part of the unique experience they will have.
Offer Several Gift Options
There is a great range of different personality types, hobbies, and lifestyles that fathers have. So to discover the right gift, Fathers have a great range of different personality types, hobbies, and lifestyles. So to discover the right gift, your customers would want to have various options. While creating your Father's Day marketing promotions, you should allow your customers to choose between various products and let them explore items based on themes or personas.
With the proper segmentation and data analysis, you can create up to date ads that relate to all kinds of dads. You can avoid stereotypical gifts such as sanders and drills considered functional and create campaigns for more meaningful gifts. The times are changing. Family dynamics and the traditional father roles are shifting, which means your marketing campaigns must go beyond stereotypes as well.
Additionally, offering unique gift bundles including several gifts can also be helpful for the buyer to select gifts. This can be made by Segmentify's Personalised Product Recommendations. This tool will offer similar or frequently bought items together, increasing customer satisfaction and sales rates.
Build Urgency
Build excitement and urgency while your customers prepare for Father's Day. You can start by reminding them that the date of Father's Day is near. Afterwards, you can encourage them to buy a present with dynamic contents like countdown timers. As they are near the holiday, some of your customers will be even grateful for the consistent reminders and reminding them that it is time to buy a present for their fathers. Platforms that your audience uses daily may differ. You should use all of the marketing channels to remind key dates and give them deadlines like "Last day to buy a gift with free shipping for Father's Day!" in order to reach the most amount of customers. You can also add special offers to these deadlines and trigger them to purchase sooner with scarcity marketing.
Discounts and Promotions
Most people will look for a Father's Day present from multiple channels and different brands. To make sure they will decide to buy from you, you should make the right offers. Father's Day gift shoppers may not have the same budget for their fathers' presents. Since most of these shoppers are looking to purchase a single product as a present, even the higher-paying segments from your audience will look for special prices. You can induce your audience with discounts and promotions. Also, free shipping and low delivery costs may encourage them, and with coupons, gift cards and award campaigns, you can attract people within all the segments.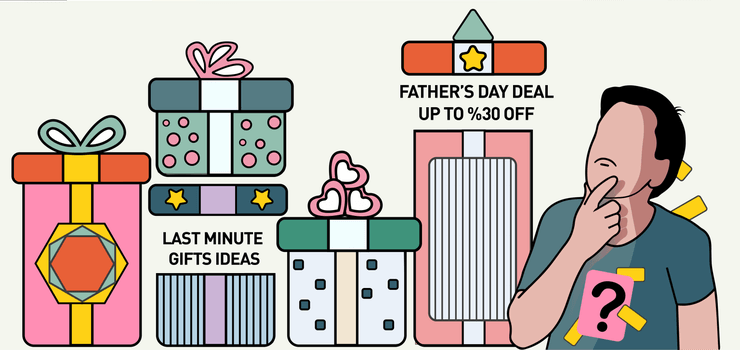 Be Innovative
The increasing number of Father's Day gift shoppers and more businesses popping up every day in the industry makes it more difficult to stand out in the competition. To attract the most attention, you must be more creative in your campaigns. For brick-and-mortar stores, the strategy can be a creatively designed aisle dedicated to Father's Day. However, in eCommerce stores, the whole website can be optimised for maximum conversion. You can use technologies like customer service chatbots and artificial intelligence-based personalisation tools to enhance the user experience. With more platforms and advanced mobile technologies, customers are no longer forced to purchase on their computers or company websites; they may prefer social media or applications on their phones. Hence, the user experience must be adjusted for all channels and a variety of devices.
Set Reminders for the Procrastinators
A high percentage of the customers leave Father's Day shopping until the last minute. But maybe you can get some advantage from the panic and leverage high-time purchases. In the last days of your Father's Day marketing campaigns, you can send recalling emails and push notifications to remind the time left to purchase presents. For the urgency-triggered customers, you can create fast-delivery campaigns and give last-minute discounts. Along with the marketing campaigns for the procrastinators, you must also prepare your website for sudden substantial increases in traffic and be ready for delivering last-minute orders.
Deliver Flawless Customer Journeys
Demand for eCommerce shopping was already high, and after the peak of the pandemic, it increased drastically. Many consumers are now buying essentials and gifts and paying their bills online in addition to supplementary and retail products. Plus, smartphones and tablets have become a part of our lives, and omnichannel consumption is growing day by day. For eCommerce business owners, it has become crucial to give the best shopping experience so that the customers choose their website instead of the competitors'. When it comes to creating a Father's Day marketing strategy, you should imagine the entire customer journey as one big campaign and prepare all-inclusive advertisements. From retargeting last years' customers to suggesting joining a loyalty program for upcoming special days, there are plenty of ways to win over your Father's Day customers in the long term.
Reassure your Audience with Social Proof
Social Proof is an effective addition to any marketing campaigns. You can build your shoppers' trust and boost conversions by using it. Since buying a gift for Father's Day is not that easy, your customers may need some inspiration to find the perfect one. You can give a helping hand by adding star ratings and comments sections to your product pages. This way, your customers can resonate with other Father's Day gift-buyers, raise their consumer confidence, and get motivated on purchasing while having a community sense during their customer journey.
Personalisation is the Key
If you want to create a connection between your customers and win them as loyal buyers, you have to create personalised campaigns that will be seen as special and more related for each customer. The best way to start is collecting lots of data on your customer database and using an eCommerce personalisation platform to analyse and segment your customers. Later with the data and analysis you have, you can target and retarget your customers based on previous shopping behaviours like the purchases they have made for Father's Day in the past years. This way, you can offer the best products for each segment according to their activity and interests and achieve higher conversion rates.
Personalised Best Practices for Father's Day
As you can see, you have to take a good deal of objectives into account while preparing for Father's Day sales. The wide range of products and having to develop attractive marketing ideas can make it challenging to decide on a strategy. But whatever strategy you choose to have, the real struggle is getting ahead of the competition. There are countless offline and online stores that you have to compete with to make the customers purchase from your store. The best way to distinguish your eCommerce business from others is by offering the best shopping experience for your customers. Especially for special days like Father's Day, where people look for special and memorable gifts, you must be extra sensitive to your campaigns. If they believe that you are doing something more remarkable, your business will be preferable for Father's Day purchases.
You can use smart personalised tools to make the shopping experiences more unique. By offering personalised solutions, you can ensure recommending the ideal gifts for each customers' context. You can create journey builders and distinctive notifications that will grab your audience's attention and drive them to engage with you and purchase your products. With Segmentify's AI-based personalised solutions, you can create spot-on Father's Day campaigns and help your customers decide what to buy while enlarging your community and optimising your profit.
Check out the examples for personalised Father's Day best practices we have gathered for you. Apply them today and boost your Father's Day sales:
1. Landing Pages
The first page that your customers will start their Father's Day shopping journey is the personalised landing pages that you have created. After clicking any of your omnichannel ads, they should be directed to the specific landing pages you have created for their own segments. These landing pages' aim is to make your visitors click through the call-to-actions you have created and drive them towards purchasing their Father's Day present from your website. While creating segment-specific landing pages, you should mind their differences. For example, the landing page for VIP customers can include a Father's Day gift guide including high-end products and give the message of buying a unique gift. In contrast, the discount-seeker customers see a Father's Day gift guide on a budget and promotion themed call-to-actions.
2. Search Boxes
The focus of your Father's Day campaign should be helping your customers find the ideal gift for their fathers. You can use search boxes to inspire them on gift ideas and influence them to look for more. As soon as visitors click on your search box, you can present them personalised recommendations with categories like "Popular Items for Father's Day" or "Top Selling Father's Day Products". You can also give them a direct option for gift shopping with the "Father's Day Gifts" button. This way, your search boxes can encourage the customers to start looking for gifts even before completing a search query.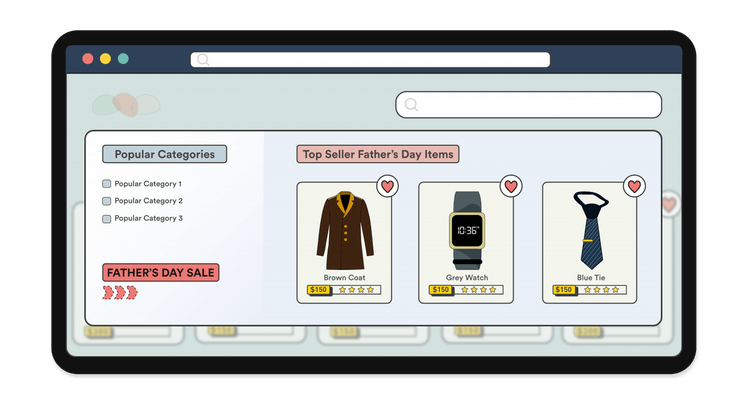 3. Banners
You can optimise your website pages by creating banner ads for your customers. With Father's Day-related banners on your landing and category pages, you can repeatedly attract your visitors' attention into purchasing a gift. The banners you create should be inspiring and imaginative. You can show modern-day father images and give urgency and promotion messages. The banners should also be unique for each segment of your audiences. With the right data and insights, you can create personalised ads that will increase your ROI's and get the most of your banner campaigns.
4. Pop-Up Recommendation
You can use pop-ups to remind your customers of Father's Day and recommend buying the perfect gifts for their fathers. For eCommerce business owners, it may be doubtful to incorporate pop-ups into their websites. However, when used reasonably, particularly for special days, it may be a great solution to increase customer engagement and gain more conversions. After you create a gift guide, you can use the product groups you have prepared to precisely build your pop-up recommendations for each segment of your audience. Also, it can be a great way to use social proof and reassure your customers on your merchandise with phrases like "23 other people are currently viewing this item", "Only 9 Products Left", or "18 people bought this".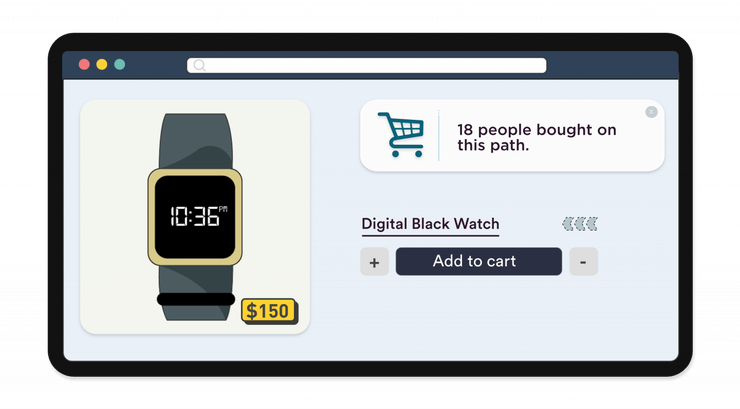 5. Product Page Recommendations
With the right recommendation strategy, you can step up your Father's Day campaigns. Personalised recommendations on category and product detail pages can be a more moderate way when compared to the pop-up recommendations to display your Father's Day gift ideas and segment-divided product groups. You can benefit from a larger space and the opportunity to recommend more items at once. According to your visitors' customer journey and with AI-based personalised recommendations, you can suggest the ideal products to each customer whether they landed on your website through a Father's Day ad or came directly to the site with a different purpose.
6. Journey Builders
Journey Builders are one of the best ways to engage with your customers and make their shopping experiences more fun and personal. With simple few questions, you can get reliable first-hand data from your customers and use it to offer them top-notch shopping experiences. Your customers can look for presents that may not parallel what they are normally buying. Their fathers' preferences may differ from theirs, and the budget they have allocated for a gift may be higher or lower than their usual. The customers who are shopping for gifts will definitely know their fathers better than you. That is why you should consider using Journey Builders on your Father's Day campaigns to understand what products to offer them.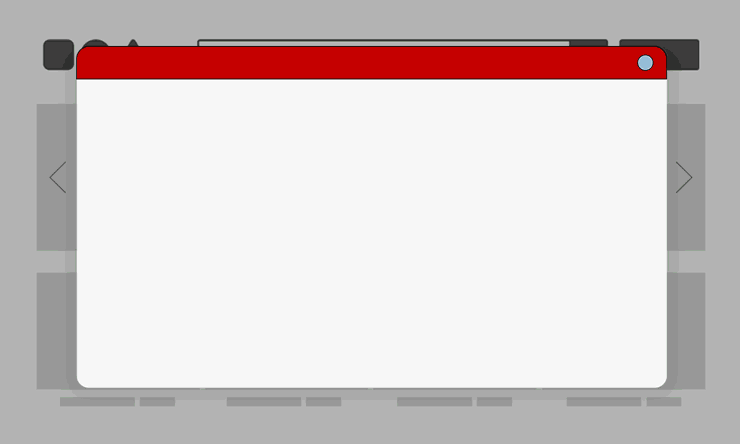 7. Discount Push Notifications
Like we have mentioned before, most of your customers will look for a discount for Father's Day. With push notifications, you can draw your customers' attention to your campaigns by giving discount information and price-drop news. These push notifications can be really effective since your visitors are already interested in buying a gift. Knowing that there is a discount on Father's Day items or the price is reduced on a product they have previously laid eyes on will encourage them to complete their purchases and may even make them buy sooner than they've planned.
8. Basket Page Reminders
Suppose your customers are already showing buyer intent with adding products to their basket. In that case, you can benefit by showing Father's Day reminders like "Did you buy a gift for your father yet?" and product recommendations to drive them to look for gift items on your website. If customers add a product to their basket, you can suggest buying a similar one for their fathers or with basket page product recommendations; you can show best-sellers or discounted products for Father's Day. These reminders will create cross-sell and upsell opportunities and increase your average order size.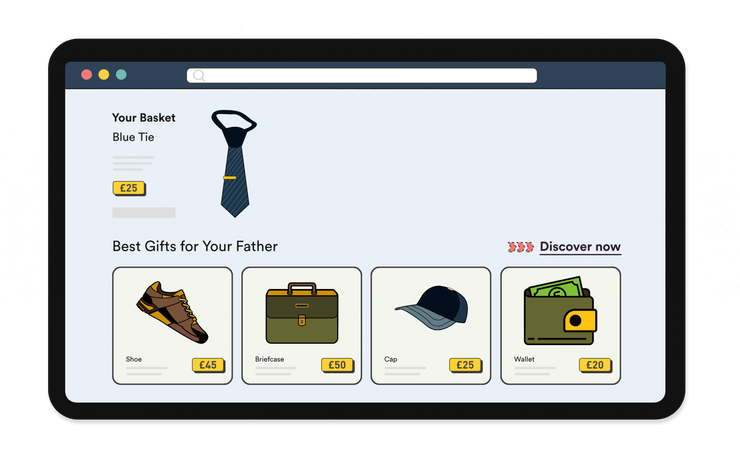 9. Count-Down Pop-Ups
Count-down timer pop-ups are proven solutions for boosting sales and conversions. Especially on special days like Father's Day, scarcity marketing can do wonders because the gift-shoppers will want to make sure that they have purchased a gift and will be able to give them to their fathers on time. Using strategic phrases like "Hurry up, Father's Day is Almost Here!" will create a sense of urgency. You can enhance your pop-up conversions by making the earlier purchases more attractive and increase last-minute sales by creating an impression that they may be too late to purchase and damage their Father's Day experience.
10. Exit Intent Pop-Ups
Before your customers leave your page, you can remind them that Father's Day is near, and they still haven't made a gift purchase. With the exit intent pop-ups, you can create last-chance and urgency messages with catchphrases like "Limited-Time Discounts for Father's Day", "2 Days Left to Purchase Father's Day" or "If You Want to Receive Your Gift Before Father's Day Order Today!". You can benefit from exit-intent pop-ups even if the user has already made a purchase. By offering them to join your newsletter campaign or loyalty programs, you can collect their data and retarget them for next year's Father's Day.
Wrapping Up
Father's Day is the day to celebrate fatherhood and honour paternal bounds. This day can be a great chance to connect with your customers more tenderly. There are several strategies and tools that eCommerce companies can use and many checkpoints you should dwell upon. By looking into the previous examples, you can advance your strategy, and after applying all these to your Father's Day promotion campaign, eCommerce stores will have a successful Father's Day.
eCommerce stores can use these examples to offer customers the perfect gift-shopping experience and increase conversion rates. As Segmentify, with our AI-based smart personalisation solutions, we guarantee a 20% revenue increase and high customer satisfaction.
If you are interested in using our personalisation tools, book a demo now and let's see how we can work together on optimising your user experience.