7 Tips to Write Email Subject Lines That Convert
Do you read every email you get? If you are not a highly-driven reading addict, it is quite possible that you don't, and there might be many emails you leave unopened or send straight to the bin. What do you think is it that attracts you enough to open an email and intend to read it?
Read on to see how to write subject lines that will intrigue your readers into opening and engaging with your email.
Key Takeaways

Crafting a compelling email subject line is paramount for maximising email open rates and capturing the recipient's attention. As the first impression of your email, subject lines play a pivotal role in determining whether it will be opened or overlooked.
An effective subject line not only grabs the recipient's attention but also sparks their curiosity and provides a compelling reason to open your email. Conversely, a weak or uninteresting subject line may result in your email being ignored, deleted, or even marked as spam.
By optimising your email subject lines, you significantly enhance the likelihood of your emails being opened, read, and engaged with, ultimately driving the recipient towards desired actions. Taking the time to carefully craft subject lines that captivate and resonate with your audience will increase the overall effectiveness of your email campaigns.
Why are Email Subject Lines So Important?
An effective email subject line is crucial to getting your emails opened and read, as they serve as the recipient's first impression of your email. They are the determining factor in whether someone will open your email.
Effective email subject lines grab the recipient's attention, pique their curiosity, and hint at a reason for them to open your email. On the other hand, a weak or uninteresting subject line may lead the recipient to ignore your email, delete it, or even mark it as spam.
By optimising your email subject lines, you can increase the chances of your emails being opened, read, and engaged or eventually leading the recipient into taking action.
7 Tips for Writing Great Email Subject Lines
1. Be Clear and Concise
Your email subject line should clearly convey what the email is about. Avoid using vague or ambiguous language that could confuse or mislead the recipient.
A clear email subject line helps the recipient quickly understand what the email is about and what they should expect to find inside. It is more likely to be read and understood than one that is vague, complex and confusing. In addition, a concise and to-the-point subject line can help avoid spam filters or being flagged as irrelevant or unimportant by the recipient.
2. Use Keywords
Use certain keywords that are related to your subject and reflect your intent. By using specific language and highlighting the benefits you offer, you can create email subject lines that inspire action and create a sense of urgency.
However, avoiding overusing keywords is essential, as this can make your subject line appear too pushy. Choose your words diligently and tailor them to your audience and industry so that your email subject lines can communicate the purpose of your email and entices recipients to open and engage with it.
3. Keep it Short and Sweet
As with clarity, shortness is a must for easily understandable email subject lines. Besides, long sentences are likely to be seen truncated for those on mobile devices, which will cause your email to go unnoticed. The ideal character counts for email subject lines is considered to be 45 at maximum.
4. Use Numbers and Lists
Including specific numbers, such as percentages or quantities, makes a subject line more eye-catching and conveys a sense of importance. Meanwhile, using lists can help organise your content and make it easier for readers to understand the main point of your message quickly. Email subject lines with hard numbers are likely to get more engagement and increase the chances of your emails being opened and read by your recipients.
5. Ask Questions
Questions naturally stimulate curiosity and encourage recipients to open the email to find the answer. Additionally, questions can help to establish a sense of relevance by addressing the recipient's needs or interests.
However, it is important to ensure that the question is relevant to the content of the email. Don't be that person, don't deceive people with clickbait. It can work and make the recipient open the link for once, but we do not want an angry audience that will mark you as spam and won't read another mail from you.
6. Personalise the Email Subject Lines
Your subject line should be relevant to the recipient and their interests. You can connect with your recipients by writing subject lines that speak directly to them and build a connection. Consider personalising the subject line based on the recipient's past interactions with your company or their preferences. Addressing them with their name and tailoring your messaging based on other personal information will also build a connection with the reader.
Personalisation can also help you build a stronger relationship with your audience by showing that you understand their needs and preferences. To do that accurately, you should segment your audience based on their interests or behaviour and tailor your messaging accordingly. This helps ensure your emails are more targeted and effective, leading to better engagement and conversion rates.
7. A/B Test Your Subject Lines
This means sending two versions of an email with different subject lines to a small segment of your audience. By comparing the open rates of the two versions, you can determine which email subject line is more effective at capturing the reader's attention and leading them to open the mail.
A/B testing email subject lines will help you gain insight into what stimulates and resonates with your audience and optimise your messaging strategy. Once you identify the more compelling email subject line, you can use it for the rest of your audience to improve the overall performance of your email campaigns and increase engagement.
50+ Effective Email Subject Line Examples
Now that you've learned what makes a great email subject line, it is time to look at some examples! Keep in mind that what works for one brand may not work for another. It all depends on your brand voice, target audience, and customers' perception of your brand.
Welcome Email Subject Lines
Let's explore some creative welcome email subject lines that can effectively introduce your business to new subscribers. Crafting a friendly and engaging subject line is key to building a strong connection right from the start, leveraging the momentum created during the signup process or confirmation email.
Consider welcome email subject lines as an opportunity to express gratitude and appreciation for new subscribers. These simple follow-ups can work wonders in maintaining active and interested contacts. The beauty of it all? With email automation, sending these welcoming messages becomes a breeze.
1. Nice to meet you, [Name]!

2. Start your [Company Name] adventure with 10% off your first purchase.

3. Happy to have you in the fam 💖 Here's a gift to kick-start your experience.

4. We're thrilled to have you as part of our community. Here's what's in store for you.

5. Welcome to [Company Name]: Where Your Inbox Finds a New BFF.

6. Guess Who Just Got Cooler? You Did! Welcome to [Company Name].

7. Let's get this party started!

8. Thanks for signing up to [Company Name] newsletter.
FOMO (Fear of Missing Out) Email Subject Lines
Harnessing the power of FOMO (Fear of Missing Out) in your subject lines can effectively captivate your audience. However, it's important to strike the right balance and avoid making anyone feel negative. Instead, subtly allude to exclusivity and the potential of missed opportunities, compelling subscribers to open your emails. By creating a sense of urgency and curiosity, you can increase the likelihood of engagement and encourage action from your audience.
9. Limited time only! Grab your beachwear before the season starts

10. Unlock VIP Benefits Today: Limited Spots Available – Don't Miss Out!

11. Limited Edition Madness: Get Your Hands on [Product/Service] Before They Vanish!

12. Hold onto Your Socks: We've Just Dropped an Unforgettable Deal!

13. Barnstable is in high demand for August (Airbnb)

14. Tonight only: A denim lover's dream (Guess)

15. Click it or miss it, people: Over 500 styles under $25 is ending! (J.Crew Factory)

16. Last Chance: Get both Vogue and Architectural Digest for one year (Architectural Digest)

17. [Name], this email will self destruct in 100 downloads (MarketingOps)
Personal & Personalised Email Subject Lines
As mentioned earlier, incorporating personalisation into your subject lines is a powerful technique to establish a more genuine and human connection with your audience. However, personalisation goes beyond simply using subscribers' first names.
Personalisation also involves reaching out to your audience in a warm and friendly manner. Take a peek at these examples to discover ways to infuse your subject lines with a personal touch.
18. You're invited

19. We need your help, [Name].

20. Happy birthday, [Name]! We have a surprise for you inside.

21. You're eligible, [Name]: We're giving you an opportunity to earn a $100 referral bonus (CapitalOne)

22. You got a message 💌 (Tinder)
Curiosity-Inspiring Email Subject Lines
Captivating your audience's curiosity is a proven method to enhance email open rates. It's a reliable and enduring strategy that effectively engages your recipients right from the subject line. Leveraging curiosity allows you to provide a sneak peek of what awaits them in the email, fulfilling the primary purpose of a subject line.
23. Shh… We Have a Secret to Share with You, [ Name].

24. You won't believe what we've discovered…

25. The proof is in the… pudding? (Really Good Emails)

26. What 1,320 therapists are hearing from patients (New York Times)

27. We've cracked the code to customer engagement! You can, too 🎡 | Free Playbook Inside (Segmentify)

28. Do these 3 things if you want to ruin your conversions 🌪 (Segmentify)

29. A very ~controversial~ opinion (BuzzFeed Books)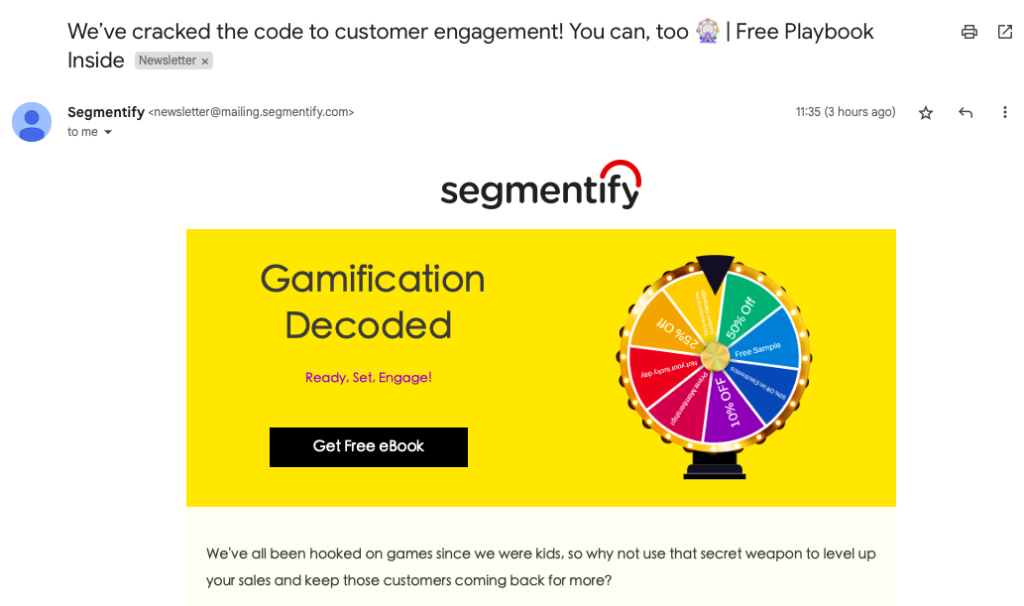 Download eCommerce Gamification Playbook
Urgency-Inducing Email Subject Lines
Employing a sense of urgency in your subject lines is another potent strategy. When you create a genuine urgency, such as highlighting limited-time offers or exclusive savings, your email recipients are more compelled to click and open your emails promptly.
However, it's crucial to avoid fabricating false urgency. Clickbait subject lines that falsely proclaim "limited time offer!" for a regular newsletter, for instance, can negatively impact your email deliverability and potentially land your emails in the spam folder.
Reserve urgency-inducing subject lines for real promotions and peak business periods. By maintaining a balance and using them strategically, you can effectively drive engagement and encourage immediate action from your subscribers.
30. Only 10 items left in stock! Complete your order now.

31. Free shipping on all orders over £50!

32. Don't miss out on our limited time offer! Get 20% off your first order.

33. Act now and enjoy 50% off: Don't miss out on huge savings!

34. Flash sale alert! Grab the items on your wishlist before it's too late.

35. Your discounts expire soon. (Poshmark)

36. Hurry, Get Your Tickets to Solo: A Star Wars Story Fan Event! (AMC Theaters)

37. Final call to save up to $35 🚨(UberEats)
Pain Point Email Subject Lines
Addressing your customers' pain points in the email subject line conveys a powerful message that you're genuinely here to assist them. When a brand offers to simplify or improve a consumer's life, it sends a strong and friendly signal of empathy and support.
Consider how your business can provide value and aid to your subscribers. Recognise their pain points and tailor your subject lines to offer solutions or alleviate their challenges. Moreover, leveraging segmentation in your email list allows you to cater to different segments with their unique pain points, enhancing the relevance and effectiveness of your communications.
38. How to write headlines fasterrrrrrrrrrrrrr. (Dan Nelken)

39. 5 new ways to up online growth with Semrush (Semrush)

40. Migrating to Google Analytics 4? This may help (Think with Google US)

41. Learn a language with only 5 minutes per day (Duolingo)

42. Where do all these toys go? (IKEA)

43. Get more kitchen space with these easy fixes (IKEA)

44. Stop wasting time on mindless work (Evernote)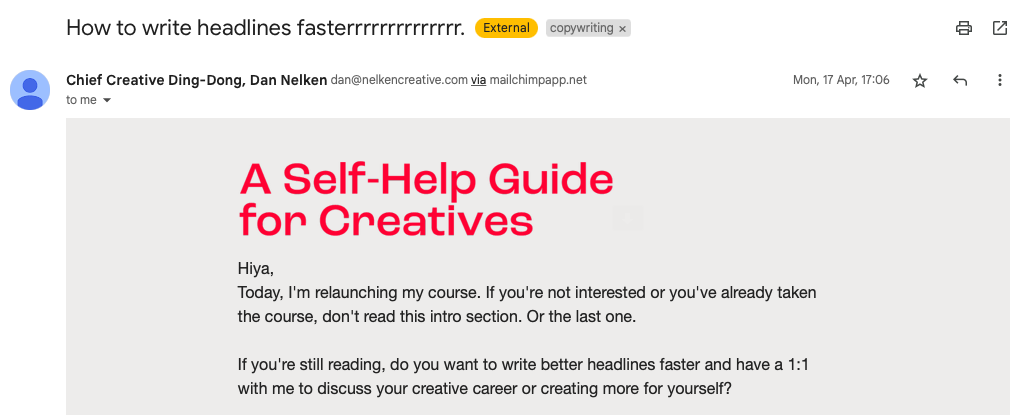 Question Email Subject Lines
Question-based subject lines are akin to curiosity-inspiring ones, as they effectively captivate subscribers' attention. By posing a question, you pique their curiosity and trigger the desire to uncover the answer, whether it's within the email itself or on your website.
Utilising question subject lines taps into the natural inclination of recipients to seek answers and engage with the content. It creates an interactive and engaging experience that can drive higher open rates and click-through rates. Consider crafting intriguing questions that align with your content and entice recipients to explore further.
45. [Name] Already done with [Game Name]? (Ubisoft)

46. What Is Content Intelligence? (HubSpot)

47. Ready for Google Analytics 4? (Think with Google US)

48. What will advertising be like in 2032? (Think with Google US)

49. Is Business Travel Back? (Skift)

50. Ready for some festival fun? (Sky)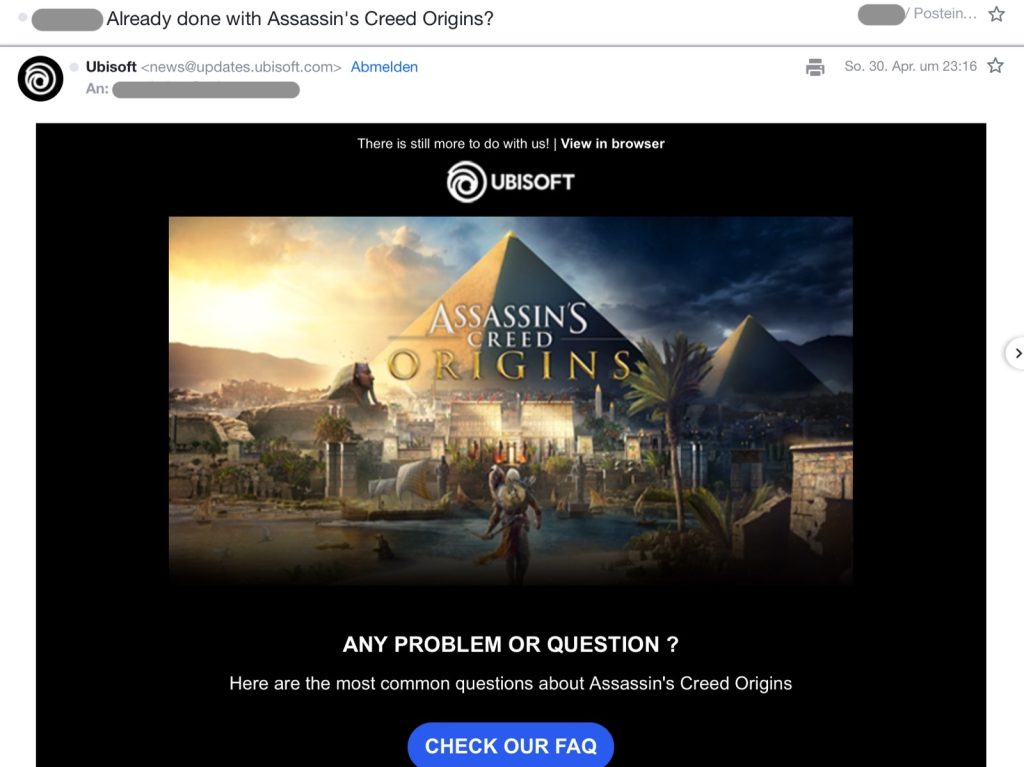 Re-engagement Email Subject Lines
Thoughtfully composed subject lines for re-engagement emails play a vital role in a successful email marketing strategy. Regularly reconnecting with inactive contacts is essential for preserving the quality of your email list and can save you valuable resources in the long term, as acquiring new customers typically incurs higher costs than re-engaging inactive ones.
Investing effort into crafting compelling re-engagement email subject lines helps reignite the interest of dormant subscribers and encourages them to re-engage with your brand. By enticing their attention and offering value, you can reignite their interest and potentially convert them into active customers once again. Keep in mind that personalisation and targeted messaging can be effective in these subject lines to make them more relevant to each recipient.
51. Hey, did you forget to open this? (Dollar Shave Club)

52. Can You Believe It's Been a Month? (The Bouqs Company)

53. [Name], people are looking at your LinkedIn profile (LinkedIn)

54. Pick up where you left off (Airbnb)

55. The price dropped for something in your cart (Target)

56. Lemme Teleport You Back to Your Cart. Free Of Charge. (Chubbies Shorts)