3 Smart Christmas Email Examples to Inspire You
Consumers are expected to spend nearly $900 this Christmas season! For marketers, this really is no surprise.
After all, Christmas is the biggest shopping season of the year.
"Of the $875 consumers plan to spend, approximately $620 will be spent on gifts. Consumers are also budgeting another $255 for seasonal items like decorations, candy or food," reports NRF.
So, how do you use this information?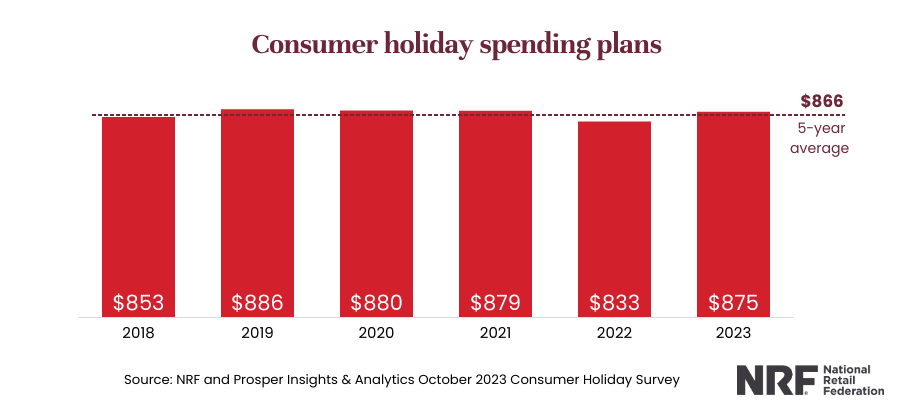 The good news is email marketing is an exceptionally useful marketing channel for Christmas marketing.
The bad news is everyone knows that. So, all your current and potential customers' inboxes are full of promotional Christmas emails.
Standing out from the November-December crowd can be tricky, but boy, is it rewarding when done right! That's why I wanted to examine some of the best Christmas email examples I've seen.
Clinique: Gamification, Data Collection, and Customer Segmentation
Countdowns are an excellent way to create excitement and anticipation for special occasions. And one might be as bold to say that counting down to Christmas is as sweet as the event itself.
Clinique turns the countdown to Christmas into a little game by combining the traditional advent calendar with gamification marketing dynamics.
Email subject line: 👋🏽 Bye, Day 1 Treat 🍭 Get your Holiday Cheer Kit. ENDS TONIGHT.
The subject line already hints at this email being part of a series and lets you know that whatever is inside, it's a limited-time offer.
The email content tells you all the rest: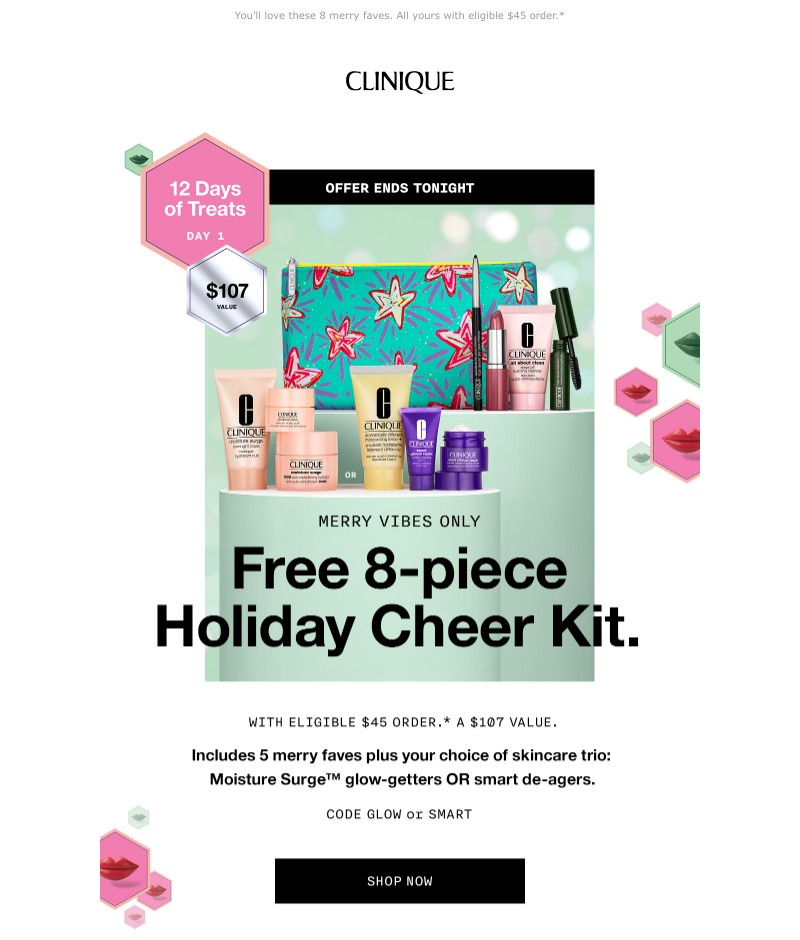 There's going to be "12 days of treats", where each day, Clinique will have a special treat for you. But you have to act quickly because the offer ends tonight! And we marketers know very well how effective the FOMO can be.
For this particular day's treat, you get to choose between two product bundles: Clinique Glow Moisturiser set or The De-ageing set. Whatever bundle you choose, you get a holiday cheer kit with five more products.
And Clinique is clearly playing the long game here.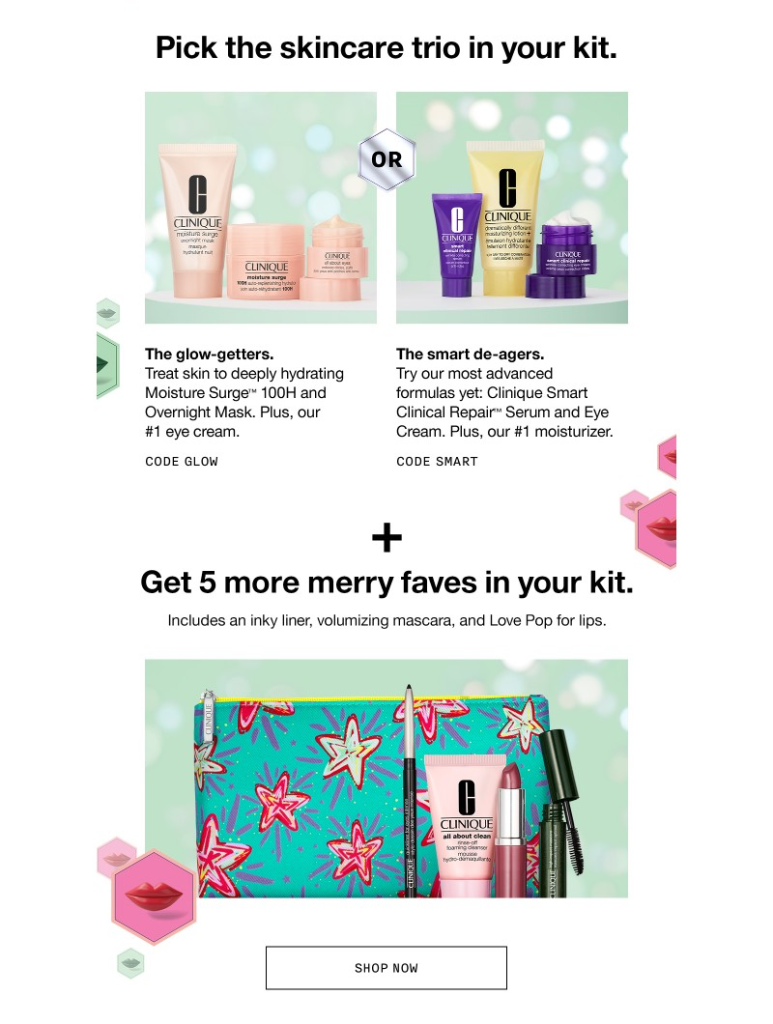 While this is a cute and engaging Christmas email campaign, the end goal here goes beyond the holiday season.
By offering two different bundles to choose from, the brand acknowledges that its customer base is made up of different demographics and has different concerns. Young versus old, dry and dull skin versus anti-ageing.
This helps Clinique collect customer data without ever being too invasive.
For campaigns such as this one, people usually sign up for the brand's newsletter to be able to take part in it. Which means the brand wouldn't have their age info.
However, setting up the email campaign this way tells Clinique which customer segment each shopper belongs to. Clinique can then use this information to personalise any future campaigns.
This 12-day-long Christmas email campaign by Clinique is an excellent example of how you can use a seasonal campaign to build customer loyalty and increase lifetime value.
Uncommon Goods: Clever Email Copy
Uncommon Goods knows that picking out gifts for your loved ones can sometimes be stressful. Finding the perfect gift for that one person is already difficult without counting the traffic, the lines at the stores, and the dense crowds seemingly spawning out of nothing wherever you go.
Uncommon Goods is all too well aware of this and wants you to relax and enjoy the pre-holidays:
Email subject line: 📺🍷🛀💤🎉<—you, enjoying life

Preheader text: because you just finished holiday shopping
Holiday shopping can sometimes feel like it's something you need to get over with, so Uncommon Goods' email copy tells you that pants are optional. How great is that?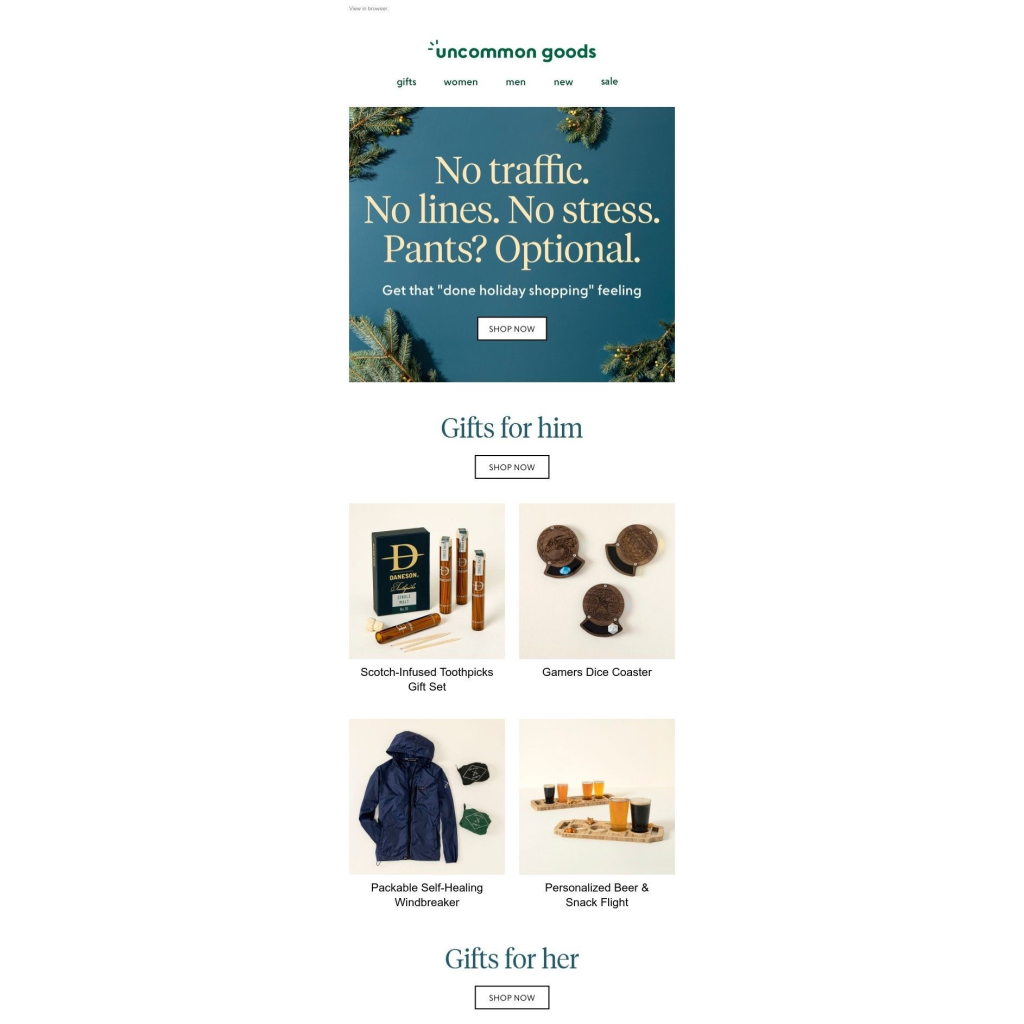 Other than highlighting their solution (online gift shopping) to a big pain point (the hassle of holiday shopping), the rest of the email is pretty standard: A gift guide showing gifts for him and her, their bestsellers, and personalised gift options.
One thing I loved in this gift guide is that they encourage you to treat yourself with their "We found these for you" selections.
Traditional Christmas campaigns are not your enemy; Uncommon Goods' email is a perfect example. Good copywriting can hit the bull's eye just as fine.
Barnes & Noble: Post-Christmas Campaign
Post-Christmas is a relatively quiet period for eCommerce, especially compared to the chaos of the pre-Christmas weeks.
While it's not a common practice, you can use post-Christmas campaigns to drive sales. In Barnes & Noble's case, they use a post-Christmas email campaign to guide customers to their physical shops.
Email subject line: 50% Off All Hardcovers in Stores!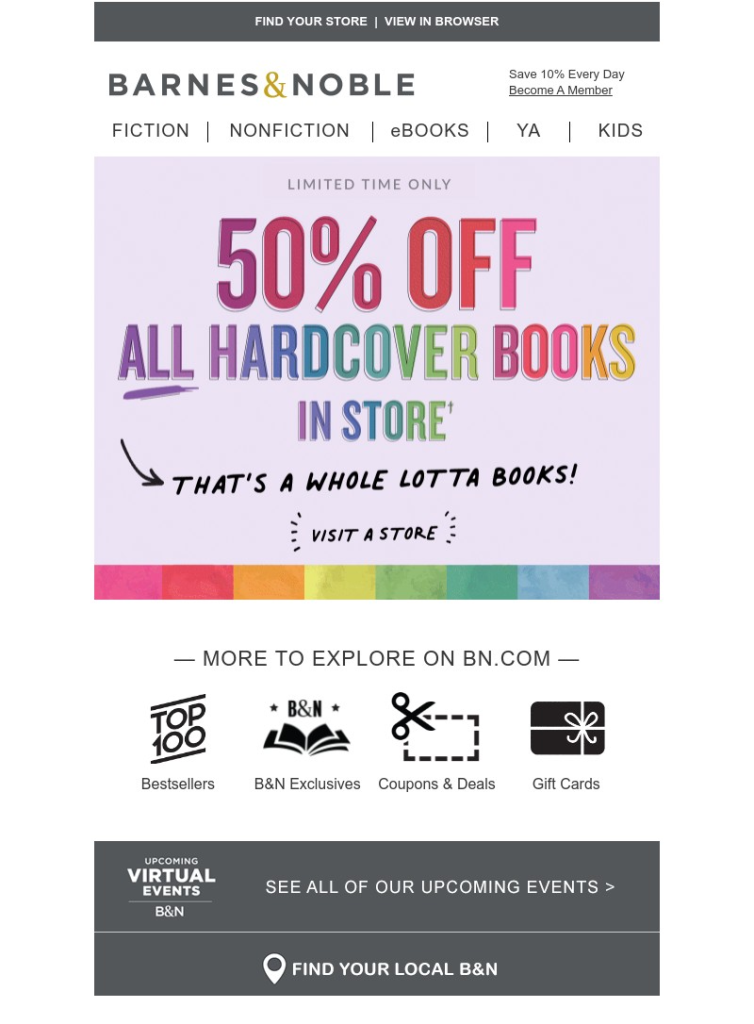 The email design is pretty simple, as "50% off on all hardcovers" is enough to get one excited. Barnes & Nobles is using the calm post-holiday period to get customers to spend money and is doing that by incentivising them to come to the physical stores.
And if you're anything like me, leaving the bookstore with just one book has repeatedly proven impossible, with or without a sale.
Barnes & Nobles' email campaign is an excellent example showing that you don't have to limit yourself to a traditional timeline. You can take advantage of the quiet post-Christmas period to get your customers' attention.
Wrapping Up
Your Christmas can be merry and bright, too! These email examples are a great place to start.
Remember always to consider these three when planning your Christmas email campaigns:
Your marketing goals
Customer pain points
Email copy and design