The Quick Commerce Business Model
Quick Commerce, or Q-commerce, is one of the most significant industry developments that came out during COVID-19. In 2021, Q-commerce formed 36% of online shopping purchases and will continue to increase even faster.
Key Takeaways

Q-commerce is a subcategory of eCommerce that has rapid on-demand delivery.
The three main priorities of Q-commerce are delivery efficiency, delivery speed, and customer experience.
The most common industries among Q-commerce businesses are the food and beverage and grocery companies.
The Q-commerce business model comprises five main departments: product, technology, marketing, sales and support.
What is Quick Commerce?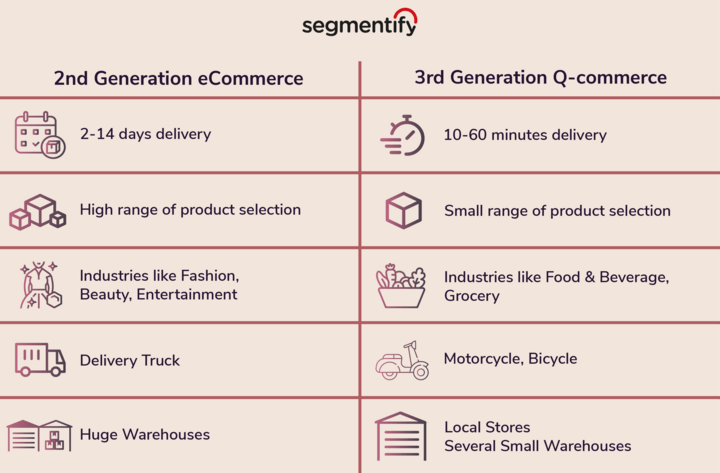 Quick commerce is a subcategory of eCommerce with rapid on-demand delivery, meaning that orders are typically delivered within an hour of being placed.
Between eCommerce and Q-commerce, the only difference is in the delivery time, with the basic premise being the same. For delivery to be competitive, it must take 30 minutes or less rather than days.
The Benefits of Quick Commerce
1. Outstanding Customer Service
The three main priorities of Q-commerce are delivery efficiency, delivery speed, and customer experience. Customers save time and money by forgoing the inconveniences of making their market visits thanks to the quickness and efficiency with which such businesses deliver their goods. Because everything can be brought right to the customer's door within minutes, which improves the customer experience significantly.
2. Unique Selling Propositions
Q-commerce developed a new market by offering a low-cost last-mile delivery solution. Due to the ability to provide customers with greater convenience than their competitors while charging less, businesses can now compete not only with online stores but also with local markets. Such firms have been able to distinguish themselves as distinctive and competitive brands in the market because of this speedy delivery mechanism.
3. High Growth Potential
Q-commerce presents a market expansion opportunity by establishing cloud stores in several cities or nations. Furthermore, such businesses may eventually broaden their business models to include various other services in addition to delivering a restricted number of goods. Due to their ability to outsource delivery operations and grow their own business simultaneously, startups can accomplish this growth considerably more quickly than established eCommerce enterprises.
4. Many Delivery Options
Numerous last-mile delivery personnel can find work with Q-commerce enterprises. It employs multiple delivery partners who can work on their schedules and make extra money, even though it follows an aggregator business model. Many people who were previously jobless and without a reliable source of income now have employment opportunities.
How Quick Commerce Works
Q-commerce is currently on the rise, especially in the grocery industry. Q-commerce delivery operations have a high starting cost; because these businesses must establish the facilities and equipment necessary for last-mile delivery.
This entails establishing a warehouse where they can store their items, hiring and training delivery personnel, and providing this personnel with the instruments they need to make deliveries. In low-margin areas, it is challenging for Q-commerce firms to compete due to the high expenses connected with such deliveries.
1. Setting up Your Account
Most Q-commerce businesses operate with mobile applications. Therefore, starting with a desktop website and mobile application would be helpful to get more customers from both ends.
2. Creating Your Products
As previously mentioned, most Q-commerce businesses are grocery stores that deliver within 10-30 minutes. The food and beverage industry is suited for this business model since people need their food or groceries quickly rather than ordering and waiting for days or weeks.
Products that can be sold at a Q-commerce store are products that people buy from markets close to their homes. These can be sanitary products, food and drinks, bakery, seasonal items, and household items.
3. Creating Your Store Pages
The main idea of a Q-commerce store is that it is fast and has fewer options than regular commerce websites. This makes it easier for the customer to find and decide what they want to buy and complete the order as soon as possible.
The store pages should have a basic design, including pictures of the product, information about the product and the price. Since there are no or a few other options for the same product, the search tool should work properly and show the relevant items.
4. Customising Your Store
Customisation of your online Q-commerce store is very crucial for your business. Quick commerce means that everything is supposed to be quick and easy. The customer should be able to find the items they are looking for as quickly as possible. Following that, the payment process should be fast and easy for them. After that, their items should come in 10 to 30 minutes.
The desktop website and mobile application can be customised regarding the customers' likes, previously searched items and previous purchases. Additionally, depending on the customer base, seasonal items, sale items and coupons can also be recommended to the customer depending on location, date and usage of coupons.
5. Managing Your Orders
This business is a quick business; therefore, operations are an essential part of this business. The warehouse, delivery and procurement processes should be handled professionally with the least amount of problems.
The warehouse should exist in many different locations for delivery convenience and quickness. These locations can be inside the city and urban areas, which may increase the warehouse rent prices. Though every single warehouse does not have to be significant in size, they have to be highly organised so that products can be sorted out efficiently. A professional warehouse system would make it easier for the warehouse manager and other employees.
The delivery system is another distinguishing factor of Q-commerce. Mostly, the delivery is done with motorcycles, electric cycles, or bicycles (in some cases) to avoid city traffic and deliver quickly. It is crucial to have enough delivery employees waiting for orders and delivering them on time.
Procurement is another essential department at a Q-commerce store. Since there will be fewer options for each item, it is necessary to include the most sold and commonly used items on the website. Additionally, since having several warehouses inside the city and having many delivery employees costs high for the business, Q-commerce stores try to keep the buying prices of the items as low as possible to offer their customers products with acceptable prices.
The Quick Commerce Business Model (Features)
The Product/Service
This department focuses on the selection and buying process of the products. Additionally, the analysis of the products, data on the amount sold, the time spent on product pages and the whole buying process etc. All of these previous points should be assessed and analysed in detail.
The Customer
Q-commerce businesses are customer-oriented businesses; hence customers are put first. The customers' behaviour and buying habits are examined in detail. Providing a top-tier customer experience is key to growth in this industry.
The Technology
Q-commerce businesses are fully online; technology greatly influences these online stores. It is essential to catch up with the latest technology for your Q-commerce business. Product recommendations, coupon offers, search, warehouse systems, and purchase tracking systems should work correctly and efficiently to deliver the best outcome.
The Marketing
The marketing department is responsible for all online and offline marketing processes. These processes include digital marketing, social media marketing, television advertisements, brochures, partnerships, and more. The marketing strategies of Q-commerce businesses include personalisation of the website, email marketing and push notifications. Additionally, they target student accommodations and workplaces.
The Sales
The Sales department is responsible for inbound and outbound sales processes. When a prospective client or lead contacts your company to inquire about a good or service, this is known as inbound sales. Outbound sales happen when a sales representative contacts a potential client who has yet to express interest in a good or service that the company provides. The sales department must analyse and track sales data in a well-built Q-Commerce system.
The Support
The Support departments are the Technical Support and Customer Service departments.
Technical Support
Technical Support is needed when the customer has problems with the website or mobile application. Technical issues can occur due to payment problems or issues with real-time stock information.
Customer Service
The Customer Service department handles customer issues and communicates with them. This department can use several different ways to communicate with their customers, whilst the essential part is to be quick and easy to reach out to.
Live Chat
Live Chat is the most commonly used customer service system. Companies can use automated messages to customers dealing with similar issues, and when the problem is more complicated, customer service employees can deal with the issue individually.
Social Media Monitoring and Engagement
Social media is widely used; therefore, many people try to communicate with companies via social media to get recognition. The social media marketing strategy is essential. On the other hand, it is necessary to always be active in the comments, direct messages and mentioned tweets to resolve any issue quickly.
FAQs
We recommend adding a Frequently Asked Questions section so that customers dealing with problems, or even if they have a question in mind, can easily read this page and get their questions answered. This page can include questions regarding the process of buying and other relevant frequently asked questions. It is important to keep the answers brief and explanatory.
Email Support
The Customer Service department deals with issues that have been raised by email. This is a formal way of reaching out to a company. A dedicated email address should be given to the Customer Support team, and they should send an automated email regarding when they will respond to the issue. This will increase the customer's trust and help the team sort out emails.
Phone Support
The most commonly used Customer Support communication system is phone support. Since it is a way to talk to the team one-to-one and get their problem solved on the spot, having a dedicated team to answer phone calls is necessary to increase customer satisfaction.
Wrapping Up
As a result, Q-commerce is one of the newest and fastest-growing industries within eCommerce. Especially after COVID-19, people's buying behaviour and decisions have changed, which has led to an increase in online shopping, high competition in eCommerce, fast delivery and high levels of customer experience.
Segmentify offers Q-commerce companies the best personalisation tools, including product recommendations, personalised emails and SMS, push notifications, personalised search and data analytics system. Contact us for a free trial and more information regarding Q-commerce solutions.