Why Segmentation is Important in eCommerce Marketing?
In a 2016 survey by Receiptful, only 23% of eCommerce businesses owners stated that they used customer segmentation. Whilst in 2021, this number grew, still many businesses do not give the necessary attention to customer segmentation. Customer segmentation has become a must in eCommerce marketing and here is why it is so vital.
Customers, product quality, and service have become the foundation of corporate sales as the eCommerce industry continues to evolve and adapt. The most essential aspects of business marketing are ensuring product quality, delivering first-class service, and monitoring and anticipating consumer behaviour. Enterprise business strategy should also be "customer-centric," because merchants can only know to whom the value is suggested and what value to provide the customer if they can identify the target consumer group.
Customer segmentation is the process of dividing existing customers into distinct customer groups based on specific criteria. Customers are not the same as one another. As regards the Pareto effect (80% of your sales come from 20% of your customers), even if certain customers are in the minority, they can generate significant revenues for businesses. Because of these differences, businesses may better discern the demands and value of each client group through customer segmentation, which can help differentiate consumers and propose various goods and services to them. Many different tactics are implemented in order to keep customers and to meet the goal of making full use of consumer resources while maximising profits for the company.
What is Segmentation in eCommerce Marketing?
The practice of assessing and categorising consumer groups in order to enable focused marketing activities is known as segmentation. eCommerce market segmentation is used by businesses of all sizes to better understand and meet the requirements of various consumers, also known as target demographics, in order to optimise marketing efforts and provide the finest goods.
With the improvement of eCommerce, segmentation trends in marketing have also shifted. Whilst previously, companies put more emphasis on traditional marketing where they examined buyers' demographic, geographic and psychographic information; now with modern segmentation, marketers examine buyers with more detail based on their personal data.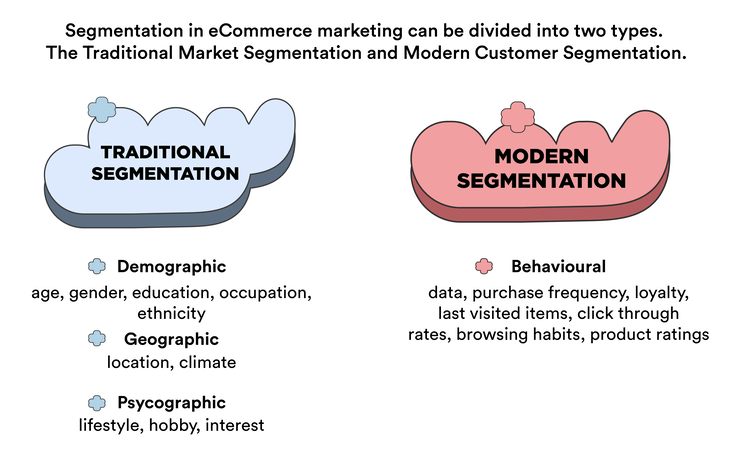 A. Traditional Segmentation
1. Demographic
Age
Gender
Education
Occupation
Ethnicity
Income
Religion
2. Geographic
Location
Climate
Weather
City
Country
3. Psychographic
Lifestyle
Hobby
Interest
Value
Belief
Modern Segmentation
1. Behavioural
Purchase Frequency
Loyalty
Last Visited Items
Click Through Rates
Browsing Habits
Product Ratings
Shopping Cart Value
Basket Abandon Rate
Time Spent on Pages and Site
Use of Coupons
Modern Customer Segmentation has become more popular within the years in eCommerce. Whilst demographics such as age, gender are important in determining customers' likes; every person is different with their purchasing habits. Generalising customers with their age, location, gender, hobbies might not be as useful as individual personalised segmentation based on data and their behaviours.
The Benefits of Segmentation in eCommerce Marketing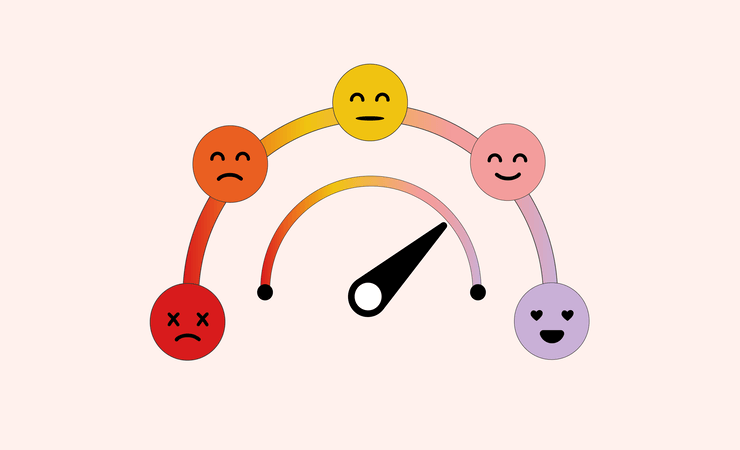 Higher Long Term Revenue per Customer
Customer Lifetime Value (CLV) is the expected sum of all revenues a customer will generate for one's business. With a proper prediction of the lifetime customer value, it is easier to decide on the expenditure that's needed to acquire a customer based on this information. Increasing revenue from an existing customer is more cost-effective than acquiring new customers. Therefore, segmenting products according to each customer would increase the possibility of customers returning back to the business and create higher revenue per customer.
Better Understanding of Your Customers
An important field that any business should know is their customers' base and behaviours. Segmenting clients based on their purchases might provide more information about their purchasing habits. eCommerce segmentation helps businesses discover trends and patterns in successful and unsuccessful steps, and are guides for future business strategy. With segmentation, such as push notifications, personalised coupons and discounts; companies can investigate their consumers better. This investigation will help businesses build their sales strategies that will result in revenue growth.
Higher Customer Satisfaction
Customer satisfaction is a metric that measures how satisfied consumers are with a business's goods, services, and capabilities. Personalised communications are more appealing to customers since they offer information that they desire to learn about. Segmentation helps customers find products that are suited for them efficiently that increases consumer happiness, consequently resulting in more satisfied customers. Some eCommerce customers aren't necessarily as technologically knowledgeable as others, it might be harder for them to find necessary products. Hence, segmentation will help these customers have a better and easier experience in the eCommerce website.
Increased Customer Retention and Loyalty
According to Wang et al. (2007) between 65 % and 85 % of customers who were pleased or satisfied with their previous providers will not switch their vendors. Customer retention refers to a company's or a product's capacity to keep customers for a set length of time. Customers that return to, continue to buy, or in some other way do not defect to another product or service have a high customer retention rate.
On the other hand, customer loyalty refers to a customer's likelihood of doing business or repeating buying products of a company and brand again. Customers who are devoted to a certain brand are not readily swayed by availability or price. Loyal customers are prepared to spend extra if they receive the same high-quality product or service that they are accustomed to.
When it comes to customer service, being able to engage consumers on a more personal level is really beneficial. Instead of seeing you as attempting to sell something to them, they begin to perceive you as attempting to assist them, and this is how customer advocacy emerges. A proactive client retention campaign that addresses this issue encourages recurring business. For this reason, segmentation helps increase relationships with and loyalty of customers and therefore, result in a large number of returning customers.
Chance to Improve Your Products and Services
Companies can use market segmentation to determine which of their products or services are effective, but more importantly, which ones are ineffective and modify accordingly. In addition to having a better understanding of your customers, businesses can modify and improve their products according to their customers needs.
Creating Brand Awareness
eCommerce companies must utilise data to target tighter segments of the market, discovering similar characteristics among a set of individuals and using that information to communicate with them on a more personal, and presumably lucrative level. Therefore, segmentation will help reach customers more personally which will build brand identity and get more recognition from customers.
Consequently, eCommerce has been the fastest growing business sector in the last few years, especially during COVID-19. Businesses that could not adapt themselves to the changing eCommerce environment are destined to stay behind or perhaps not continue in the future. Segmentation has become a must within eCommerce businesses in order to have higher long term revenues per customer, understand customers, customer satisfaction, retention and loyalty, improve products and services and create brand awareness. These benefits can be attained through segmentation, but most importantly by modern behavioural segmentation. Using data and analysing each customer individually is important for businesses to market the right product and services to the right individuals.
eCommerce is growing, modernising and changing a lot faster than ever before, so it is important to stay up to date and offer your customers the best experience on your website.
The 23% of eCommerce businesses that use segmentation in 2016 have increased in 2021. However, there is still a significant number of businesses that do not use segmentation. In order to stand out from the remaining eCommerce businesses and draw out, use segmentation, especially modern customer segmentation.