How eCommerce Platforms Can Capitalise on Smart Search
Segmentify Launches Personalised Searchandising Solution
The wait is over! Segmentify's revolutionary Personalised Searchandising solution is about to go live. Before we dive into details about how you can join the waitlist, let's discover all you need to know about personalised searchandising, also known as smart search, and how this solution is allowing eCommerce companies to ensure customer experience optimisation.
What is Smart Search / Searchandising?
About 30% of consumers are manifested to utilise site search to find respective products. These users are then 50% more prone to convert on the products they have searched for than the visitors simply browsing. There is a catch here; these users have to find the respective products they are searching for. Even if the products outlined in the search results are relevant, they may not directly appeal to these customers. This is where searchandising comes in. 
This keyword is the combination of search and merchandising. And it attempts to explain the utilisation of merchandising techniques within online search experiences. In other words, it involves the strategic placement of product items in search queries to optimise them for the relevant business metric; this could be customer lifetime value, site search optimisation, or sales. It is a way to capitalise on established search techniques by bringing in advanced components such as navigation, faceted search, recommended product listings, autocomplete, relevant queries, recent searches, and more. Many eCommerce platforms are turning to these smart search solutions to utilise behavioural data and ensure automation for simple, personalised, profitable, and unique product search experiences. Through these techniques, they are trying to align their site with eCommerce search best practices. 
Smart Search Advantages to Consider
eCommerce sales revenue has more than tripled since 2014. Humans crave quick turnaround and instant access to the products of their choosing. That is why eCommerce platforms are receiving more demand every day, giving their added value in convenience, variety, and accessibility. Along with these key assets, easy navigation and eCommerce site search optimisation are also becoming big items on these companies' agendas. Customers need to be assisted as they search through millions of product listings and find what they prefer.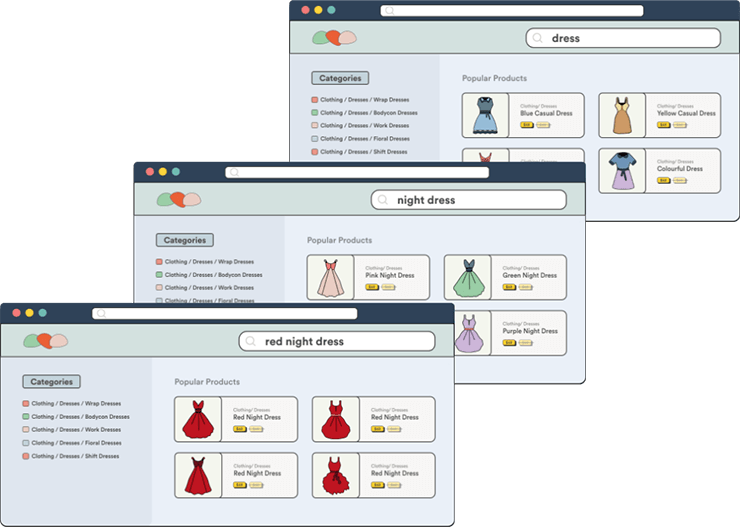 Smart search allows the platform to assess customer buying habits and increase convenience and accessibility to create predictive and intuitive frameworks. To do this, the site will have to collect valuable data in buying patterns and be able to distinguish these patterns across customers to personalise their smart search solutions for them effectively.
Here are some added benefits of smart search for your eCommerce search software:
Significantly boost consumer experience through convenience and accessibility of the intuitively predictive search mechanism allowing for faceted search.
Enhance customer loyalty by meeting their needs and offering optimised search tools with auto-suggest search filters allowing for appropriate product listings.
Collect consumer behaviour insights regarding the intent, desire, and buying patterns to enhance your customer experience in return.
Be able to predict customer intentions through search entry insights and retarget them when needed.
Create effective marketing strategies by focusing on leads that will more likely convert.
Segmentify's Personalised Searchandising Solution As an Optimised Smart Search Tool
Segmentify's revolutionary new solution, "Personalised Searchandising", is something that will completely transform how we unlock the potential of our customers' eCommerce platforms. Given that 30% of online shoppers go directly to the search box, their conversion rate is 5 to 6 times higher than the passive browsers. This represents a huge potential to adapt your on-site search engine relevance in line with your specific business needs and KPIs.
Say goodbye to simply applying personalisation to the search box. Instead, take personalisation to a whole new level with Searchandising. You can completely personalise the search result pages once the user enters a keyword in the search bar with dynamic filters, editorial content, and quick actions.
The long-awaited Segmentify Personalised Searchandising, aka Smart Search, will help you build an excellent search experience for your visitors and increase customer conversion with minimal effort. Here is how your business can benefit from Searchandising:
Out-of-box and beautifully designed full search solution
Easy to integrate into any eCommerce platform
Highly relevant and personalised search results for user search intent and preferences
Mistake tolerance with autocorrection, typo correction, and synonyms
Refine search experience with dynamic filters (facets), pagination, and sorting
Optimised for no results on long-tail queries and decrease shop abandonment
Fully customisable design for both mobile and desktop
Blasing fast search results for any query and visitor location
Supports multi-language and multi-currency out-of-box
Search insights and reports for discovery and customer intent
What Can Smart Site Search Offer For Your eCommerce Platform?
In addition to the functionality outlined above, explore extendable features according to your specific needs. The solution involves a visual builder to pin and promote products, facets, and editorial content for specific search queries.
With Searchandising, explore how easy it is to add new widgets and content to search page design like banners and targeted messages, in addition to the ability to filter and facet any product information based on category, brand, price, label, review, and more. You now have the power to tweak relevancy by emphasising different product fields and offer configurable sorting options with ready-to-use 30+ product dimensions and metrics. In addition, you will be able to redirect customers to any landing page for specific queries like "my orders".