6 Great Ramadan Marketing Tips
Ramadan in 2022 will be from April 2nd to May 1st, and the Ramadan Eid will be celebrated from May 2nd to May 4th. Ramadan is one of the three holy months and is symbolised as the month of all Muslims and is considered the Sultan of the other 11 months. In addition, Ramadan is the month of God's compassion, the forgiveness of sins and God's blessing. It corresponds to the 9th month of the Islamic calendar and usually lasts 29 or 30 days from the first sighting of the moon's crescent.
Ramadan Eid, called Sugar Feast among people as well, is a religious holiday celebrated for three days after the end of Ramadan in the Islamic world. It is celebrated on the first three days of Shawwal, which is the 10th month of the Islamic calendar. The day before Eid is the eve, the last day of Ramadan. During the Eid, Muslims celebrate each other's Eid by visiting their spouses, friends and relatives. During these visits, cologne, sweets and candies are usually served.
It is customary to dress neatly and cleanly on Eid. Everyone tries to wear their newest and finest clothes. New clothes are bought for the children as much as the families' budget allows before the holiday. Some elders give gifts or pocket money to children who kiss their hands. Children go from door to door in small groups collecting sweets.
eCommerce businesses can participate in the Ramadan campaigns during the month. The difference between Ramadan and the other special holidays is that Christmas, Easter, Valentine's Day, and Mother's Day last around 1-3 days, whilst Ramadan is a whole month. Therefore, businesses should approach Ramadan with a different marketing strategy than the other holidays.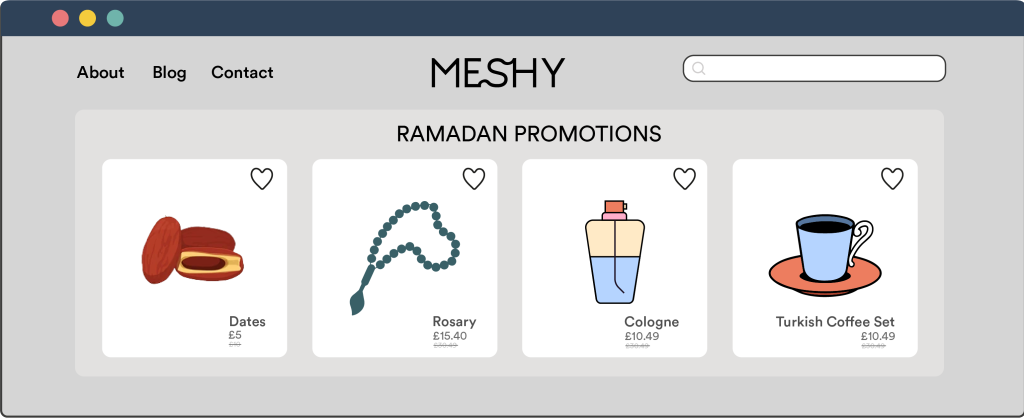 During the Ramadan period, people tend to increase their spending and buy traditional Ramadan items, necessary food for Iftar and gifts for their loved ones. eCommerce businesses that have related products can add a fully personalised Ramadan widget to their homepage as well as search pages to encourage their visitors to buy for Ramadan.
Here are the most sold items during Ramadan:
Dates
Kebab
Baklava
Rosary
Glowing lanterns
Moon and star decors
Traditional coffee sets
Sweets, Turkish delight, chocolate
Cologne
Clothing
Jewellery
Ramadan gift packs
2. Use email reminders and push notifications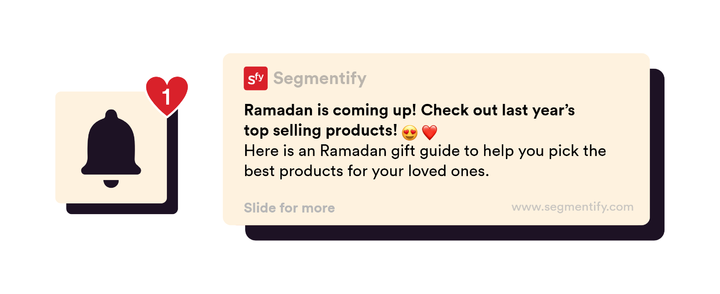 Ramadan is from 2 April to 4 May in 2022; therefore, eCommerce businesses have plenty of time to encourage their customers to participate in the Ramadan campaign. An excellent way to remind visitors is to use push notifications for the website, mobile application and email reminders. In this way, visitors will be aware of the Ramadan promotions beforehand and have the opportunity to get to know the products beforehand.
3. Include Ramadan symbols in your landing page design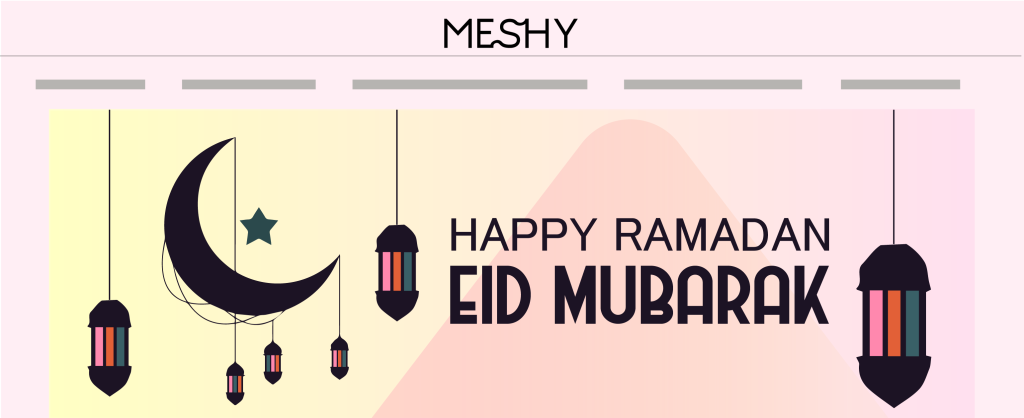 eCommerce websites can choose to participate in Ramadan either at the beginning of fasting or on Ramadan Eid day to celebrate Ramadan with their customers. Specific Ramadan symbols include:
New Moon, Crescent
Star
Lantern
Ramadan drummer
Dates
Mosques
Websites can include any of the mentioned symbols and briefly include Ramadan celebration messages.
An additional recommendation for websites that sell Ramadan-related products would be adding a "Ramadan Specials" section to their menus. These can be pinned to the search box, landing page, or search result pages to increase visibility.
4. Prepare special campaigns for the Ramadan Holiday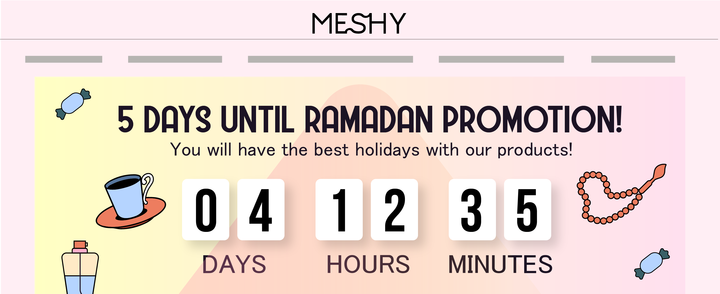 Since Ramadan is a whole month, eCommerce marketers can divide the month and have separate campaigns for separate periods. For example, during the fasting period, marketers can promote Iftar products. And closer to or during Ramadan Eid, websites can hold more extensive promotions on different products such as candy. Separating campaigns will make the visitors more interested in the website and get more people to participate in the promotion campaign.
We recommend eCommerce websites include timers for their promotion campaigns. This will first make the visitors aware of the exact time of the campaign and induce Fear of Missing Out and encourage them to participate.
5. Offer personalised discount coupons for the Ramadan month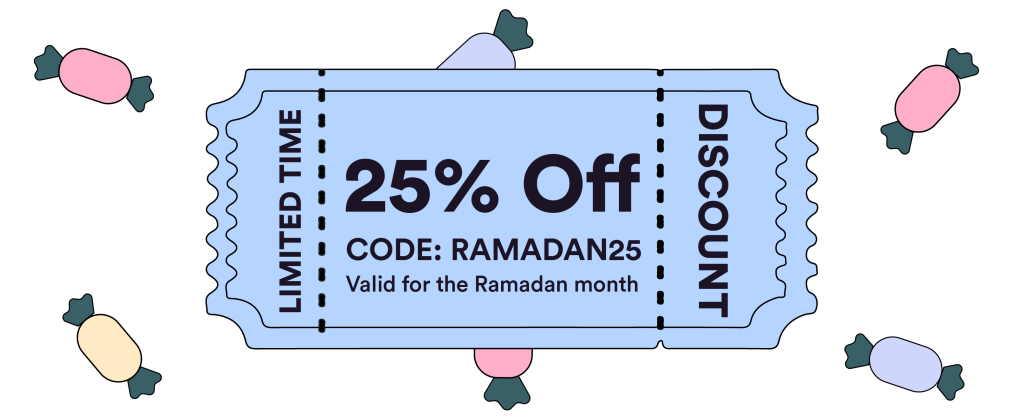 The importance of personalised coupons is not that known by eCommerce websites. However, a coupon can make a visitor become a customer since it will make the visitor curious enough to try out the products and convince them to make a purchase. Therefore, we strongly encourage eCommerce websites to send personalised coupons via email or push notifications.
Even though not every person is participating in Ramadan, coupons can still make non-participating visitors buy Ramadan products to use the coupon. Therefore, it's best to send these Ramadan discount coupons to more extensive customer segments.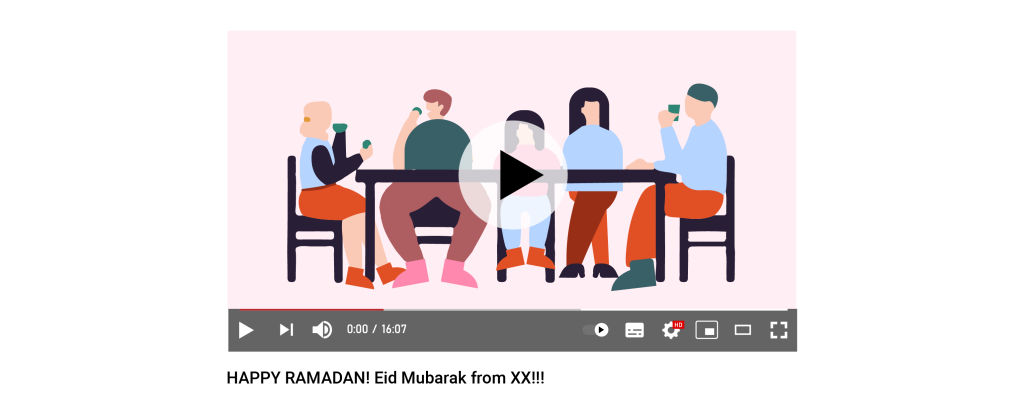 Social media is an excellent way for eCommerce businesses to celebrate the Ramadan holidays and promote their Ramadan-related products. eCommerce businesses should use social media platforms to attract more customers, especially during holidays and special days.
Ramadan lasts a whole month; therefore, eCommerce businesses can publish several times on social media throughout the month:
For LinkedIn and Facebook, eCommerce websites can write posts with fewer visuals and more texts about celebrating Ramadan and their campaigns.
For Twitter, eCommerce websites can tweet about Ramadan daily or once every two days.
For Instagram, eCommerce companies can create several visuals and reels for their account. Additionally, remember to use Instagram stories as well.
For Youtube, eCommerce can post a more extended version of their reel content and prepare an advertisement video.
For TikTok, eCommerce can create specific TikTok advertisement short videos with popular sounds from the platform.
Influencer marketing is also recommended for this marketing campaign; hence, for Instagram, TikTok and Youtube, brands can collaborate with specific influencers to promote their Ramadan products. It is important to collaborate with influencers with the right audience to promote their products.
Wrapping Up
Ramadan is an important religious holiday for Muslims, and its dates change every year according to the Islamic calendar. For example, in 2022, the Ramadan month is between 2 April – 1 May, and the Ramadan Sugar Feast is between 2 May – 4 May.
It's essential to remember, especially for 2022, that April 17th is Easter Day. Hence, these marketing campaigns should not clash with each other. Therefore, eCommerce businesses should either market their Easter products until Easter and then market Ramadan products until the end of Ramadan. Alternatively, they should pick which holiday to participate in according to the majority of their customers and their products.