11 Valentine's Day Marketing Tips to Boost Conversion
Valentine's Day is a special day celebrated in many countries on February 14 of every year. In 2023, Valentine's Day will be celebrated on a Tuesday. Almost everyone gives gifts to their significant others that integrate with the spirit of this day and express their love. Flowers and chocolate are the forerunners of these gifts. And before we dive into our list of great Valentine's Day marketing tips for eCommerce, we recommend putting on this specially curated playlist to accompany your reading:

With the growth of eCommerce, many businesses tailor their websites according to this special day. For example, Valentine's Day 2022 saw $23.9B spent on gifts for partners, friends, pets and more. Here are the top 11 tips for eCommerce stores to implement to increase sales and the time spent on the website.
Key Takeaways

eCommerce companies should start preparing their websites and sending email notifications about Valentine's Day the last week of January.
To attract more audiences, create special campaigns for single people. 45% stated that they wouldn't participate in Valentine's Day. However, 29% of these anti-Valentines planned to mark the occasion in some way.
Offering gift wrapping and fast delivery before Valentine's Day will put you ahead of other eCommerce brands.
Download: Valentine's Day Marketing Playbook 2023 💌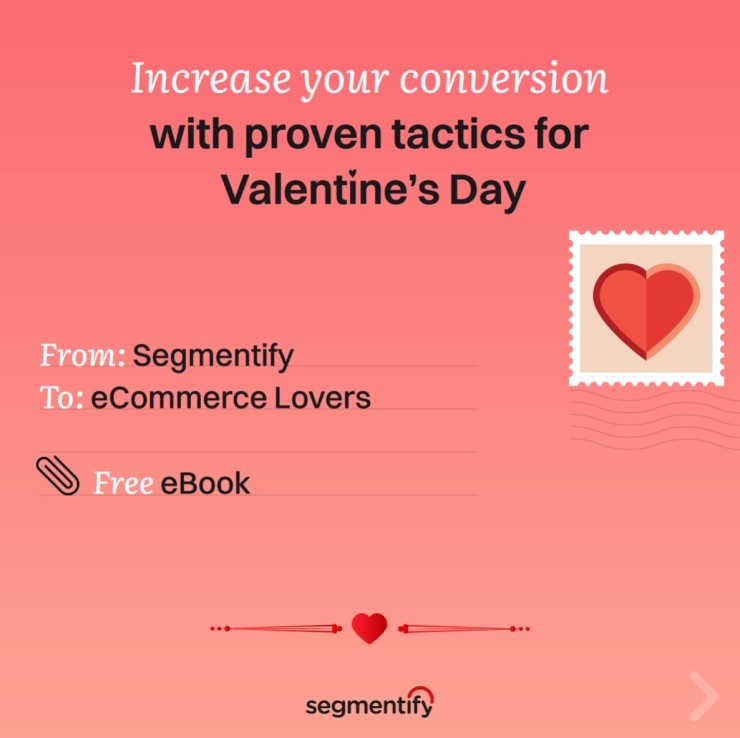 Download the Valentine's Day Playbook & learn the sweetest solutions to a delightful Valentine's Day filled with sales! Know your customers beforehand and woo them in the best way!
Remember that each lover is unique; so are your customers.
Inside, you will find:
❤️ Statistics every marketer should know
❤️ 3 glamorous tips to win customers' hearts
❤️ 8 Valentine's Day campaigns to boost sales
11 eCommerce Marketing Tips for Valentine's Day 2023
1. Use the colours red and pink on your landing page
When we think about Valentine's Day, the top two colours are red and pink. Red is the colour of love, and eCommerce stores should use red and pink tones to remind customers about Valentine's Day. Here are examples of what can be implemented regarding colours and shapes:
Pinning heart-shaped and/or red and pink products to your landing page
Using red and pink colours and heart shapes in banners to indicate Valentine's Day promotions
Creating a red and pink page with heart shapes will remind website visitors about Valentine's Day. Even if the words "Valentine's Day" is not used explicitly, this will subconsciously bring this day to mind.
2. Remind customers of Valentine's Day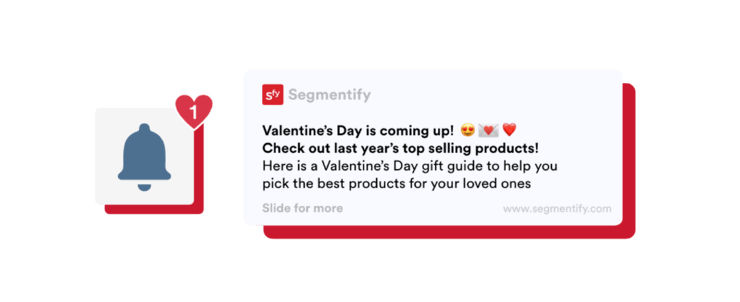 On average, people spend two weeks planning Valentine's Day activities and picking and buying Valentine's Day gifts. Therefore, eCommerce websites should start their Valentine's Day promotions in the last week of January to meet the customer's timetables and deadlines.
Here are reminder examples for eCommerce stores:
Sending email reminders
Sending push notifications
Adding Valentine's Day banners to the landing page
Including a timer regarding Valentine's Day promotions and products
These notifications can include information on the products regarding:
Valentine's Day products
Coupon codes to use for Valentine's Day products
Last year's most-sold Valentine's Day products
3. Offer unique promotions and coupons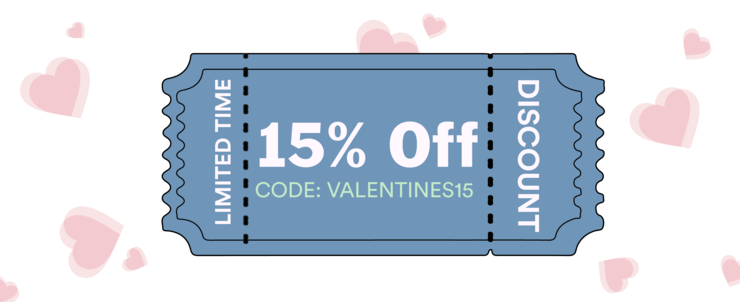 Many seasons throughout the year encourage people to buy products: Black Friday, Christmas, the beginning of spring, Mother's Day, Father's Day, birthdays, anniversaries etc. Unfortunately, consumers get confused about these dates or sometimes need a reason to buy products on this specific day.
Therefore, offering unique promotions and coupons is the best encouragement. The coupon doesn't necessarily need to be of high value; however, a unique personalised coupon will make the customer feel special. Even if the customer does not have a significant other for Valentine's Day, they will buy something to use the coupon.
4. Add Personalised Recommendation Widgets on Landing Pages and Search Areas
People spend more money on gifts to others than on products they buy for themselves. So whilst Valentine's Day products may not be requirements for people, they enjoy giving presents and making people happy.
A meaningful way to remind customers about Valentine's Day is to display Valentine's Day-related products on the landing page so that people become aware of the upcoming day and think of buying the options.
eCommerce websites can pin Valentine's Day products for visitors so that they are reminded of Valentine's Day every time they click the website. Also, websites can pin Valentine's Day products to their search results and other most-clicked pages to induce sales.
5. Offer Fast Delivery and Delivery Before Valentine's Day
Valentine's Day is celebrated on February 14 yearly and is a one-day annual event. People start searching for Valentine's Day gifts at the beginning of February, meaning they have two weeks to get the gift.
Since Valentine's Day gifts are intended for someone else, people put in extra effort and care. Offering fast delivery will make the customer use your website because they will have more time to check the gift and return it if they are not happy with it and buy a new one.
Delivery after Valentine's Day for a Valentine's Day gift is a dead offering and will not make the customer buy the product. Therefore, eCommerce stores should partner with fast delivery services and deliver products before Valentine's Day. Do not forget that since this is a timely matter, people will be open to spending more for faster delivery.
Another point is to think about the last-minute gift shoppers. eCommerce websites should also include options for people searching for gifts a few days before and even during Valentine's Day. Whilst, you may not be able to send all your products that fast, it is good to have a few items that can be delivered in an ultra-fast way. Or even offering gifts online will also be helpful for a last-minute gift shopper.
6. Prepare Gift Guides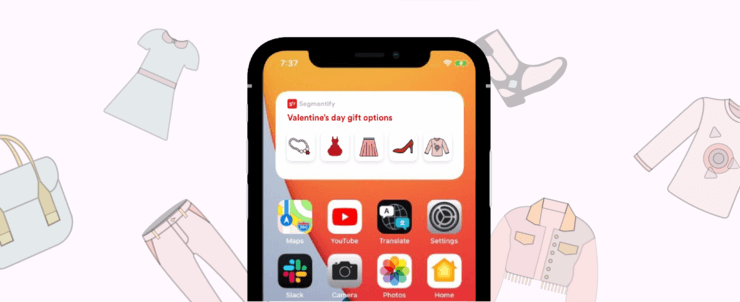 Finding the perfect gift for Valentine's can be stressful at times. The most sold products for Valentine's Day include:
Flowers
Chocolate and Candy
Jewellery
Clothing
Greeting Cards
An Evening Out
Gift Cards
Valentine's Day Gift Boxes
Lingerie
Beauty Products (such as Makeup)
Tech Gifts (such as Airpods, Gaming Products)
Candles
This list goes on and on. However, people still struggle to find a Valentine's Day gift for their significant other. eCommerce websites should add a gift guide section to ease the customers' search process. In addition, you can send information regarding the gift guides via email and push notifications.
7. Offer Gift Wrapping Services
As mentioned above, gift packages are one of the most popular Valentine's Day gift options. Hence, eCommerce stores must offer gift package options to help the customers with another task: gift wrapping
Crucial points for a stellar gift wrapping service:
Don't include the price tag since it is intended as a gift.
Offer gift receipts.
Offer physical or electronic gift cards at different amounts.
Include a note section for the buyer to add a personalised note to the receiving person.
Most eCommerce websites do not offer the services mentioned above, so offering them would make your website more desirable. Even though customers can find the exact products from different websites, they will choose your website due to gift packages, gift receipts, and gift card options.
8. Recommend Bought Together Items
Gift boxes are one of the most popular gift options for Valentine's Day; therefore, rather than buying just one gift, people buy several small gifts in a box and give them to their intended significant other.
Sometimes only buying chocolate, flowers, or some other gift may seem small, and people want to make it more personalised by picking the gifts for the gift box. Offering options such as choosing between small products and adding them to the gift box is an excellent idea for the buyer to personalise it according to their desire. Another way is to offer already-made gift boxes to ease the customer's buying process.
With Dynamic Bundles you can recommend items that are complementary to each other and help your customers build their gift packages.
9. Romanticise Your Marketing Campaign
Valentine's Day is known to be the most romantic day of the year. Loved ones come together and celebrate their love. Therefore, any product can be romanticised even if your eCommerce company does not sell gift items.
This strategy can be made in several ways:
Advertisement videos with a romantic plot and slow background music.
Using romanticised banners and headings for your landing page. Such as, "Make yourself your Valentine this year" or "Tell them you love them".
Adding gift wrappers and a romantic note when customers make a purchase.
Using elements of nostalgia to remind your customers about the past and how it used to be.
10. Collaborate with Other Businesses or Influencers
It's always better when Valentine's Day is celebrated together. This is a great way to collaborate with companies so that you can reach out to new audiences.
Creating a specific product for Valentine's Day with another company's partnership would attract attention. In addition, this product can have a unique package and campaign name to be memorable.
Collaboration with other businesses does not have to mean that you prepare a product together. With another company for Valentine's Day, you can donate to relevant charities and present it on your website. Additionally, Valentine's Day is a great day to collaborate with influencers, mostly couples influencers, to showcase your products and their usage with couples.
11. Don't Forget Single People (and Other Customer Segments)
Finally, eCommerce businesses should know that Valentine's Day is not necessarily promoted to people with significant others. According to the National Retail Federation, here are the ratio of Valentine's Day gifts and their intended receivers:
52% Significant Others
15% Family Members
7% Friends
7% Children's Classmates
7% Co-Workers
6% Pets
6% Other
Whilst 45% of Americans stated that they would not participate in Valentine's Day, however, 29% of these anti-Valentine's planned to mark the occasion in some way:
13% treating themselves
11% getting together with friends
4% giving an anti-Valentine's gift
Therefore, appealing to all customer segments is doable by eCommerce stores. Websites can include gifts regarding:
Children
Family members
Co-workers
Pets
Friends
Anti-Valentine's gifts
Finally, 11% of Anti-Valentines stated that they would be treating themselves for this day; therefore, adding a section for single people would also be helpful to increase retention for this date.
Wrapping Up
Valentine's Day is a huge day for marketing, and by using the aforementioned tips and tricks, eCommerce stores will be able to make the best out of it. You can schedule a demo with one of our eCommerce experts to learn more about what Segmentify can do for your eCommerce store, not just for Valentine's Day but all year long.