Best Black Friday Cyber Monday Marketing Strategies for 2021: Get Your eCommerce Store Ready for BFCM!
Black Friday might be just one day on the calendar, but in reality, it is only the beginning of the biggest sales season for eCommerce. It is the "unofficial" start of the shopping season because it's closely followed by Cyber Monday and later by Christmas.
Black Friday falls on the following Friday after Thanksgiving in the United States. It is the biggest retail sales day not just in the US but also for the majority of the world. It's followed by Cyber Monday, a 24-hour shopping event that falls on the first Monday after Black Friday.
Cyber Monday was initially created to encourage consumers to shop online and is relatively a new term compared to Black Friday. Traditionally, Black Friday marketing campaigns focused on physical stores. You must've seen at least one video showcasing the true chaotic nature of Black Friday with people stomping over one another to score a deal on a flat-screen (It was brutal out there.). However, with everything moving online in the last couple of years, this has changed as well. As a result, the lines between Black Friday and Cyber Monday campaigns are blurred at the moment. It is now a very long shopping weekend. Therefore, it's kind of an important weekend for eCommerce.
In this article, we'll talk about how you can get your eCommerce store ready in time for Black Friday and Cyber Monday. This year Black Friday falls on November 26, and Cyber Monday on November 29.
Mark your calendars, and let's start!
How to Create a Perfect Black Friday Cyber Monday Marketing Campaign?
We've already established the importance of Black Friday and Cyber Monday for eCommerce. Black Friday Cyber Monday marketing campaigns start at least one week prior to the main day, but the campaigns do not end there. There's a lot going on months before it even starts, and there are many things that can go wrong.
Take a look at these must-haves for a bulletproof Black Friday Cyber Monday marketing strategy and plan your Black Friday Cyber Monday marketing campaign around these checkpoints to ensure that things run as smoothly as possible.
1. Prepare for the increased demand: Check your stock levels
You need to decide what products you want to promote and highlight for Black Friday Cyber Monday as early as possible. Using past data to forecast demand is one of the best ways to pick which products you need to stock up. For example, find out what products were the best sellers for each category in the last months. You could also look at your past data to see what products or categories were more in demand during the previous Black Friday Cyber Monday campaigns.
Additionally, you should check out the latest category trends in the market. That doesn't mean changing what you're selling at the last minute, but take a look at the hottest trends for whatever market you're in. For example, if you're selling mainly fashion, you should check out the top trends in fashion eCommerce before making a final decision on stock levels. 
2. Test your website: Make sure it can handle the extra traffic
Black Friday Cyber Monday is one of the busiest times of the year for eCommerce. During this hectic period, the last thing you want is a website that slows down or crashes randomly, right? Don't underestimate your traffic load. Consumers have low levels of patience. They'll be expecting a smooth shopping experience and will leave your website in case of a slow load time or crashes.
Therefore, you should plan to account for possible server problems due to too much traffic and test your pages for glitches. Glitches during the checkout process are especially not welcome by visitors.
3. User experience is critical: Get your website mobile-friendly
The popularity of mobile shopping has been increasing rapidly. Therefore, you need to optimise your website for mobile. If it's not already optimised, then it's the best time to add this item to your Black Friday Cyber Monday marketing strategy agenda. You must start the planning process as early as possible because optimising your website for mobile is bound to take some time.
4. Get organised: Plan your discounts and promotions
You cannot and should not give randomised discounts and promotions. Instead, you should check your inventory and past data to decide which products you want to provide discounts on, as mentioned at the beginning of this checklist. The best way to approach this would be to prepare a planned sales map. An excel sheet should be your best friend for this merry season of shopping!
Here are some of the questions that could be of help:
Which products will go on sale?
When will that sale start and end?
How much is the sale price going to be?
Is the product going on a sale on its own, or will it be a part of a bundle?
5. Create buzz: Leverage your best advertising channels
You need to let people know about your Black Friday Cyber Monday campaigns. Social media is used a lot in eCommerce marketing. Identify which channel drives more traffic to your website and put more focus there while preparing your Black Friday Cyber Monday marketing strategy. Prepare the necessary visuals in advance and make sure to have a clear calendar to oversee when you're posting what.
6. Dress to impress: Prepare an engaging landing page
Landing pages are fundamental in Black Friday Cyber Monday marketing campaigns. The purpose is to create awareness and drive traffic to a specific page. Creating specific landing pages for different Black Friday Cyber Monday campaigns will help your visitors find what they are looking for easily and quickly. Pay attention to these points for a successful landing page:
Eye-catching headline: Using "Black Friday Cyber Monday" in the headline is usually a given, but consider emphasising the discounts you're offering as well. Another option would be to add a specific discount code.
Page design: Keep it simple and elegant. Colour schemes, visuals, and font types and sizes should be in harmony with one another and be easy to follow and look at. You don't want to hurt anyone's eyes, do you?
Strong but clear call-to-actions (CTAs): You can use CTAs to lead them to a specific page or get them to join an emailing list for the upcoming Black Friday Cyber Monday sales.
7. Inform, engage, and excite: Improve your product pages
You need a good product description. By good, we mean explaining the product's features, material if necessary, how it benefits its users, etc. A product description usually involves a body, title, headlines, tags, meta title, and meta description. The goal is to inform, engage, and excite the customers. But don't make it too long; it should be easily skimmable. People have even shorter attention spans these days. So if it's loaded with unnecessary words, they're likely to leave the page very quickly.
This goes hand-in-hand with the product page. We all care what others think at any given moment in our lives. So customer reviews might make the most significant difference when it comes to eCommerce.
Reviews may convince the customers to shop through your website when looking at similar products from different eCommerce stores. Plus, reviews are not always just about the product itself. People like to leave reviews and comments if they are happy with the delivery and customer service they've received. Therefore adding customer reviews to your product pages will build trust between you and the customers.
9. Create urgency: Use Fear of Missing Out (FOMO) to your advantage
Fear of Missing Out, or FOMO, is a psychological phenomenon that is associated with "a fear of regret". Ever felt that you were missing out on having fun because you chose not to go out with friends on a Friday night? That's FOMO. FOMO is a popular tool in eCommerce as well. Email campaigns and push notifications are extremely useful in creating a sense of urgency. You can take advantage of FOMO to highlight your Black Friday Cyber Monday deals and discounts. 
Additionally, pay attention to the individual preferences of your customers. Don't try to create that feeling of urgency for every product and every customer. Someone who never browses luxury items on your website will not care if there's a discount on a Cartier necklace. Pay attention to the past preferences of your visitors. Lastly, don't smother your customers with information or ads every hour!
Black Friday Cyber Monday 2020 Stats with Segmentify
Before we get into how Segmentify can improve your BFCM 2021 campaigns, let's take a look at how BFCM 2020 with Segmentify went down.
During the BFCM weekend of 2020:
Segmentify's Personalised Product Recommendation campaigns generated 250M+ page views.
£16M+ revenue was generated through Segmentify's Personalised Product Recommendation campaigns.
3K push notification campaigns were sent.
These push notification campaigns generated a revenue of £400K.
6M+ keywords were searched with Segmentify's Personalised Search.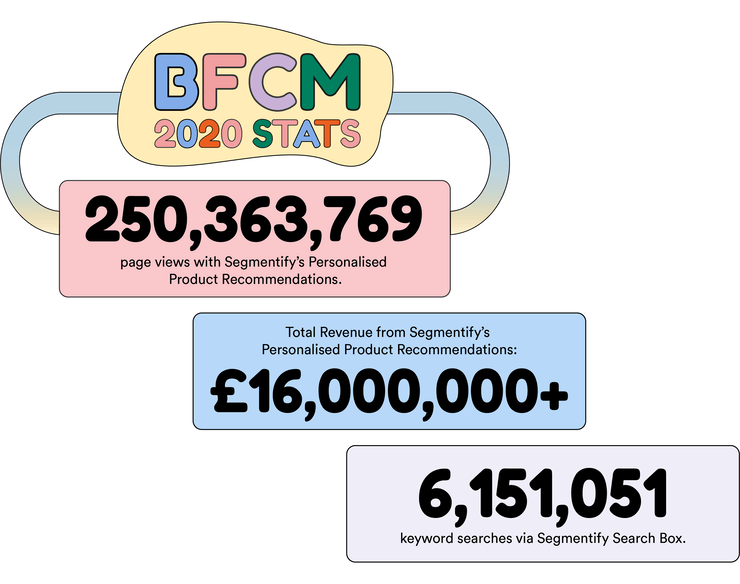 How to Personalise for Black Friday Cyber Monday with Segmentify and What Tools to Use?
The best way to go about a perfect BFCM marketing campaign is to put personalisation front and centre of your marketing strategy. Not only is personalisation the best way to engage with your customers, but it is also the best way to compete with your competitors because personalisation is how you make a difference in all of your operations.
Using smart personalisation tools will help you create a curated and unique shopping experience for your customers. These are a great way to get your audience's attention and encourage them to shop with you. Let's take a look at the Segmentify personalisation solutions you can use to boost your BFCM sales:
1. "Banners" to drive traffic
Banners are a great way to utilise your web pages. You can use them to attract attention to specific products and campaigns. Plus, they are so easy to personalise! Try using different banners for different customers. You can use the search results page for this one. For example, use a banner to promote the BFCM campaign on "boots" when someone searches for "shoes". Make sure that your banners are engaging and contain a feel of urgency. Lastly, don't overcrowd the banner with unnecessary images and texts. They should be easy to understand at first glance.
2. "Search Boxes" to increase conversion
You shouldn't trust your customers to know what they want. However, rather than telling them what they should want, show them. For example, you can use search boxes to encourage them to look around more. As soon as your customers go to your search box, give them personalised recommendations using categories like "Popular Black Friday Products" or "Cyber Monday Top Sellers".
3. "Pin Products" to guide the visitors
Let's say that under the laptop category, you have two laptop models that have higher profit margins than the others. Or maybe you have way too many of them. Either way, why not pin them to the top of the search inquiry for when "laptop" is being searched? This is a great way to increase the visibility of specific products!
4. "Product Page Recommendations" to make product discovery easier and more personal
Personalised product recommendations based on the actions of your customers are a great way to increase your AOV. So, why not take advantage of personalised recommendations to their fullest by combining them with BFCM campaigns? eCommerce stores have an abundance of products and frankly speaking, they can sometimes be overwhelming for the customers. By using AI-based personalised recommendations, you will be using a larger product pool and giving your customers the ultimate shopping experience. Furthermore, your customers will not have to navigate hundreds of products to score some nice BFCM deals because you will be bringing those to them according to their preferences.
5. "Journey Builders" to make shopping engaging
Why not make shopping more entertaining and personal for your customers? Journey Builders are one of the best ways to do so! You can ask them a few simple questions about their tastes and preferences. You can later use this first-hand data combined with the data you've collected over time to offer them a first-rate shopping experience for the BFCM period. For example, let's say they've told you through Journey Builders that they're mainly interested in the electronics category for BFCM. Additionally, you know that they browse/shop through the music category frequently. Why not take this opportunity to recommend them a pair of headphones or a sound system for BFCM?
6. "Push Notifications" to inform and retarget
BFCM is one of the biggest sales events of the year. Everyone will be looking for discounts. Use push notifications to inform your visitors about your BFCM campaigns and discounts during or before the BFCM period. Push notifications are one of the best ways to encourage your visitors to shop with you and complete their purchases. Personalised push notifications play a major role in increasing sales and conversion rates. Segmentify Personalised Push Notifications are used to attract users to the website, increase website traffic and inform users about campaigns, discounts and coupons.
Furthermore, Push submissions can be made in bulk. Segmentify Bulk Push Notifications are used for bulk submissions such as an announcement, notification of the campaign, sending discounts to customers.
Best Push Notification Titles to Use
If you want to attract users to your eCommerce store by creating a sense of urgency with Push Notifications, here are the best titles you can use:
Happy Black Fri-yay! Come for great deals and more!
3-2-1… The BF sale has begun! 25% OFF!
Get your special 20% OFF Coupon! 🎉
⚡️ 25% Off EVERYTHING ⚡️ The Biggest Sale We've Ever Had!
Surprise Olivia! 25% Off Sitewide 🎉
Buy one 10$, get one 10$ 💸
40% Off!? Free Shipping!? It Must Be Black Friday!
Black Friday hot deals inside!
Hurry! [brand_name] hot deals starting at 25%!
Black Friday shoe sale. Buy a pair, get 40% OFF on the second!
Pssst! Open and get your 40% OFF this Black Friday.
Attention! 🚨 It's Black Friday week! Enter "BFCM" at the checkout to claim 35% off.
Last Chance to Save Up To 50% OFF
It's Cyber Monday! Do not miss the opportunities. Hurry up! 🏃‍♀️
20% OFF & Free Shipping! Hurry up! 🏃‍♀️
These products are running out! Hurry up! 😱
Black Friday Deals! 20% OFF EVERYTHING 'til Midnight!
BLACK FRIDAY DEALS! Don't miss out! 🏃‍♀️
Black Friday deals! Get it before time runs out!
25 people added this product to the cart. Take a look too! 👀
50% off on ENTIRE STOCK! Hurry up!
Last 2 HOURS, 25 MINUTES, 45 SECONDS LEFT TO THE PROMO! (time remaining to campaign) ⏰
Get our incredible Cyber Monday deals now!
Last Words on Black Friday Cyber Monday 2021
BFCM 2020 was the busiest one so far, and this year is expected to surpass even that. Although physical stores are opening back again, the reign of online shopping is going to continue. Consumers will choose to shop from the comfort and ease of their homes instead of dealing with crowds at the physical stores.
In such an environment, innovative personalised solutions are the answer to all of your problems, not just during the BFCM weekend but all year round! Providing your visitors with highly personalised (right) product recommendations will increase your conversion rates, as well as customer loyalty.