How Has Covid-19 Affected Ecommerce So Far?
With the unprecedented COVID-19 ongoing, many businesses are struggling to stay afloat. While this is truly unfortunate for so many industries being hit hard, eCommerce is seeing a variety of changes.  As a company that prides itself on data driven content, the Segmentify team wanted to uncover how businesses and industries were experiencing change in the midst of the pandemic. We decided to aggregate our customer data from over 25 countries and analyse a dataset of 400M+ page visits (Feb-March 2020) to share the effects that COVID-19 is having around the globe.
As you can see, after the COVID-19 spread, the page views and revenue of eCommerce companies from our data across a variety of industries has immobilised millions.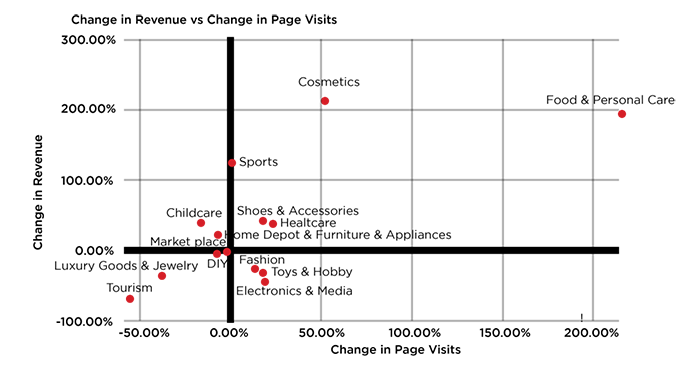 The overall movement of the eCommerce industry is not yet positive and has decreased by about 8% compared to last month. That being said, specific industries have shown significant growth both in terms of revenue and visits. 

While other industries have had their share of the unpleasant developments and have experienced a drop in sales.

Food & Personal Care

has shown remarkable growth as consumers channelled their essential needs to online shopping

Tourism

shrank significantly, with government restrictions being put in place 

Unsurprisingly,

Cosmetics

has also shown considerable growth online with so many under quarantine in their homes.
When we remove the outliers of our findings, we still see a significant increase in several verticals.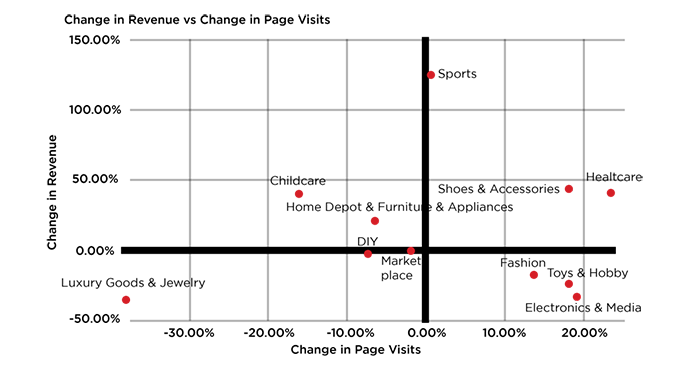 The increase in demand for necessity goods signals two things:
Consumer choices have certainly shifted from brick and mortar to eCommerce retail.

The demand for these goods

have

has also increased due to the nature of the delicate time we're going through.
As expected, luxury goods & services have been affected the most by the COVID-19 spread. The growth in industries other than luxury goods and services is extremely significant and when we eliminate this subset from the analysis, the remaining industries show an increase of 64% in sales compared to last month.
These times are certainly difficult for all of us and despite it all, ecommerce poses a strong stance against the COVID-19. Obviously, these results only cover the early effects of the COVID-19 spread and will evolve as the situation develops.