Top 6 International Women's Day Marketing Tips for eCommerce
On March 8th every year, International Women's Day is celebrated to acknowledge and honour women for their accomplishments. We cannot deny the fact that "Where there is a woman, there is magic." eCommerce should participate in this important day and promote related products and partners with a cause.
We have gathered the 6 most important marketing strategies for eCommerce businesses to follow for International Women's Day. By implementing these strategies, websites will increase their sales rates and build a positive brand image.
1. Feature staff members and women's stories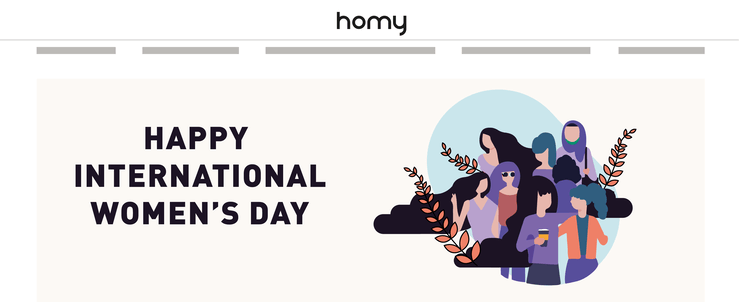 Running an eCommerce business requires collective effort. And International Women's Day is a great day to point out women staff members from different departments of your business and explain their stories.
Did you know that in a 2021 study by Chief Executives, it was found that 8% of the CEOs are women? Sharing stories of women managers, perhaps C-level executives, women in the technology departments, and finance will be encouraging for the readers and future employees.
This marketing campaign will build a better brand image and make your company more attractive for accomplished women employees. Also, it is 2022, and we cannot deny that women are essential for bringing success to companies.
2. Give company insights and partner with a cause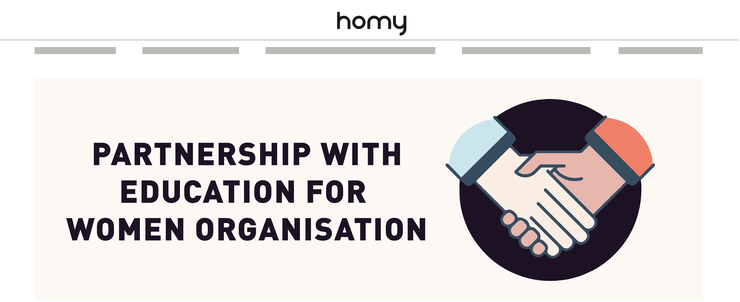 Marketing does not only have to include marketing products and their discounts. Partnering with a cause and communicating that your business supports women is a great way to build a positive brand image.
Your campaigns can include giving information regarding your company insights, percentage of women managers, percentage of women in the technology departments etc. Additionally, you can partner with non-governmental organisations that work on gender equality, women's rights, women in technology, women entrepreneurs, and the pay gap.
Social corporate responsibility will help build your brand awareness. It is important to remember that everything is not sales rates, revenue and numbers. Stores should be sensitive to sustainability and gender issues. Keep in mind that a partnership does not have to be huge or pricey. eCommerce stores can host a one-time event or workshop. Also, websites can tailor the causes regarding your business, such as a fashion eCommerce site can partner with women entrepreneurs that produce their own products and include their products on your website.
3. Remind your customers about the International Women's Day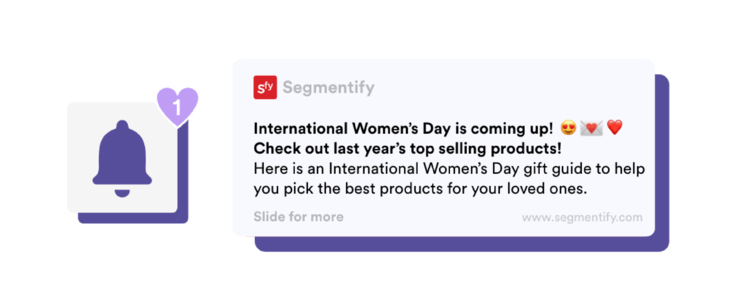 International Women's Day is on March 8th every year; however, many businesses disregard this important date for their marketing campaigns. This day is essential in building brand image; therefore, we recommend eCommerce businesses implement Women's Day campaigns.
Sending email reminders about upcoming International Women's Day
Sending push notifications and reminders
Including International Women's Day banners in your landing and search pages
👉🏻 With Segmentify, eCommerce businesses can remind their customers about International Women's Day with email reminders and push notifications. The Personalised Push Notifications solution sends reminders at the most effective time, customised for each customer.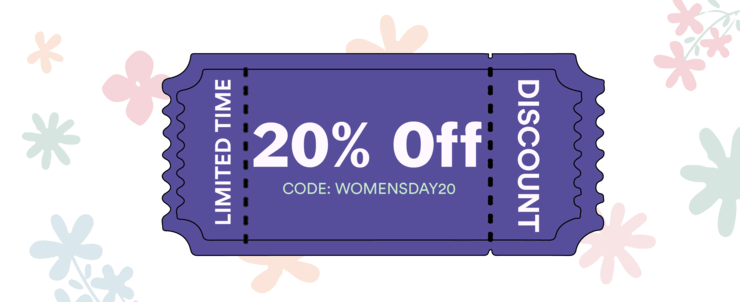 International Women's Day is on March 8th, and all promotions and deliveries should be made before this date. This is because people will be willing to spend more on the fast delivery of products for this day.
Offering time-sensitive coupons is a great marketing technique to draw new customers to buy from your eCommerce business. By providing personalised coupons, you will encourage your customers to have a reason to buy from your website.
The most sold gift options for International Women's Day are as follows:
Flowers
Cakes, cupcakes, chocolate
Notebooks
Journals
Pens
Mugs
Clothing
Jewellery
Accessories
Home decor items
Personal care products
Beauty products
👉🏻 Segmentify's solutions analyse visitors and will send the most suitable coupon for your visitors with personalised coupon codes and bulk push notifications. These coupon codes will be time-sensitive and expire at a certain time.
5. Add personalised widget and product recommendations to your landing page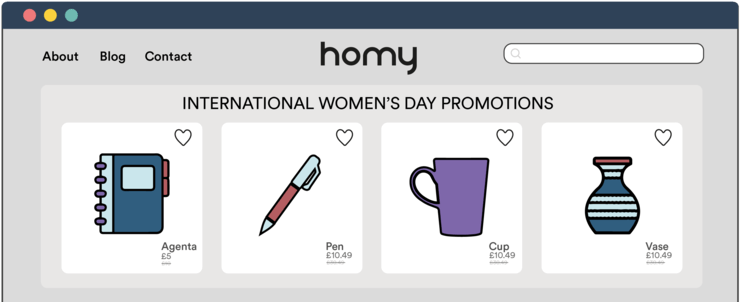 It is essential for eCommerce to be aware that the landing page of the eCommerce website is the display section of a physical store. This page will make the visitor get into your store and explore your products, or it will make the visitor exit from your store. Therefore, the landing page of a website must be up to date, engaging and catchy.
eCommerce websites can start marketing International Women's Day products after Valentine's Day, after the 2nd week of February. The best time to start Women's Day marketing campaigns is two weeks before March 8th.
Websites can add their personalised widgets and product recommendations to their landing pages at this time and remind the visitors about the Women's Day product options.
👉🏻 Segmentify pins International Women's Day widgets to your landing and search pages. By using these widgets, your customers will be constantly reminded of International Women's Day offers:
Best selling products are shown on the widget
Personalised widget on the products that the customer viewed before
👉🏻 In addition, Segmentify also customises the search box almost completely. Banners are added to direct the customers to the landing page about International Women's Day. Websites can also customise their International Women's Day categories and highlight the products they want.
6. Market products for all customer segments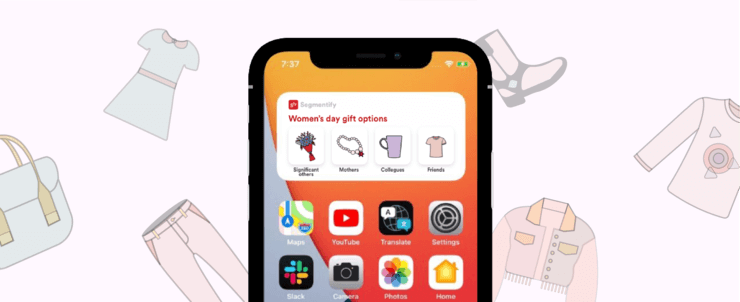 International Women's Day is a day for all women; it is a day to thank them for everything. Therefore, on this day, gifts are given to women from different segments such as but not limited to:
Themselves
Significant others
Mothers
Sisters
Daughters
Other family relatives such as grandmothers, aunts, nieces, cousins, sisters in law, mothers in law
Friends
Colleagues
Employees
Neighbours
eCommerce websites should remember that International Women's Day is not like Valentine's Day or Mother's Day. International Women's Day is a day for all women; therefore, the gifts do not necessarily have to be romantic or family-themed. Employees also send their female employees gifts for their success at the workplace.
Another great marketing option is to market personalised products; this way, the buyer will have the option to personalise the product regarding the intended person.
Wrapping Up
International Women's Day is an important day to celebrate strong, independent women worldwide for everything they have done. Women are the real architects of society. And we are all thankful for what they have done; they deserve the best.
Finally, Segmentify promotes women in the workplace. As a technology company, we are proud to announce that we have around 50% women employees, and we can attribute our success in this industry to them.