Top 8 Benefits of Podcast Marketing for eCommerce Content Strategy
It's 2022. The chances are that you and your friends are following multiple podcasts, know someone doing a podcast, or maybe you have your own podcast. But how does podcast marketing for eCommerce work exactly, and how does it help with the content marketing strategy? In today's episode, we are learning about the benefits of Podcast Marketing for eCommerce content strategy!
What is Podcast Marketing?
Podcast Marketing is a marketing strategy for businesses to promote their products and services via audio content. It helps companies to raise their brand awareness, in addition to introducing their products and services. After the COVID-19 pandemic, listening to podcasts became more widespread among people, leading the podcast industry to become a marketing tool.
The podcast industry has grown significantly since 2020, especially in the Europe and Americas regions. As of 2021, there are 21.2 million podcast listeners in the UK. Additionally, 71% of the respondents stated that they were familiar with podcasts, and 41% said they have listened to a podcast in the last month. According to a 2020 Statista survey, podcast shows are most popular among the 26-35 age group with 38%, followed by the 15-25 age group with 31%.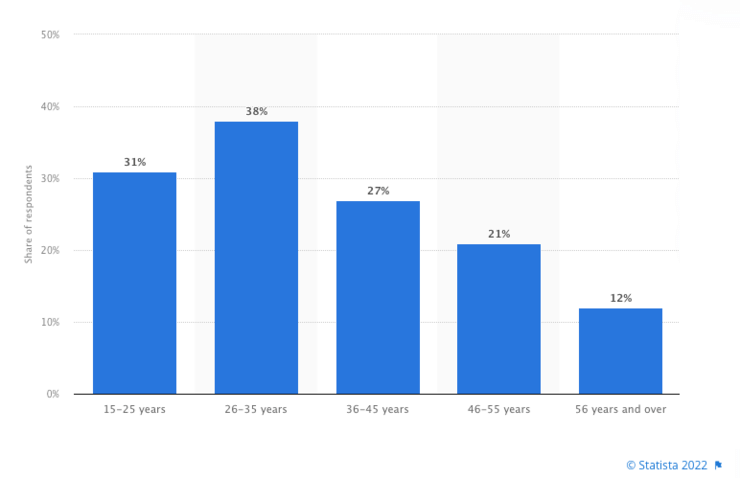 Podcast Marketing for eCommerce
eCommerce businesses use podcast advertising as a part of their marketing strategies. eCommerce stores publish podcast shows regarding these subjects:
1. Introduce Products
Podcast advertising is a great way to promote your products and explain them in detail. You can invite professionals in the industry to review the products. Furthermore, you can post a new episode about a new product release. However, it is important to note that podcasts are audible advertising, not visual. Therefore, not all products may be suitable for audible marketing.
2. Explain Industry Trends
The podcast series are one of the best marketing tools for increasing brand awareness. With a podcast show, you are able to show that you are the expert on your topic and that you are aware of the industry trends, which you explain to your audience.
3. Introduce the Founder, CEO and Other Employees
Introducing your founder, CEO and other employees is a great way to give more insights about your company. A founding story from your founder would interest your audience and customers. Moreover, you can also talk about your company's core values and sustainability projects.
People would also be interested in the back stories of your marketing decisions and your employees' career and life stories. These episodes would be interesting, especially on special days like International Women's Day, Mother's Day etc.
4. Talk About Other Topics
Finally, this podcast is your podcast series, so you are free to choose whichever topic you want to discuss. eCommerce businesses do not have to make the podcast series entirely related to their own products. The episodes can invite guests to talk about different topics. These topics can be informal and fun-related or more formal and educational, depending on the company's branding strategy.
B2B Podcast Marketing
Podcast Marketing is more common among B2B companies. Podcast series help B2B companies reach out to potential customers and build relationships.
The main topics of the B2B podcast series are mostly more formal and focused on their specific industries. Companies position themselves as the industry's experts and invite guests that are experts and thought leaders in the industry as well. These podcasts generally discuss the industry's new trends and get insights from the guests regarding these points.
Podcast marketing is a great marketing strategy for B2B companies to establish a name in their industry. Companies can invite prospective customers as guests to their podcast series to make connections. This is a win-win situation for both sides to introduce themselves to each other's audiences.
Top 8 Benefits of Podcast Marketing for eCommerce
1. Creating Brand Awareness
As previously mentioned, podcasts talk about various topics, from industry trends to the employees of the companies. In time, when the podcast series grows to have a bigger audience, this introduces the company to more people, increasing brand awareness.
2. Showing That You Are the Expert in Your Field
People listen to podcast shows to learn more about their interests in different topics. Not surprisingly, people would want to listen to experts; therefore, when companies broadcast podcast shows, they are seen as experts in their fields.
3. Partnering Up with Experts From Your Industry
Podcast shows are mostly built around specific guests talking about the industry. Therefore, companies, especially B2B companies, are able to invite guests that might be prospective clients of theirs. Partnering up with experts from the industry would make the company have good relations with other companies.
4. Reaching Out to New Audiences
People from different ages and regions listen to podcasts for many different reasons. Some people might listen to podcast series to learn about the industry, the guests themselves, the company or the products.
It is important to note that not all listeners for your podcast series would be suitable to be your customer. However, podcasts are a great way to reach out to new audiences.
Podcast marketing is a new marketing strategy that is more common among younger people. Since it is not a traditional way of marketing, it can introduce your company to people from different regions and ages.
5. Promoting Your Products and Services for Free
A good reason to start podcast marketing is that it is completely free of charge. Most podcast broadcasting applications require no fees. Though podcast marketing takes a reasonable amount of time and effort, it does not require advertising fees.
6. Easier Than Video Marketing
Speaking of free of charge, podcast marketing is also a lot easier to produce than video content. Though a video says a thousand words, podcast marketing is also an effective marketing tool.
You do not require expensive cameras or proper video editing software for podcast marketing. The content is audio, so the most basic editing software is enough to edit the voice. Getting ready for videos, shooting the videos, and finally editing videos takes a lot more time and money compared to podcasts.
7. Engaging with Your Audience
Podcasts are a great way to interact with your audience. You can understand whether the topic was interesting for your audience by looking at the likes and dislikes of the shows. You can also check the number of people listening to the podcasts.
Furthermore, if you post your podcast shows on social media, you can interact with the audience through their comments and reviews. This will help to form your podcast marketing strategy regarding its content.
8. Increasing Website Traffic
Podcast shows will help you grow your audience and increase the number of people clicking your website. Especially when podcasts talk about the products or employees of the company, people who are interested in them will click the website, increasing website traffic. Even if the listener is not interested in the company but only wants to listen to the podcast content, they will click on the website for the podcast information.
So Where Can You Promote Your Podcast?
The most common and useful platforms for promoting your podcast are as follows:
Helpful Tools for Podcast Marketing
Captivate
Captivate is an Adobe software program for companies or people to manage their podcasts. You can easily manage the podcasts you posted on Spotify, Apple Podcasts, Google Podcasts, etc., from one tool.
Restream
Restream is a paid platform for people to create simple live videos. You can edit your videos and audio content with Restream.
Adobe Premiere Pro
Adobe Premiere Pro is a video editing software application by Adobe. You can also edit your podcasts or videos using Premiere Pro.
Adobe After Effects
Adobe After Effects is a digital visual effect and motion graphics application by Adobe. You can use it for keying, tracking, compositing, and animation.
Figma and Adobe Photoshop
For your social media posts about your podcast, you can design them with Figma or Adobe Photoshop.
The eCommerce Growth Show Podcast Series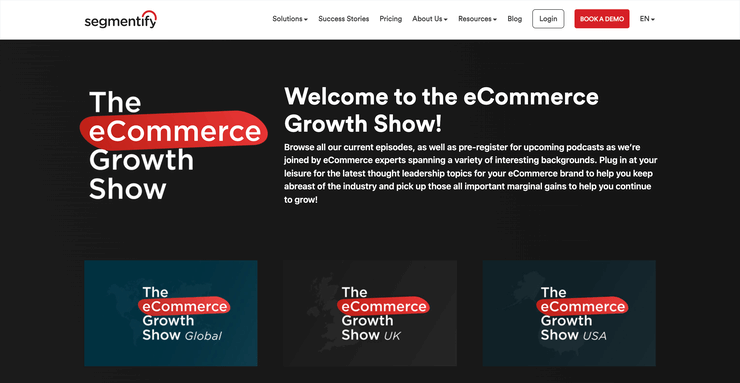 The eCommerce Growth Show is a podcast series by Segmentify that started publishing in 2020. The eCommerce Growth Show has taken the pulse of eCommerce. The episodes are about leadership topics, eCommerce trends, and advice on how to grow your eCommerce business with our expert guests from reputable companies.
The eCommerce Growth Show is currently broadcasting in 10 regions:
Soon the show will expand to new regions: France, South America and South Africa. The eCommerce Growth Show podcast series was listened to by 60k people in 2021 and 22k people in 2022 so far.
The Pros of Regional Podcast Shows
Regional podcast shows are podcast shows that are published in a specific region, with the local language. Local podcast series are also a valuable marketing strategy for companies. This way, companies can connect with a particular audience, and podcasters can create specific content regarding the region.
For example, if the podcast series is going to be about Romania's eCommerce industry, not many people from the USA might be interested. Therefore, if the language is Romanian, the podcast show can attract more listeners and prospective customers from Romania.
The main pros of regional podcast shows can be summed as follows:
Increasing brand awareness in the target regions by providing educational content
Networking and meeting with possible partners when arranging local speakers
Positioning your company/brand as a thought leader in your industry in the chosen regions
Wrapping Up
In conclusion, Podcast Marketing is a new digital marketing strategy for companies. It is becoming more and more common since the younger generation is more exposed to podcasts. Podcast marketing benefits companies because it is an excellent way to create brand awareness. It shows that you are an expert in your field and can also meet and partner up with experts in your industry. Podcasts are free to make and much easier than video marketing. Podcast marketing is also helpful in reaching out to new audiences, interacting with them, and increasing your website traffic.
Companies from different industries can enter the podcast marketing field. It is common among B2B companies, but eCommerce companies also create podcasts for their branding. As a result, we predict it will be more widespread with its listeners and producers.
Follow The eCommerce Growth Show
Don't forget to subscribe and follow The eCommerce Growth Show:
Do You Want to Be a Part of The eCommerce Growth Show?
Interested in becoming a guest on the show and sharing your expertise and wisdom with our audience? You can click here to fill in the form. We'll get in touch!