Cart Optimization to Increase Conversion on Your Ecommerce Website
Cart Optimization is one of the most important parts of conversion optimization. If you want to convert visitors into paid customers, you need to make them purchase your products/services from your online store. Any kind of negative or unattractive image may affect the customer decision and cart abandonment.
Offline stores are delights of any retailers because they almost do not have cart abandonment issues. What about online stores? Unfortunately, it doesn't work like that online. Lots of online shops suffer from cart abandonment.

What do you need to do to increase your conversion rate/decrease cart abandonment? I mean, Cart Optimization!
The aim of cart optimization is so simple: Make your customers purchase product/services from your online shop. Right? Therefore, a creation of your average online purchase transaction picture, minus shipping, taxes, and sales, and what they are buying is needed, first. When you finish this metric, you are going to determine what a customer is worth to you.
Let's talk about design. Design is a crucial element to increase conversions. Ugly and cluttered shopping carts always have lower conversion rates than clean ones because complicated shopping carts confuse shoppers and distract potential buyers.
What about your CTA (call-to-action) buttons? CTA buttons take your potential buyers to move to the checkout stage directly. That's why they are really important to provide cart optimisation. You need to make sure it has all the necessary information (product image, product name, quantity and subtotal) (at minimum) and displayed in your cart list.
We all know that conversion optimization is an endless adventure. In order to have a successful conversion rate, you need to test, test and test again. Your images, CTA buttons and any kind of design on your web page should be tested and optimized with A/B testing which is another optimization tool to increase your conversions.
You did not complete cart optimization process yet. Because it is time to increase average basket size. Let's do this!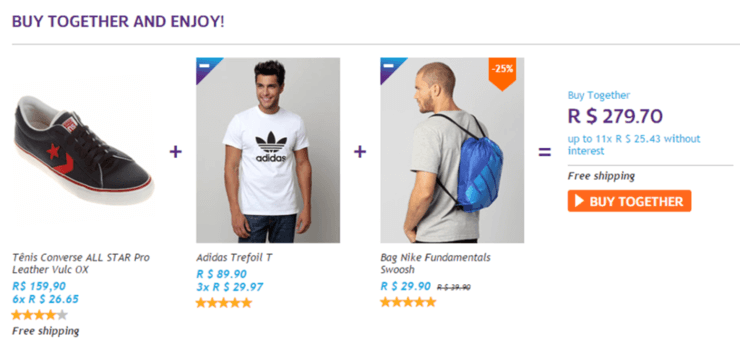 Product bundling and upselling are sales technique to increase the average basket size. Product bundling is when two or more products are combined as a salable package and it increases the perceived value of the products. Customers feel that the products they bundle have a value more than they are bought separately and that's why product bundling increases basket size. Upselling is another sales technique to make customer purchase more expensive items or other add-ons while cross-selling invites customers to buy related or complementary products to make a profitable sale. Cross-selling and upselling are similar because they both focus on providing additional value to customers.
E-commerce merchants also use free shipping to increase average transaction value. However, it is not easy to give free shipping for each product. Especially for the furniture and white goods selling e-commerce merchants, the shipping costs are higher. In order to have a free shipping option, customers need to meet the conditions such as "free shipping over $100" or etc. These offers should be displayed on the main page or basket page to make customers buy additional products to meet the condition.



"Customers also bought" is an automated feature of the conversion optimization tool you buy. Recommended items to right customers in checkout process. The platform displays the recommended items to the right customers in checkout process. You can influence your customers to spend more on products from your store easily with "Customers also bought" or "Who Bought This Also Bought" module.
"Recommmended for you" or "you may like" is also an automated feature of the conversion optimization tool. It shows the smartest recommendations of the best items for the selected customers. This feature also helps merchants in upselling products to increase the basket size.
E-commerce merchants are also using "last minute offers" to attract customers into purchasing more products. These promotions may be created about relevant product & campaigns to right customers while checking out.