How Has COVID-19 Affected eCommerce? Vol 2.
You may have already read our blog post in March on how COVID-19 is affecting eCommerce, but in case you missed it here's your chance to catch up! Since then, we said we'd follow up on any new findings, so here they are – they turned out to be pretty interesting reading!
In our previous blog post, we saw that eCommerce was hit by the pandemic minimally while some industries showed significant growth. It looks like eCommerce has more than recovered in the past two months with the increases in traffic from traditional retail.
The below results are achieved by comparing our customers' sales volume spanning 25 countries in February and May, comprising more than 600M page visits. The below graph depicts the change in page views and revenues of some eCommerce companies in different industries during the pandemic. The dates compared below are the same 7-day period in February 2020 and May 2020. (Feb 16th-22nd vs. May 16th-22nd).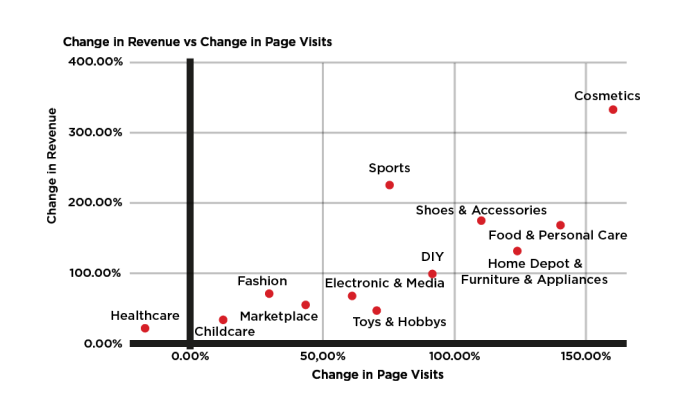 On average, eCommerce has grown by 58% in revenue, compared to the same period in February. Many industries have prospered, but some more than others.
Significant increases in revenue:



Other industries that showed an increase in revenue:
Fashion (65%)

Electronics & Media (63%)

Toys & Hobby (52%)

Marketplace (39%)

Healthcare (24%)

Childcare (22%)
These more recent findings depict a different picture than the one we had in March. Consumers have adjusted to the change, and the change in behaviour results in an increase in online sales whilst they're avoiding the shopping from brick and mortar stores as much as possible.
Even the Luxury Goods & Jewelry category, which had declined by 36% in March, has shown a slight increase (5%) since February. However, Tourism could not escape from its downward trend showing a decrease of 86%.

When we eliminate Tourism from the graph, all we see are increases in revenue in all the rest of the categories. Without the downward effect of tourism, the increase in eCommerce is 69%.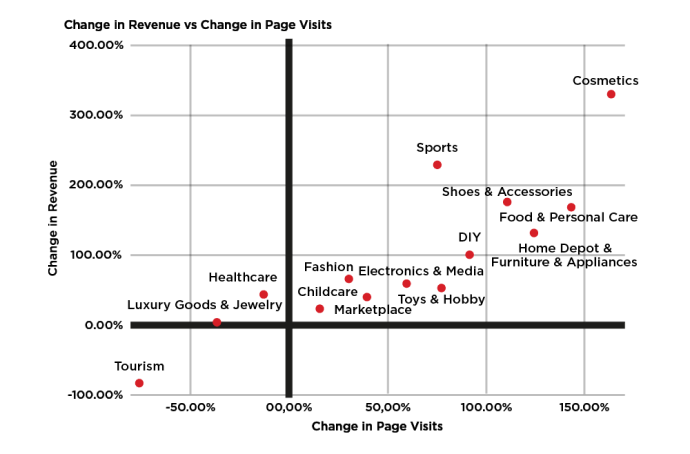 Key findings:
Cosmetics has shown tremendous growth. Despite the fact that this category includes personal care products, pure cosmetics products such as make-up have also contributed significantly to the growth of the category. This indicates that no matter how little we socialise, self-care is still important to us, even in lockdown.

Another self-care category is sports. It has shown substantial growth. The results for this category indicate two things:

People have been purchasing more outdoor equipment in order to go out whilst maintaining social distance.

Many people have started training at home and have even gone as far as buying treadmills to find new routines whilst at home.

Unlike the other categories, tourism has not recovered from the decrease and most probably will not recover in the short run. Although restrictions are being lifted slowly, it is expected that people will take action with caution.

Besides self-care, consumers have also invested more in home improvement due to spending more time at home.

The overall growth in online sales indicates that consumers are not only restricting their purchases to necessity goods, but are also embracing the "new norm" of online shopping even more.
Of course, we are not out of the woods yet. However, the last few months have shown us that we have adapted to change in terms of purchasing habits and it looks like a large portion of these habits is here to stay. We'll keep you posted as we make more analyses in the following weeks!